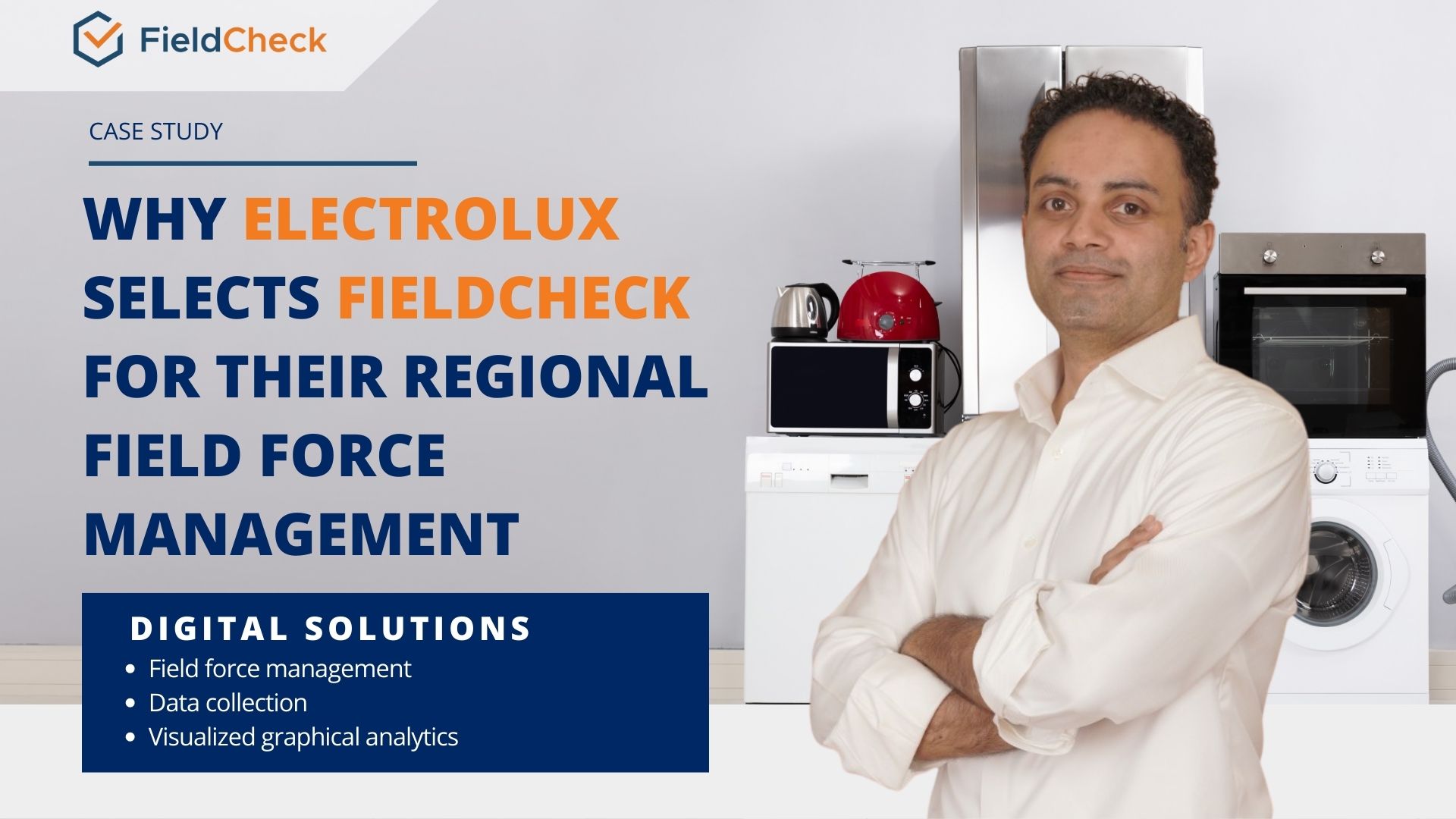 For over one hundred years, Electrolux has been developing and affirming its position as a leading global appliance company, shaping living for the better, and making life more enjoyable and sustainable for millions of people.
This Swedish multinational owns brands such as AEG, Westinghouse, Frigidaire, etc., and sells approximately sixty million household products across 120 countries annually. One of its current success attributes is the contribution of global employees to foster the company's values and drive sales in the entire market.
In addition to its dedicated back-office workforce, Electrolux boasts a wide network of promoters, visual merchandisers, supervisors, trainers, or field workers across the region to help the brand reach the audience and market the products.
Effective management of the Field Force across locations in different countries poses many challenges. For instance, traceability, data collection, transparency, and real-time reporting.
Recognizing the importance of a scalable digital solution capable of helping optimize the performance of the field force, Electrolux inked a partnership with FieldCheck to aid with the field workforce and data collection.
Let us see how this business innovated its processes to check over 2500 individuals regionally with FieldCheck via the talk with Boney Varghese, Director, Retail & Shopper Marketing APAC & MEA at Electrolux.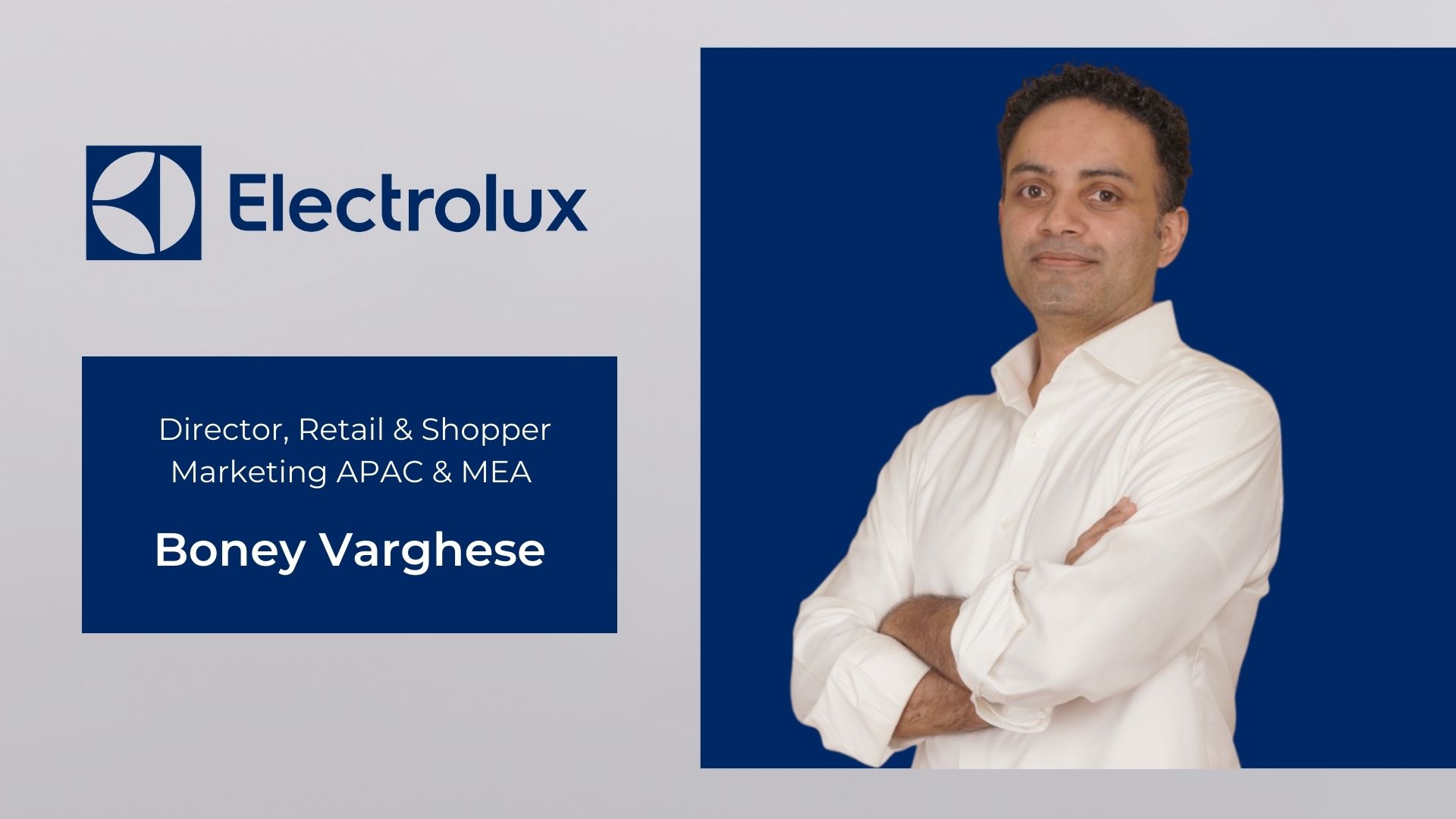 "FieldCheck has been a huge time saver for the entire team," said Boney Varghese, Director, of Retail & Shopper Marketing APAC & MEA at Electrolux.
FieldCheck representative: What kind of issues did you face before you introduced FieldCheck?
Boney: We used to struggle to manage and gain visibility on our field force teams across the region. It was a challenge for any agency to manage 1000s of promoters spread across such a large territory.
Data collection was a nightmare in having multiple apps to collect data, export, and collate it manually, leaving it susceptible to human errors. Another challenge was the increased dependency on Field Force agencies to supply market insights, Competitive Intelligence, Sell-out tracking, etc.
FieldCheck representative: Who uses FieldCheck? And what kind of tasks do you use FieldCheck for?
Boney: FieldCheck was deployed across all our Field Force teams that include Promoters, Visual Merchandisers, Supervisors, and Trainers.
They use it daily to manage their time and ensure they follow set routes, collect, and share in real-time vital sellout information that will help our sales and retail teams find and capitalize on opportunities.
FieldCheck is used by supervisors to carry out mystery shopping surveys to check and improve the quality of our customer engagement. It is also used by our retail teams to help manage the workforce spread across the countries and to collect vital competitive intelligence that is crucial to gain an edge. It is a true window into the retail environment.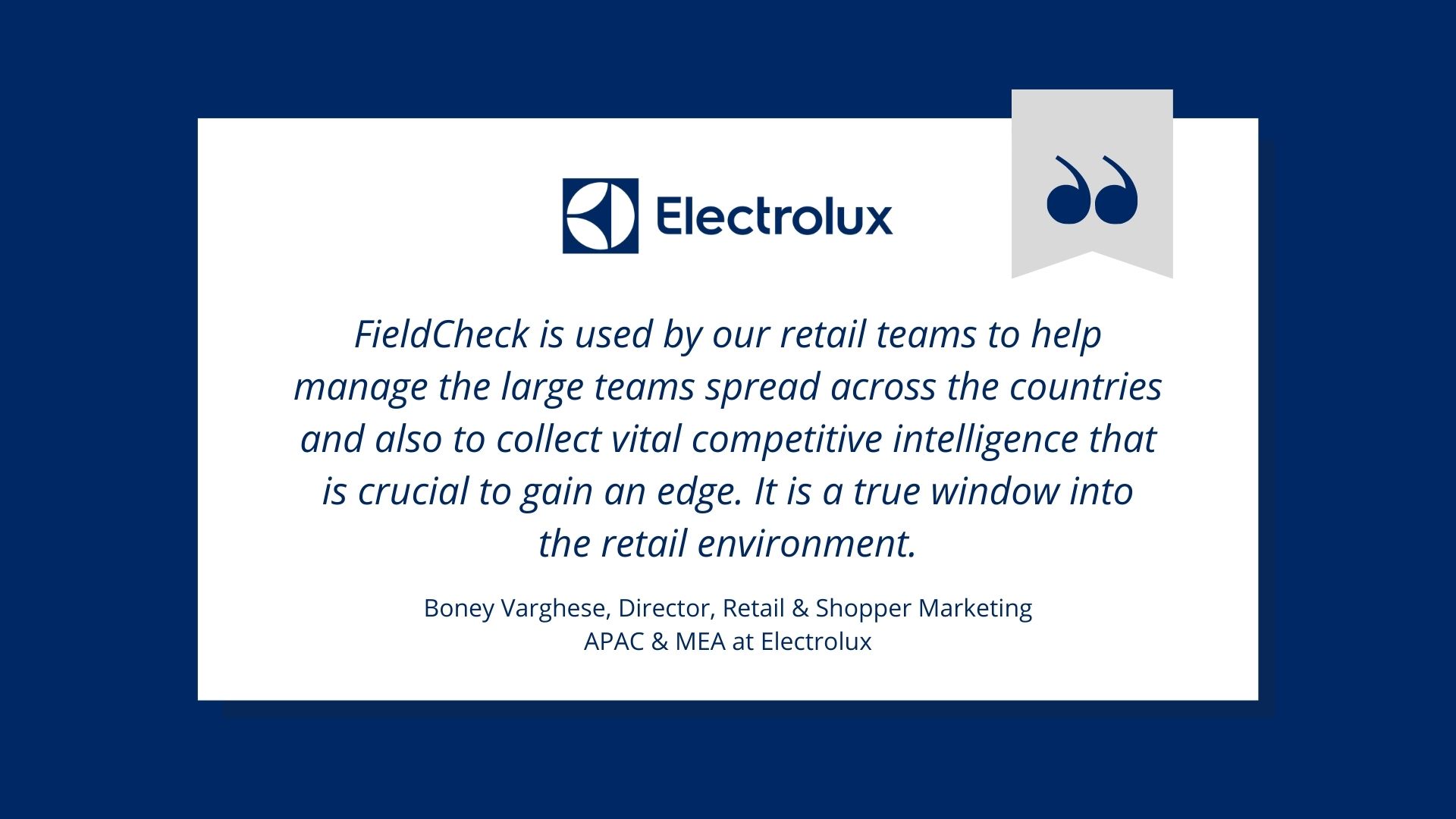 FieldCheck representative: How does FieldCheck change your fieldwork management?
Boney: It has helped supply all information in a central location. We can customize the data to meet our specific needs, supply vital information at the right time to make more informed decisions, and drive our teams to higher levels of efficiency.
FieldCheck has been a game changer for the Electrolux Retail & Shopper teams across APAC MEA.
FieldCheck representative: Is there anything you would like to renovate your operation in the future?
Boney: Retail is a constantly evolving environment, and as such, we need to have a partner and an agile tool to meet the team's needs.
Over the years, the Asia-Plus team and the Field Check app have undergone many changes and improvements that have helped us better meet our business needs and will continue as it will always be a work in progress.
As a result, our business relationship has grown from strength to strength.
How Electrolux Managed to Oversee Field Force with Technology
Electrolux managed a large Field Force team across many roles including promoters, supervisors, and visual merchandisers to support their business. The FieldCheck solution helps them contribute to the business better with the help of below features.
Promoter

Sell-out report

Display check

Competitor check

Supervisor

Staff monitoring

Store checklist

Staff performance check

Merchandiser

Merchandising deployment

Display quality check
FieldCheck maximizes the performance of the field team by setting clear tasks, supplying visibility, and ensuring transparency rather than the traditional pen-and-paper or spreadsheet approach. With a Keen focus on sustainability – Electrolux was keen to have a paperless solution that can supply multiple benefits through a single app.
Better task deployment

The tool supplies clear and consistent task giving to each of the staff, for better storage visibility and data analysis

Supervisors can use digital checklists or other features to conduct mystery shopping to check and improve the quality of our customer engagement

Closely tracking

FieldCheck provides several techniques to check the fieldworkers and improve their performance

Location management

Random whereabout checking

Effortless data collection

Our solution helps fieldwork staff collect consumer data with telephone number verification for more effective CRM and marketing actions

SMS verification

Consumer data management with purchased history

Dashboard / real-time analysis

Flexible questionnaire configuration
Should you be interested in the FieldCheck solution, please contact us.