FieldCheck optimizes monitoring and decision making with a smart reporting system on mobile phones. Equipment maintenance software helps businesses operate a complete and continuous maintenance process. At the same time, this solution could also help limit possible mistakes.
In addition, the software also helps businesses automate work monitoring and assists in automatic warehouse management and data entry, optimizing work performance and reducing the cost of hiring employees in unimportant positions.
Equipment management software is suitable for all business models. Software users can work freely on the Internet. It could run on multiple operating system platforms and boasts unlimited access to browsers: Internet Explorer, Firefox or Google Chrome, etc.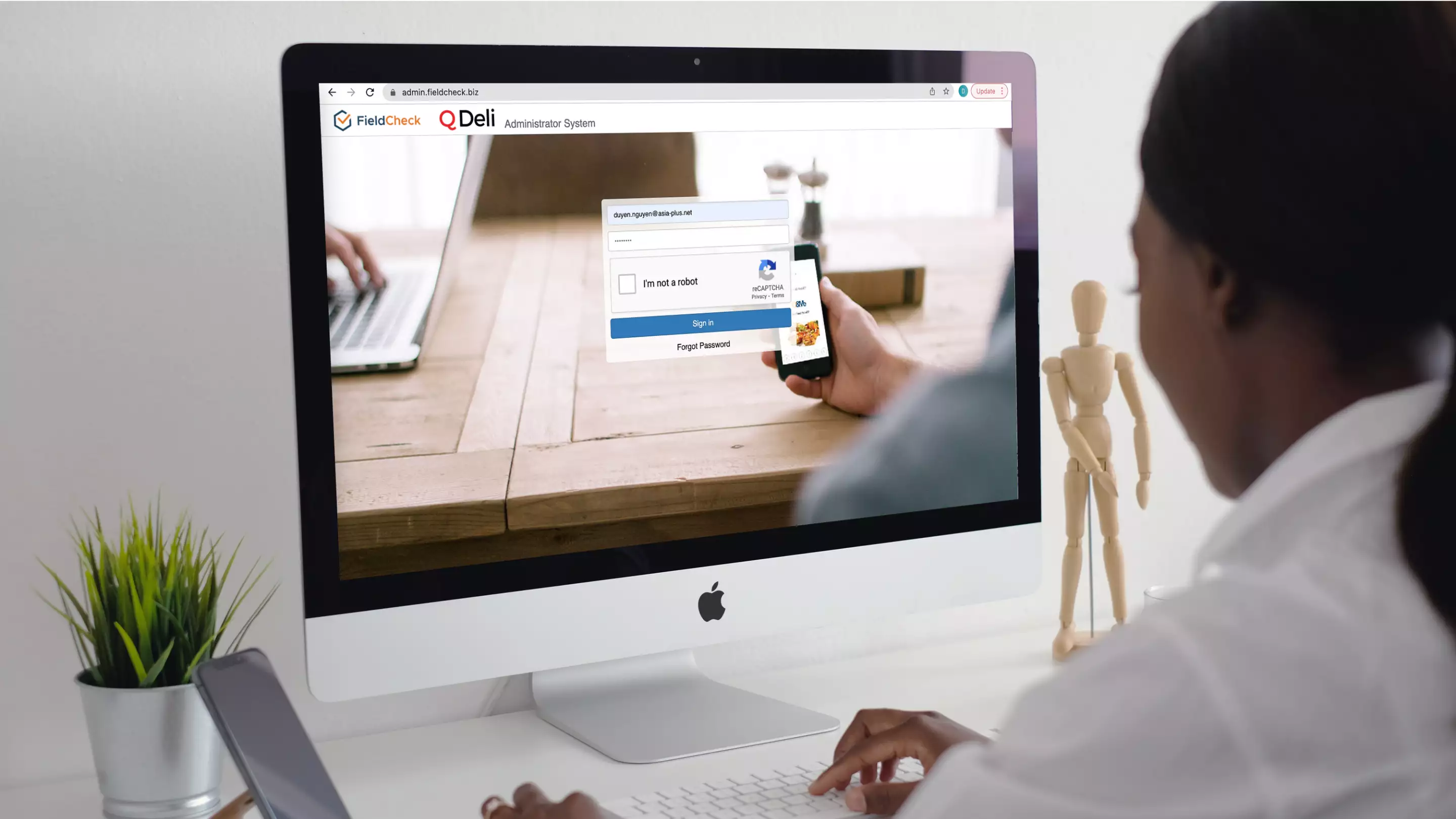 Ultimate equipment maintenance software for businesses
Supportive Equipment Management Solution From FieldCheck
The device maintenance and solution management solution from FieldCheck is suitable for many business models. So the question is how does FieldCheck work? Let's take a look at the following parts.
1. Equipment Management
FieldCheck helps businesses track and report device health and could meet all sizes and areas of business activities. Solutions to meet all sizes and areas of business activities. The application is intelligently designed to optimize machines and equipment conditions tracking.
With FieldCheck, enterprises' assets and equipment, from PCs to large industrial machinery and equipment, are in clear and convenient monitoring.
The software allows supervisors to create tasks to check the equipment or empowers employees to report any equipment-related incidents timely and properly to relevant personnel.
Accordingly, you could take quicker action to handle the incident, saving time searching for information and reducing the risks of broken equipment or huge maintenance costs.
2. Equipment Inspection
Another function of device maintenance software is inspection management. A business will often have a large number of devices to manage, causing a lot of trouble if managed manually.
At this time, the technology software's management and calibration of equipment and machinery inspection criteria will help you avoid troubles related to the law. Device management by software creates rigor and clarity in business operations.
You could use this solution to understand the status of devices in the enterprise. You could also detect it early and provide timely solutions when any problem occurs.
3. Maintenance Management
A large number of devices makes maintenance prone to errors at less important points. At this time, the device management software will help you overcome that drawback.
The FieldCheck application helps you keep track of all equipment-related incidents and the status of the equipment. Our solution helps you shorten the time to monitoring the checking time of equipment and detecting the incidents promptly.
In addition, you could arrange automatic schedules or automatically manipulate them with the intuitive interface to best capture equipment situations and staffing needs.
Also, it is available to change the equipment maintenance period with several simple clicks. The device management software also provides accurate maintenance cost analysis reports.
This helps you easily track and analyze the causes of cost increases and decreases in the management process. The main functions in maintenance management include:
Monitor and remind maintenance requests via email and SMS

Monitor usage time

Monitor device operating status

Equipment maintenance planning

Make an unscheduled maintenance ticket when the equipment is damaged beyond the plan

Maintain, monitor, and record equipment parameters

Automatically report equipment maintenance work via email

Record daily equipment maintenance
4. Equipment Monitoring Test
Equipment management software allows for efficient test planning and job monitoring. This helps the production process to occur safely, preventing potential problems that might occur.
FieldCheck has the effect of supporting, monitoring, and checking device status in real-time. The abnormal status of the device will be alerted immediately.
As a result, the machine's working condition parameters can accurately determine the machine's condition. Damaged devices are detected and handled promptly, saving repair time and costs.
Any abnormal information on the device is notified through the monitoring screen. Some of the main functions of the software are:
Planning, supporting testing, and monitoring equipment by bar code and mobile phones.

Alerts when the device shows abnormal signs.

Reporting system and support to import/export data from Excel.
5. Recording of Inventory
FieldCheck equipment management software helps you to record the number of products available in stock without any hassle. As soon as you input the figures on the app, the system will record accordingly and provide a visual graphical analysis.
The analysis helps you quickly grasp stock status according to the purpose of use. If there is an incident arising when you consistently tracki, you could detect it and take suitable actions timely and promptly. You could save on maintenance costs and cut down on downtime.
FieldCheck also features many detailed analytical reports on the liquidation of equipment and assets, helping you easily search, compare, and control the number of equipment and inventory.
In addition, the application helps you to capture the number of devices in detail. If a discrepancy occurs, you can easily trace it and find the cause; thereby, offering solutions to help save costs by reducing inventory.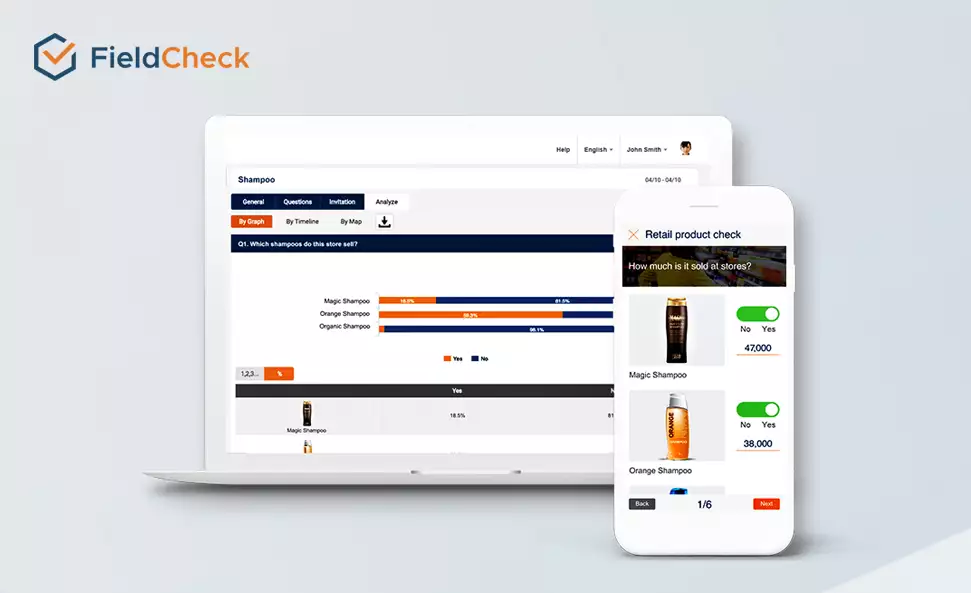 Record inventory easily with device management software
6. Easy Equipment Order Recording
The device can be transferred to many different branches and units during use. Equipment management software will help you easily locate the machine to be moved and stored while managing equipment purchase requirements of each department, division, branch, and region with ease.
You will easily grasp the number of devices in each department and branch through the report. All activities of buying, selling, adding, liquidating, and transferring equipment are updated in real-time.
This helps you control the amount and value of equipment, to make the right move.
7. Reporting/Analysis
With the ability to provide visual analysis in the form of charts, you can use FieldCheck software to produce the following reports:
Device status report to help supervisors and staff check equipment health against digital checklists.

If something goes wrong with the device, our solution can help you report the problem to the relevant people quickly and in detail. Accordingly, the person responsible for solving the problem will be notified of the problem on the mobile device and communicate easily on the app.

Maintenance cost report

Maintenance costs are applied according to specific criteria, including area, equipment group, equipment value, usage status, etc.

Analysis of materials, spare parts, labor costs, taxes, etc...

Analyze equipment maintenance costs by period.

Analysis of maintenance costs by period.

Report a device problem

Analyze the cause of the problem.

Machine downtime graph.

The average time between device crashes.

Average repair time with information about the capacity assessment of staff in charge.

Device readiness report.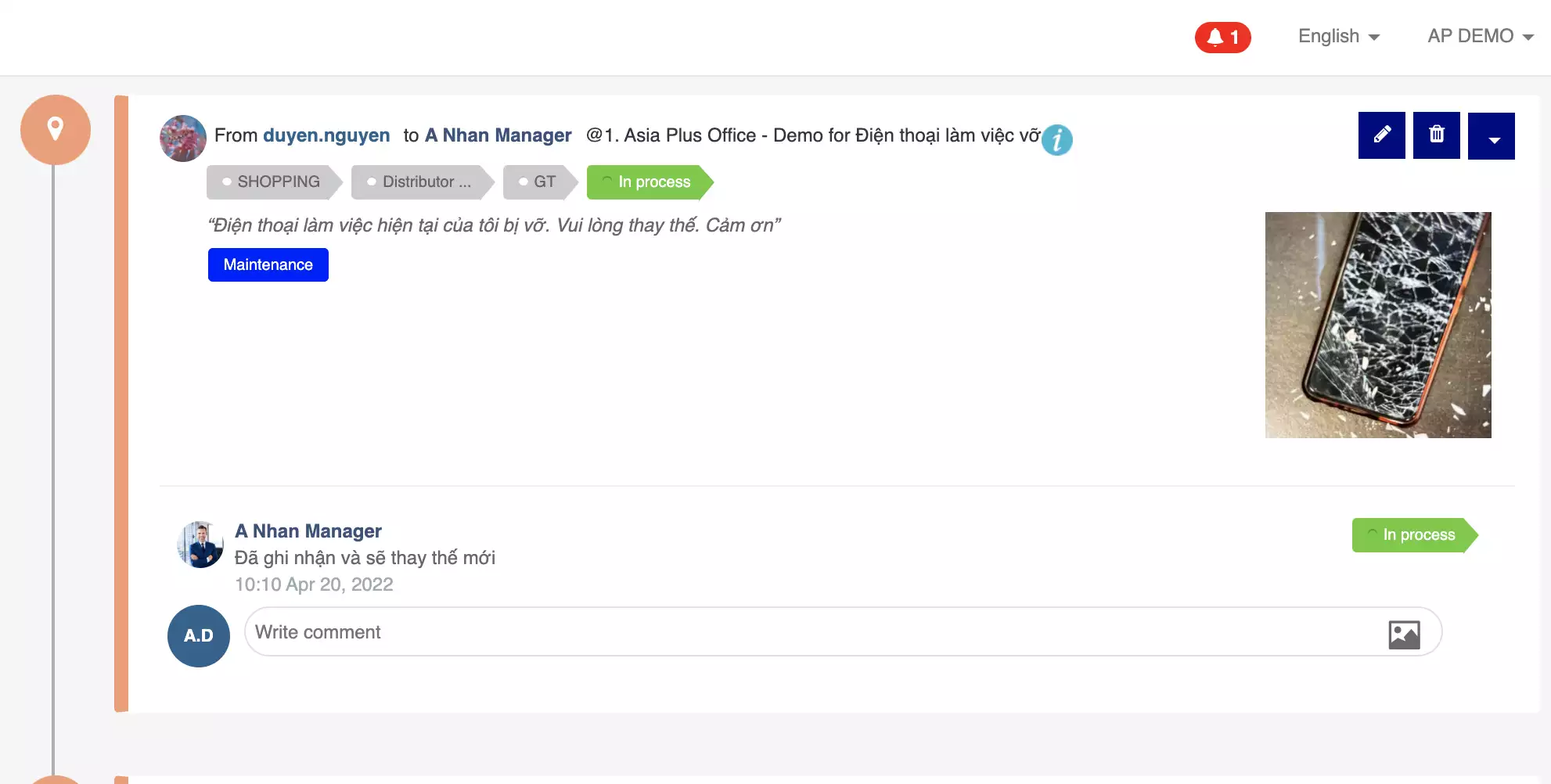 Monitor device health with FieldCheck
8. Equipment Performance Reporting System
Device management software installed with performance analysis and reporting features include:

Report and analyze device performance metrics.

Maintenance personnel reports: Track daily workloads and evaluate maintenance staff performance and quality.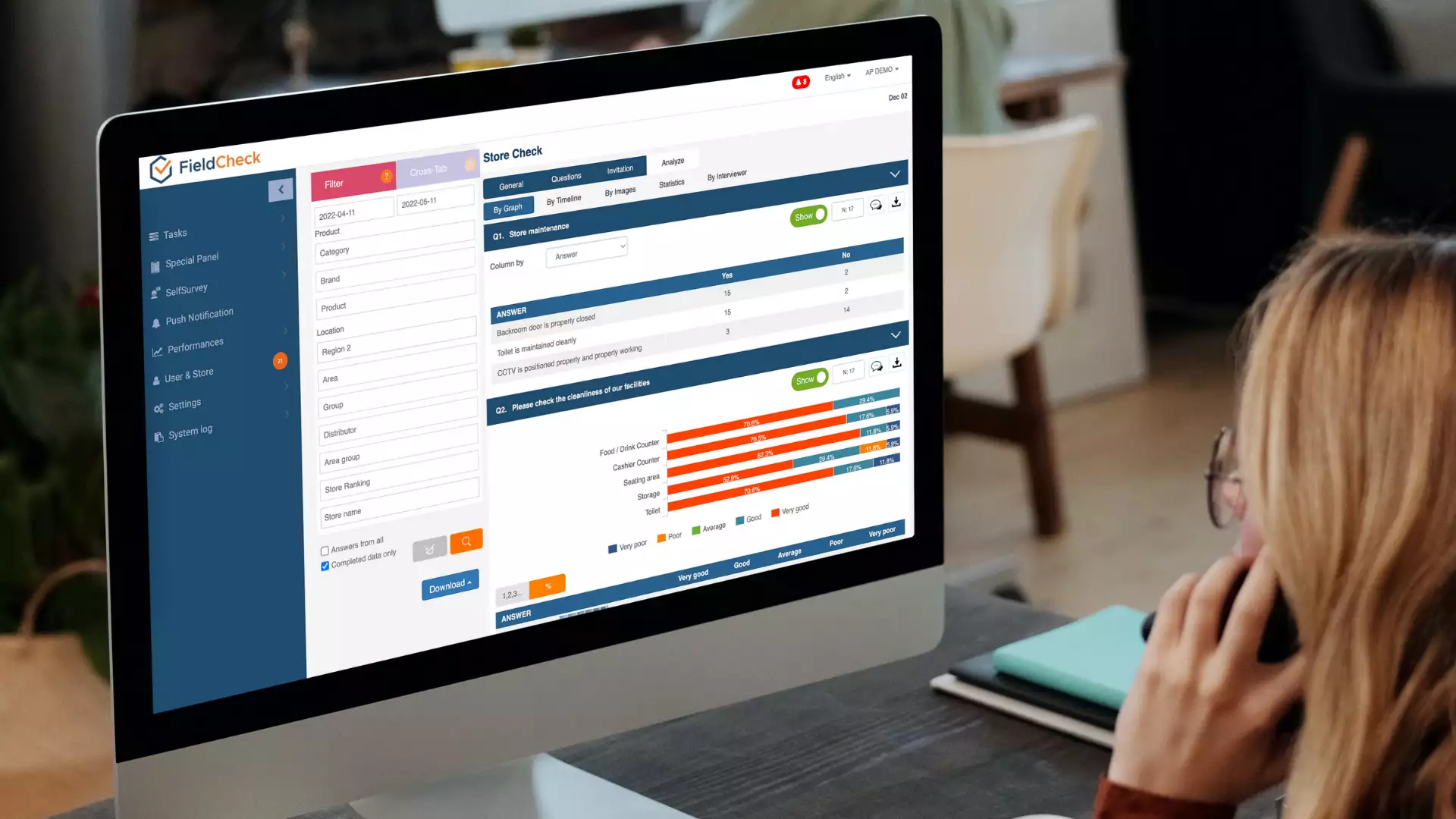 Detailed and easy-to-understand analysis reports
9. Mobile Apps
Device management software on mobile applications is a trend applied by large enterprises.
In the future, the management method by digital technology will develop stronger. At the same time, it becomes an indispensable step for businesses if they want to survive and develop sustainably.
The application of mobile technology software for equipment management and maintenance brings great benefits to businesses. It is convenient, fast, economical, accurate, secure, and not limited in time and space.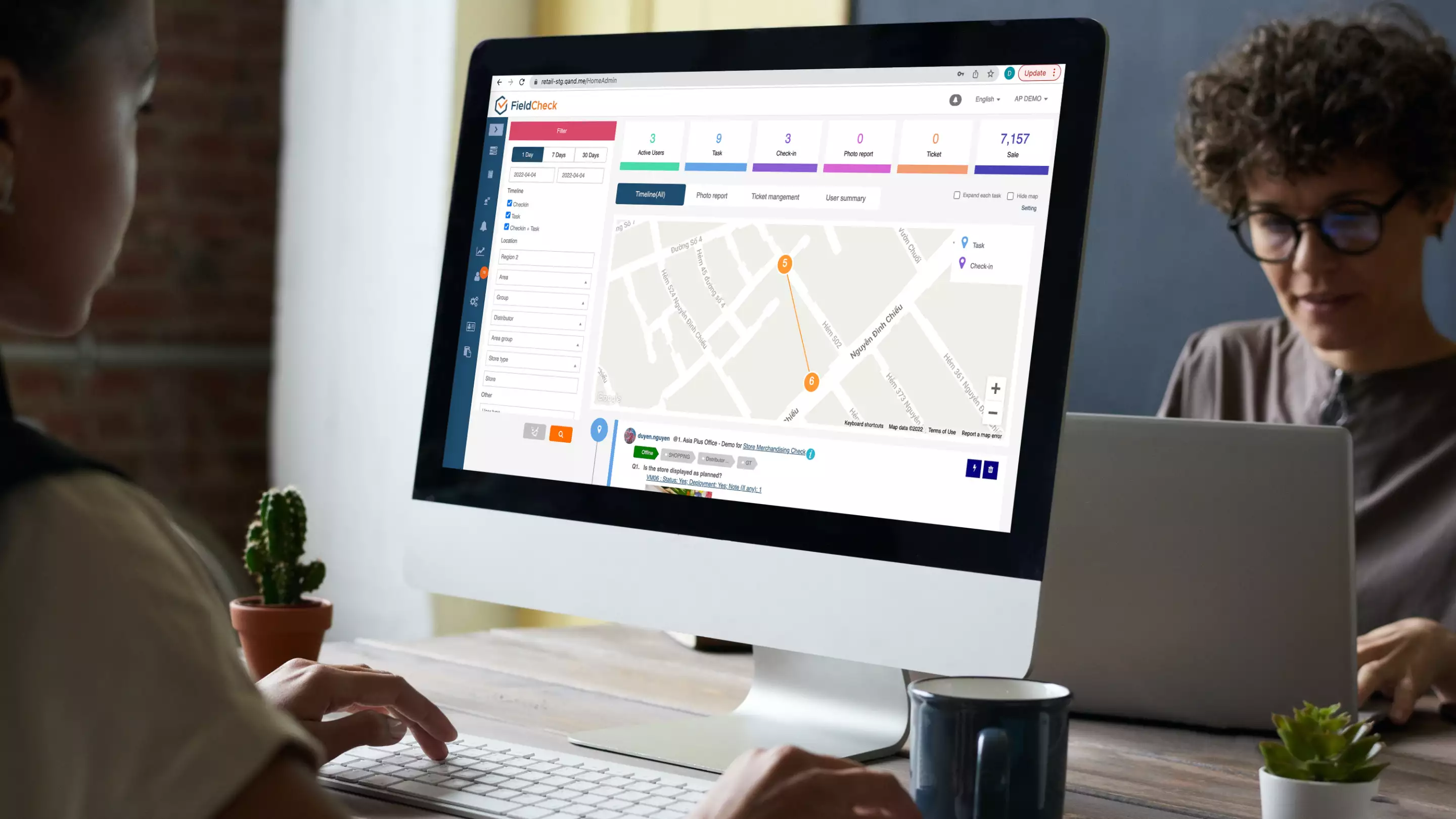 Mobile technology software application helps to save time and costs for business management
With FieldCheck, wherever you are, all the necessary data is fully updated as long as you have your phone in hand. Besides, you can completely ask the maintenance department to monitor, review the equipment status and report with a few small steps on your mobile phone.
The process of approving employee requests and suggestions is also simpler. You can take advantage of the review anytime, anywhere, whenever you have free time to ensure that your business operates quickly and efficiently.
Some of FieldCheck's device management features on mobile phones:
Checklist to monitor device status daily.
Record the work done.

Simplify workflow management.

Evaluate inventory status, and approve order requisitions and purchase orders.

Simplify equipment maintenance.
Above are some features and benefits of FieldCheck device management software for businesses. If you need to experience it, please get in touch with us to schedule an appointment as soon as possible.