Retailers are still facing difficulties in managing their chain stores effectively. The increased number of products coupled with the demand from different locations makes retail businesses eager to expand their business scale.
This strategy aims to help businesses reach a wide range of customers, finally increasing total revenue. Still, balancing between the expansion of the chain and the reduction of operational risks is a problem that causes headaches for managers.
So how to solve these above-mentioned problems? What is an effective chain store management model? If you are eager to seek the answers for these inquiries, scroll down to explore.
Current Status Of Retail Stores In Vietnam
The development of the Vietnamese retail market has been attracting many big players to enter.
That said, the rush to gain the advantage of first movers in the market has created many cases of operational failure. The reason is due to the lack of planning when embarking on the retail chain business.
In fact, a chain store model requires entrepreneurs to have a thorough plan, helping to face today's enormous competition and solve problems probably arising in operating activities.
Some problems are still outstanding in the retail chains in Vietnam today:
Inconsistency in chain store operations

Lack of communication in the store activities

Service quality gap at different stores

Time-consuming attendance and incentive management system

Slow update of news to staff

Lack of financial ability balance

Lack of the product quality and distribution control
How To Build A Chain Store Management Model
It is essential to deploy a reasonable set-up process to finally have an effective chain store management model. Below is the recommended example you could refer to.
Standardization Of Operating Procedures
This is considered a prerequisite job when running and managing chain stores. The question is, why is the standardization of operating procedures so important?
The reason is that the consistency in the chain store would help businesses improve brand identity most optimally. When coming to any store in the system, customers could have the identical impression in store design, store display and goods, and the service attitude of the staff.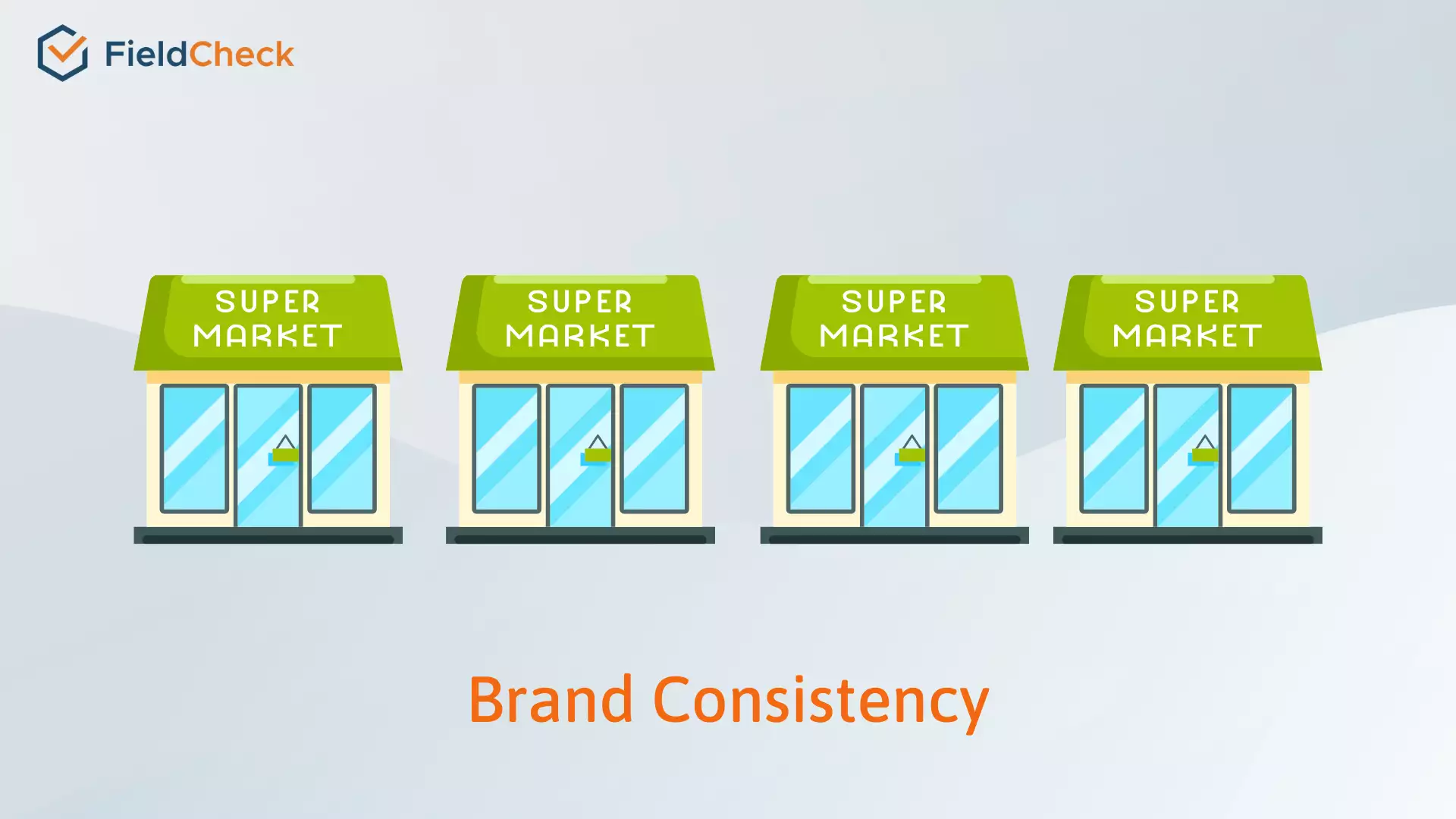 A chain store needs consistency in operating activities
It may take a certain amount of time for businesses to create standards in the chain store operation process. However, it will save businesses a large amount of time in the long run.
Operational efficiency will increase significantly if the enterprise could successfully build a smooth and unified operating apparatus and processes.
Financial Management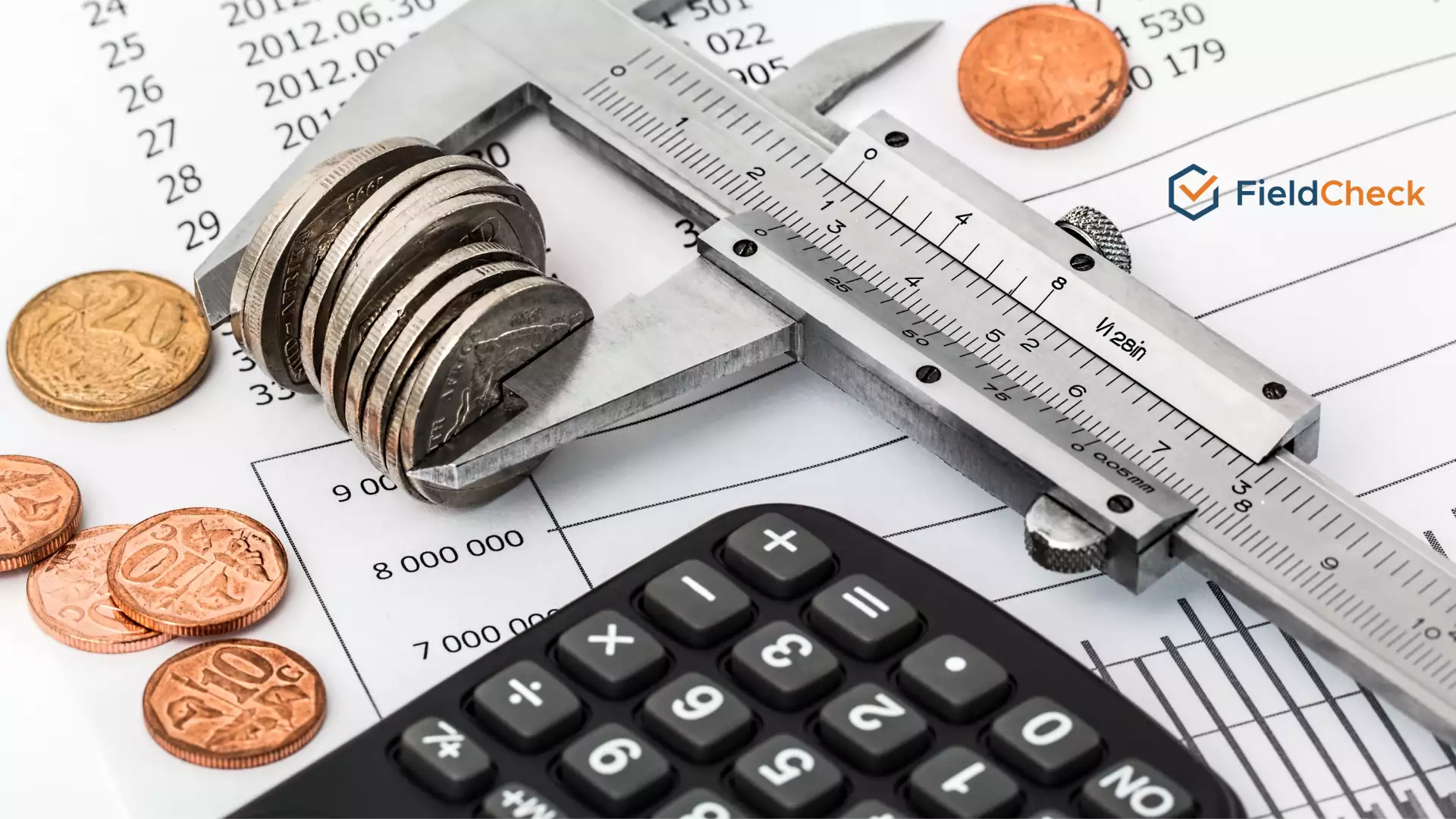 The chain store business needs to ensure financial balance
The ability to manage finances is indispensable for any business model, whether retail or wholesale, small or large. Businesses must actively ask questions to ensure financial viability across the entire system. Some frequently asked questions include:
Where does the capital come from? At least how much will the current scale need?

How is the cash flow allocation reasonable?

How do you manage finances in chain stores?

What tools do you use for financial management?
Material Resources Management
When managing a chain store, one of the critical things is to ensure that the source of raw materials is sufficient to supply enough for the entire system. Therefore, the regular stock audit is necessary, aiming to timely place orders in time if there is a shortage of products.
Another crucial factor is to ensure the quality of the goods. To handle this task thoroughly requires the chain store owners to mobilize a great deal of personnel resources, not to mention time.
To optimize this process, having supportive management tools is one of the ways the management-level personnel consider. Today, SaaS companies embrace this demand and develop store management software that could support the input and report of stock conveniently and quickly.
All the staff in charge of stock audit need to do is to use their device and input the stock quantity into the system. The data entered will automatically update on the platform in real time and the admin could track the figures anywhere and anytime.
The management of goods on the same system is an optimal way to help you protect your capital in many different stores.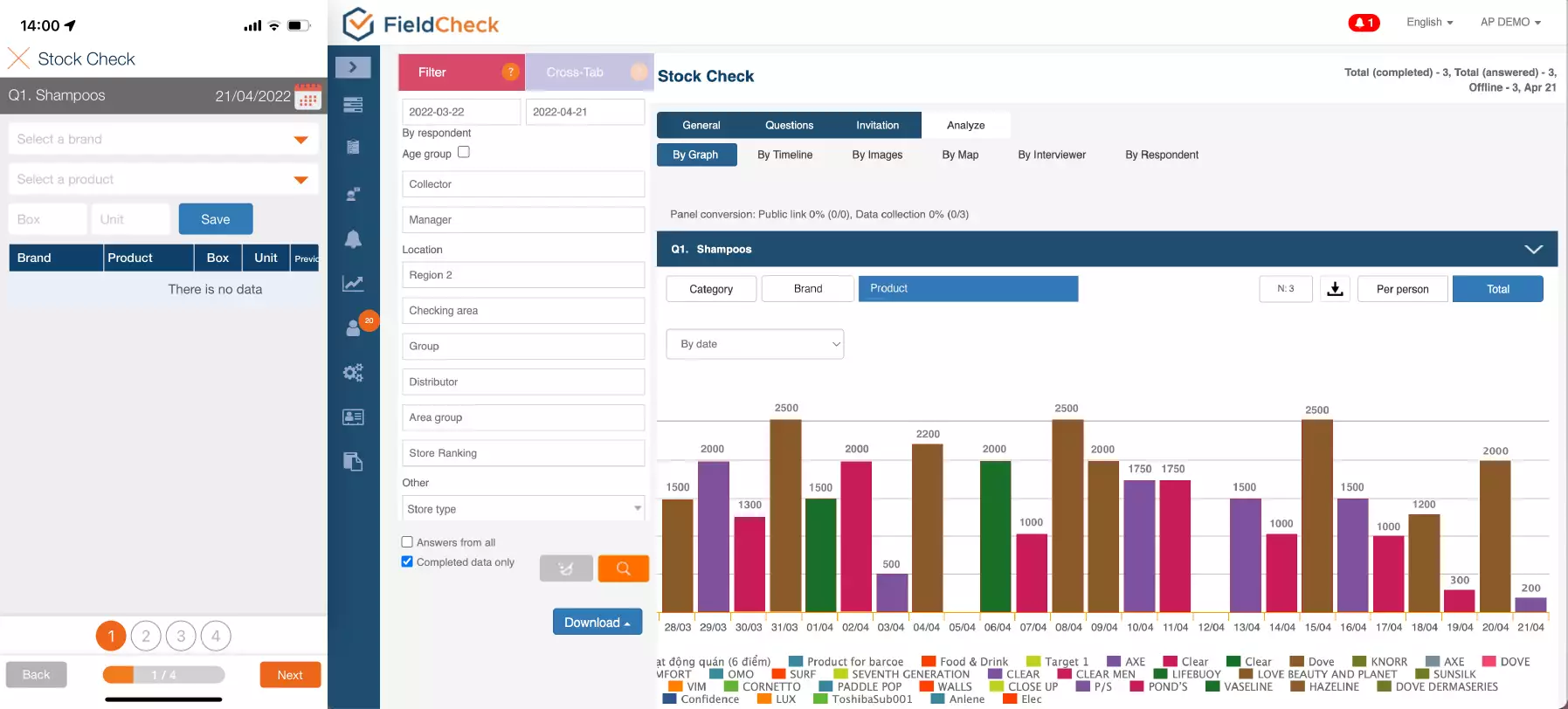 Easy stock audit with FieldCheck
Employee Management
One of the difficulties in recruiting employees for the chain store model is that the employee turnover rate in the retail and consumer sector is quite high. According to a study, the retailers have a turnover rate of 13%, showing that employees do not stick to the job for a long time.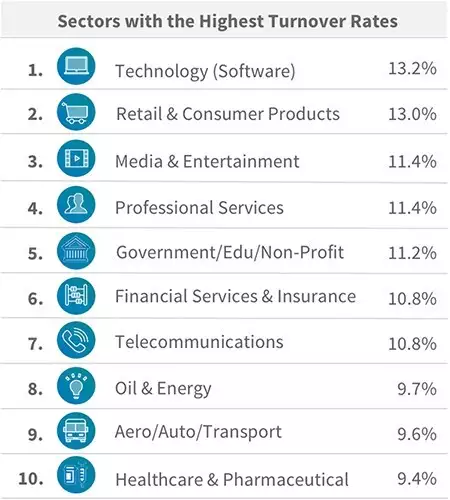 Retail industry hits the high turnover rate
In addition, the distance between stores makes it impossible for store managers to monitor employees' working processes closely. This situation easily leads to dishonesty in employees, causing losses to the business.
Customer Management
In chain store operations, it is inevitable to have some minor or major mistakes. Still, not all of which are quickly detected and reported. This issue could inadvertently affect the customer experience, leading to the lack of customer loyalty to the store.
The problem is how could businesses actively control store quality? And how to maintain customer satisfaction with the chain store?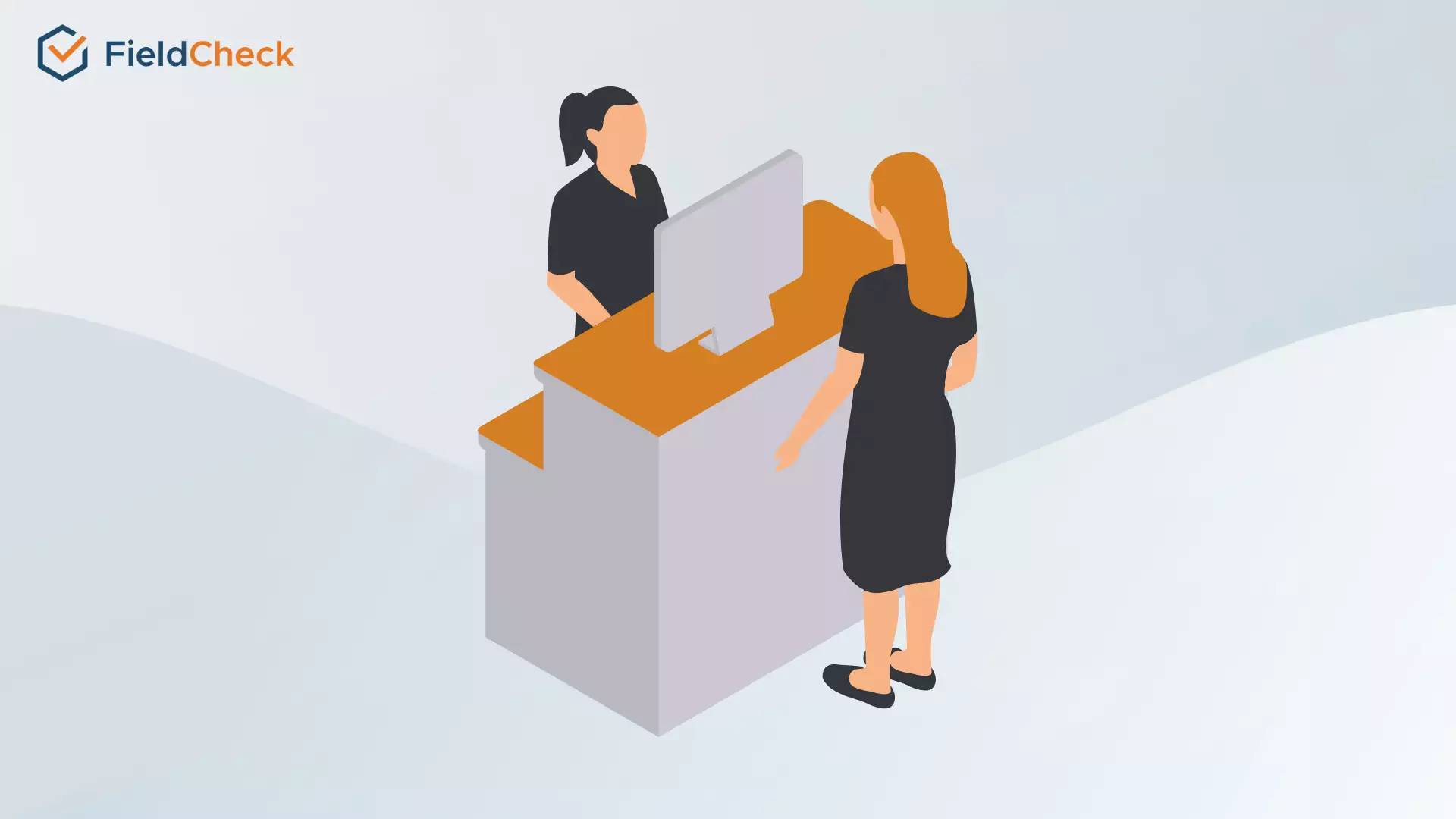 It is important to remain customer satisfaction
One of the most popular ways that is practically proven effective is to collect customer feedback regularly. Traditionally, businesses have collected their opinions via paper-based questionnaires.
Customers tick and record their answers on the questionnaire by pen. The back office input the customer's answers into the Excel file and then make charts showing the survey results. As you could see, this process is quite time-consuming and involves many personnel in an unnecessary way.
Fortunately, there are now many tools to help businesses collect customer data and opinions quickly and conveniently right on their mobile devices thanks to technology development.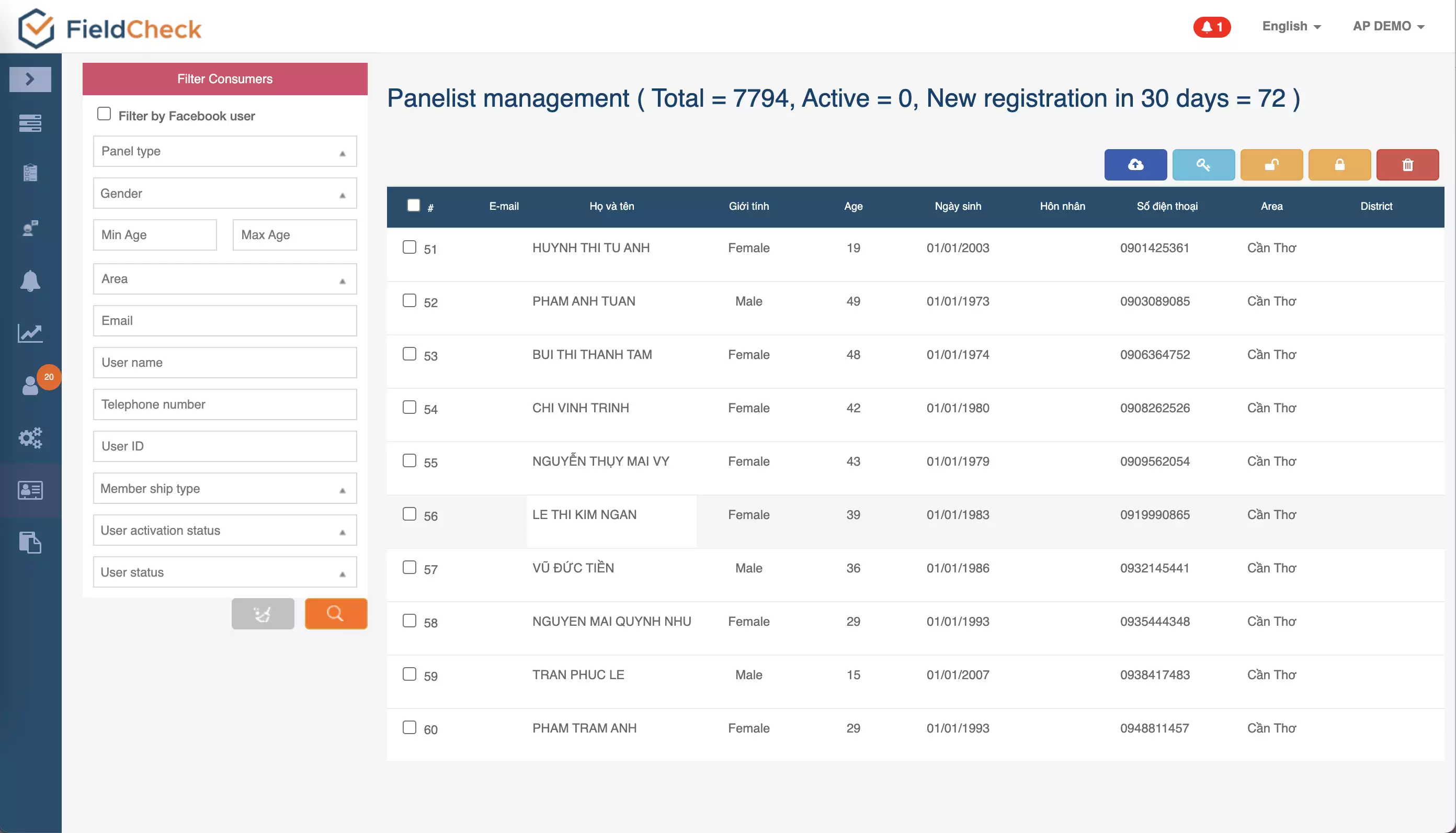 Customer data management on FieldCheck
This solution saves a large amount of paper and pen used for surveys. It also shortens the time for conducting surveys to focus on the conduction of strategies to boost customer loyalty to the store.
Some suggested programs that help improve customer engagement with brands include:
Program to accumulate points and redeem gifts

Discount program for loyal customers

Gift-giving program on special occasions for customers
One more time, we have to emphasize that the most crucial factor for customers to stick with your business is still the quality of the products and services. This is still the core value you need to give to your customers.
Technology Management
In the ever-evolving world of technology, many businesses use task management software to help them handle all their work efficiently while saving time.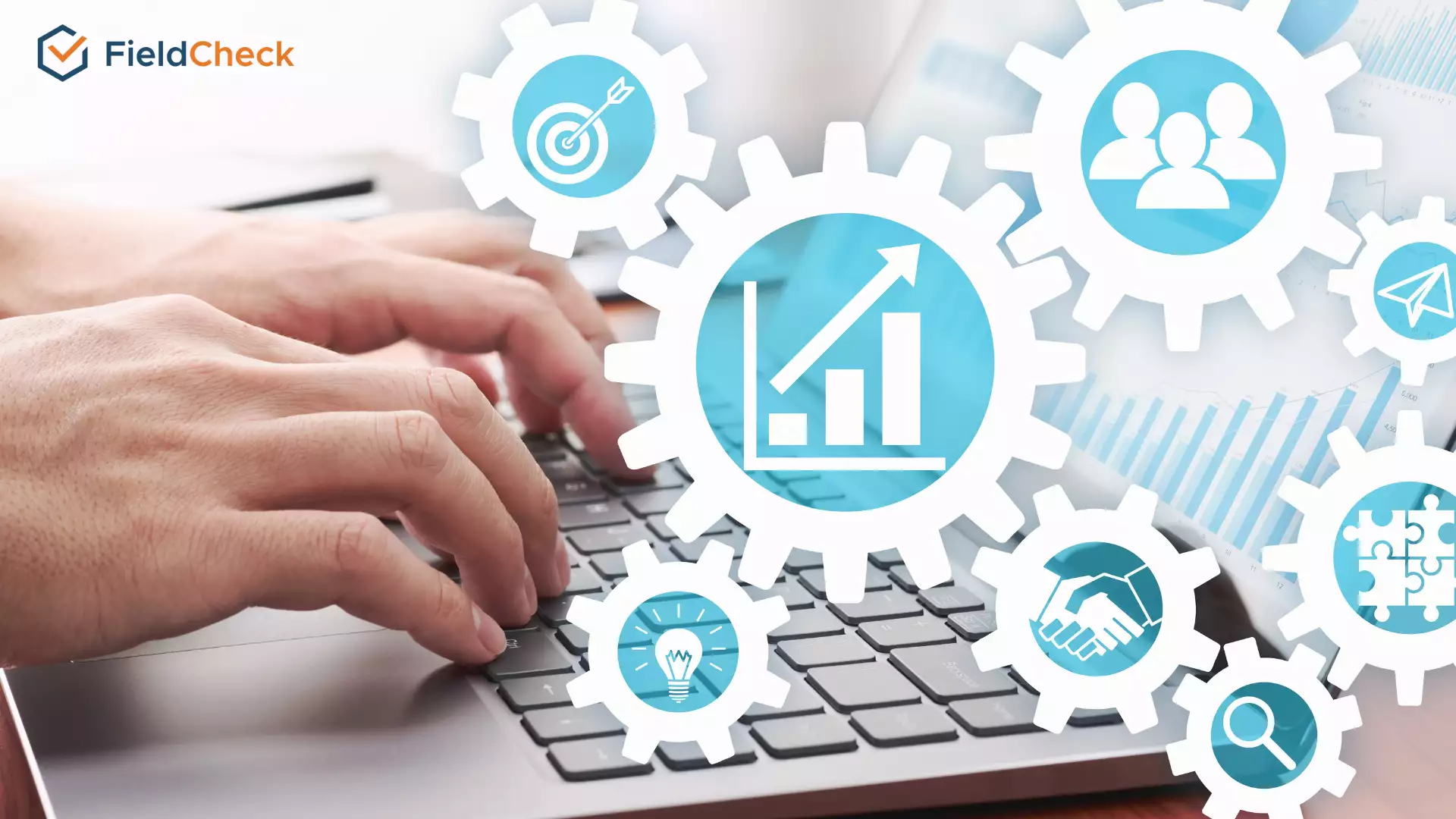 Technology application in the operation management
This raises an issue that chain store owners are better to pay attention to is how to use chain management software properly.
Understanding this need, we have compiled the essential features that chain management software must have to help you optimize the performance of your business.
Task management

Attendance and leave management

Sales reports/orders management

Incentive management

Inventory audit

Notification/e-learning
With the above necessary features, businesses could deploy plans, track work progress and statistics while analyzing the business performance like a breeze on the same platform.
FieldCheck is an all-in-one technology platform for chain store entrepreneurs to conveniently manage operating activities.
To digitize the entire management process, our solution will digitize all the work previously performed by pen and paper-based traditional methods. All the tasks could be done right on the mobile device without worrying about the loss of papers or collected data.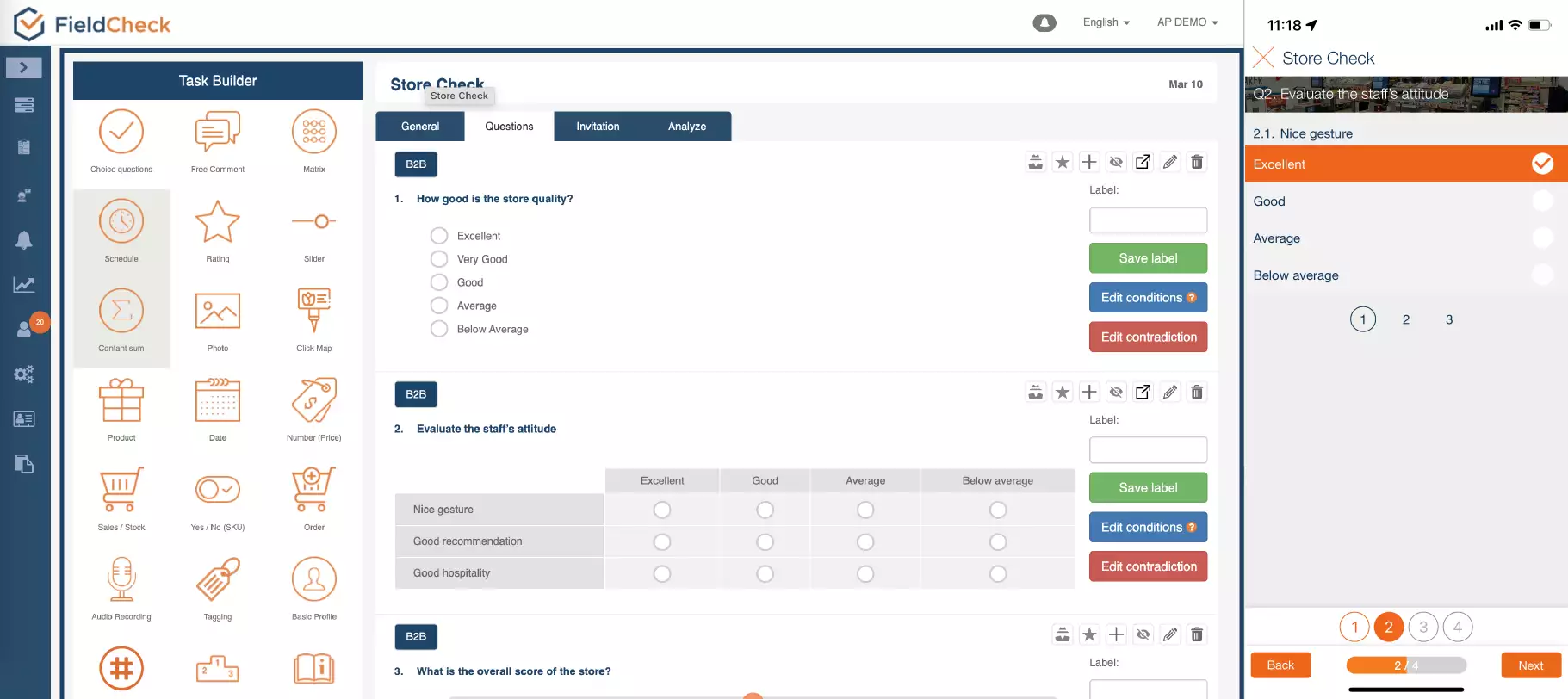 Create digital checklists with FieldCheck
It is our pleasure to support you in managing in-store sales and promoters with the introduction of advanced mobile and Big Data technology. To learn more about the useful features of our solution, you could view a demo here.
Popular Retail Chain Store Management Model
Based on the essentials of building a chain store above, it is essential for brands to properly consider their needs when setting up a model from the very beginning.
Here we would like to introduce a today popular model for retail chain management.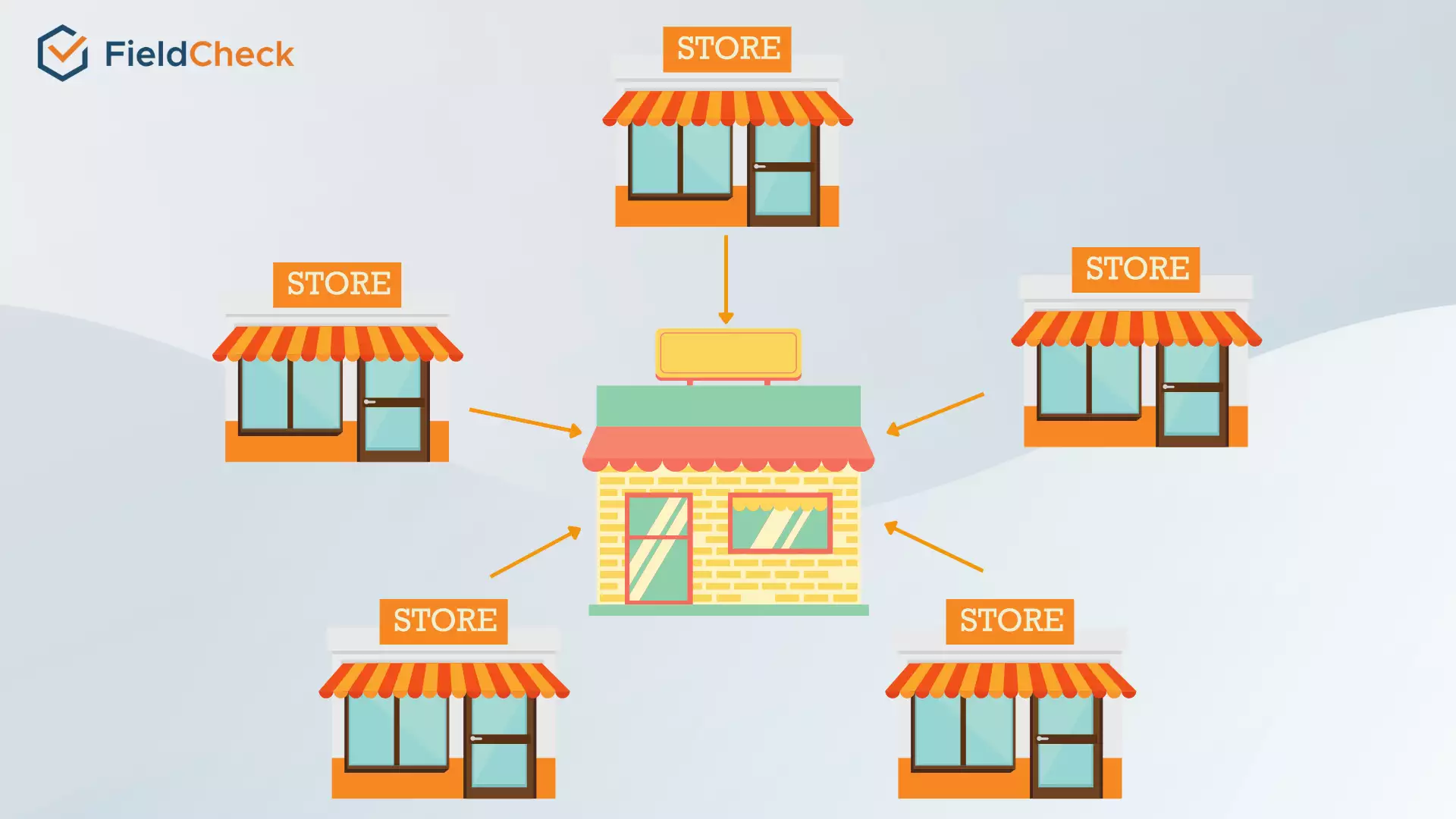 Popular model in retail store chain management
As you could see, this management model features a main store in the center playing a key role in managing the other stores. This place gathers management departments such as directors, department heads, or other administrative departments to assist in handling tasks from other stores.
If the chain of stores is managed on a technology platform, the software server will be located here. All sales data, order information, employee timekeeping, and customer information will be aggregated and processed here.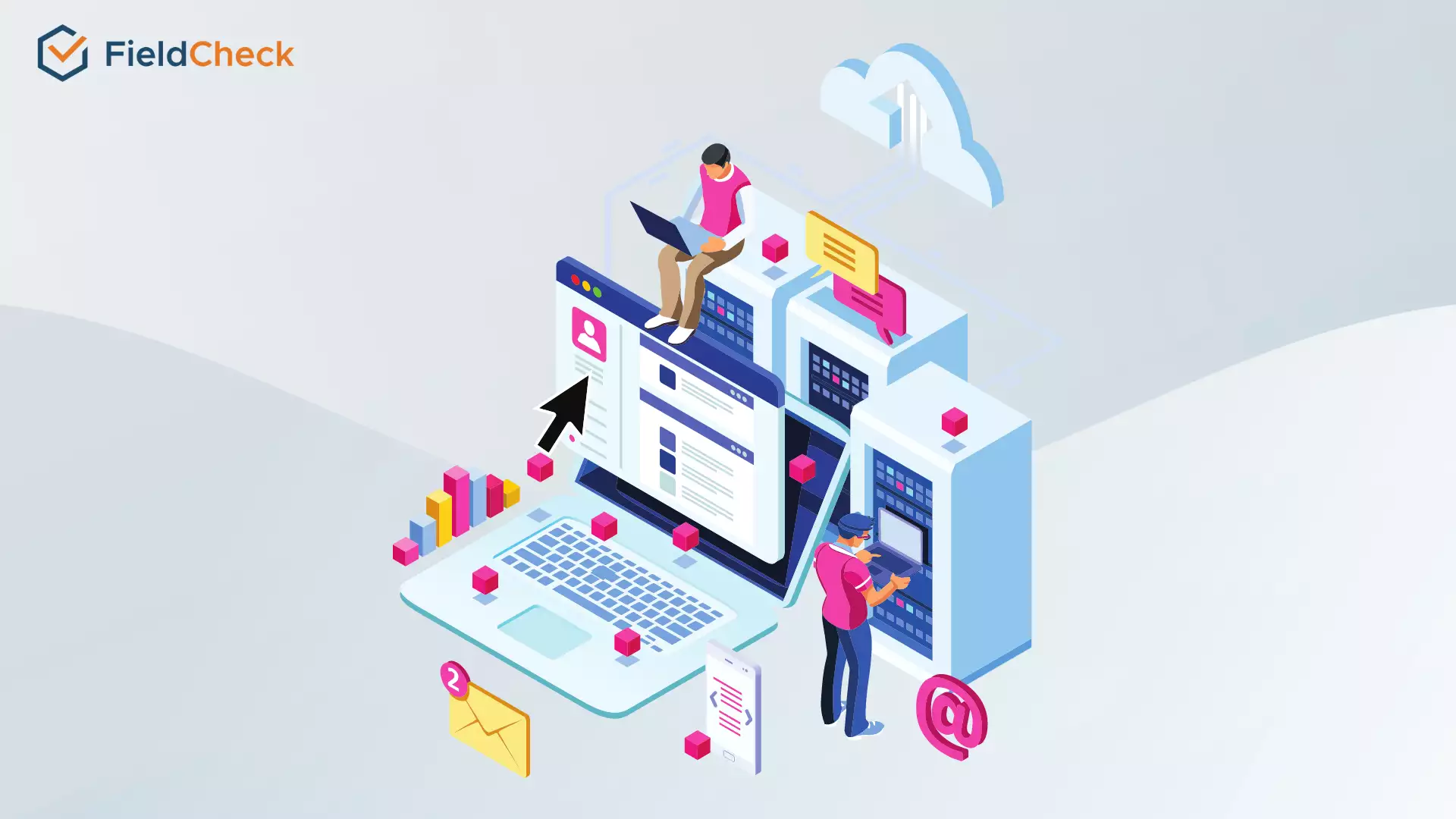 Tech-based chain store management
With a reasonable process of planning, organizing, arranging, tracking, and monitoring, chain stores' operation also becomes more convenient. In addition, data management and statistical analysis of data are also simplified.
Businesses, thereby, will save time and operating costs for the entire chain of stores. Wishing you success in building a management model for your store chain! If you are interested in our chain management application, please contact us here.