Time attendance software plays an important role in helping businesses have the awareness of how their employees work while being able to calculate labor costs compared to productivity.
Accordingly, your businesses can conduct suitable policies to reduce staff absenteeism and tardiness. So what is the time and attendance software exactly?
We have researched and compiled essential information related to this topic, along with the top 10 time and attendance software of 2022 for your consideration. Are you eager to know? Let's get the ball rolling.
What is Time Attendance Software?
Time and attendance management software is developed to assist employers in monitoring the employees' working time efficiently. This tech-backed solution can monitor actual employee hours, absence, leave balances and overtime while keeping employees adhere to labor laws.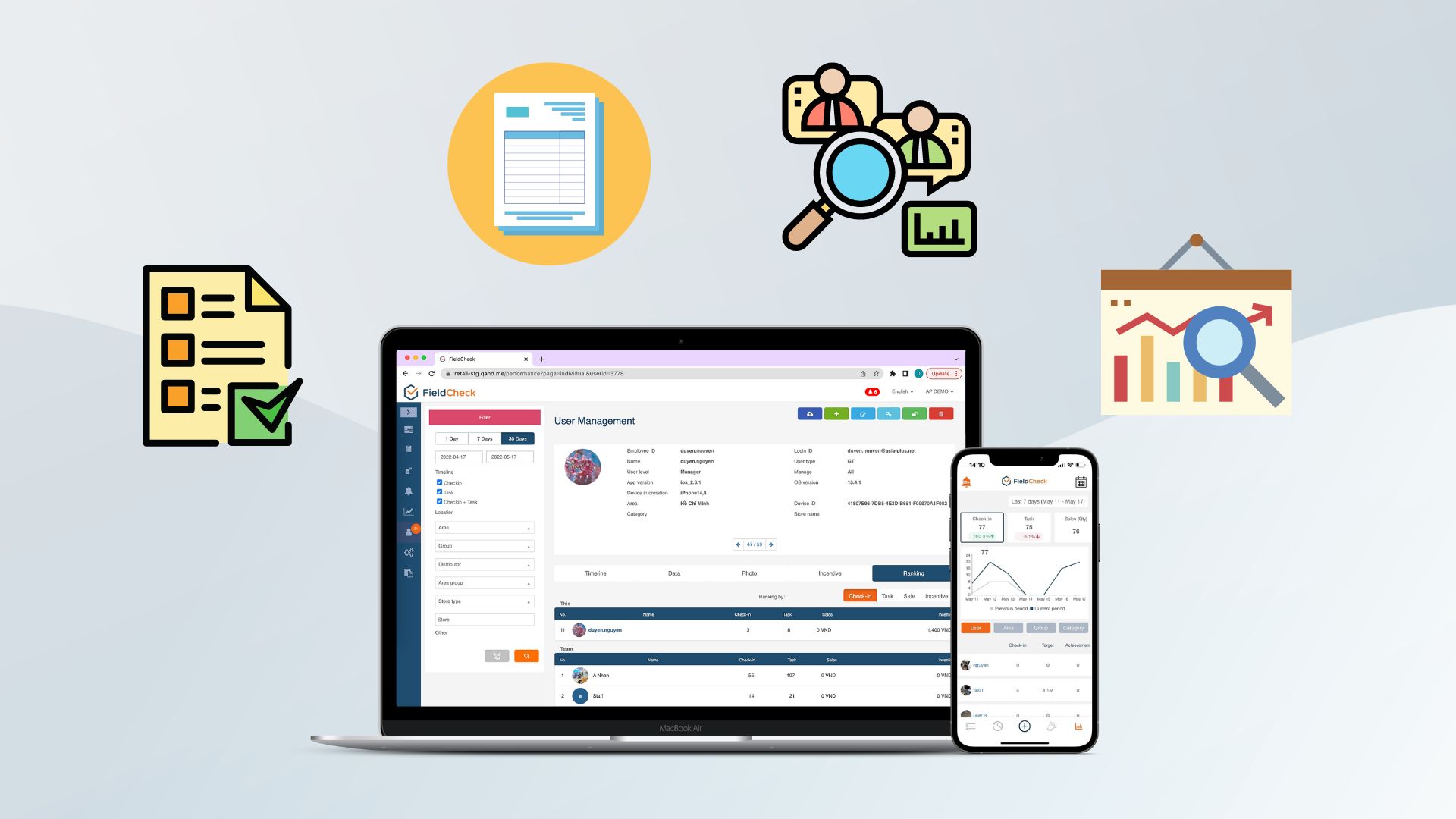 Time and attendance software
Various time and attendance systems provide team messaging, GPS tracking and online employee scheduling even though various vendors for premium plan subscription and charge extra for these tools' use.
Top 10 Time And Attendance Software Of 2022
1. FieldCheck
FieldCheck is developed with the aim of helping manage field force as well as frontline team in a smooth way. This solution will likely automate your routine actions and streamline the workload.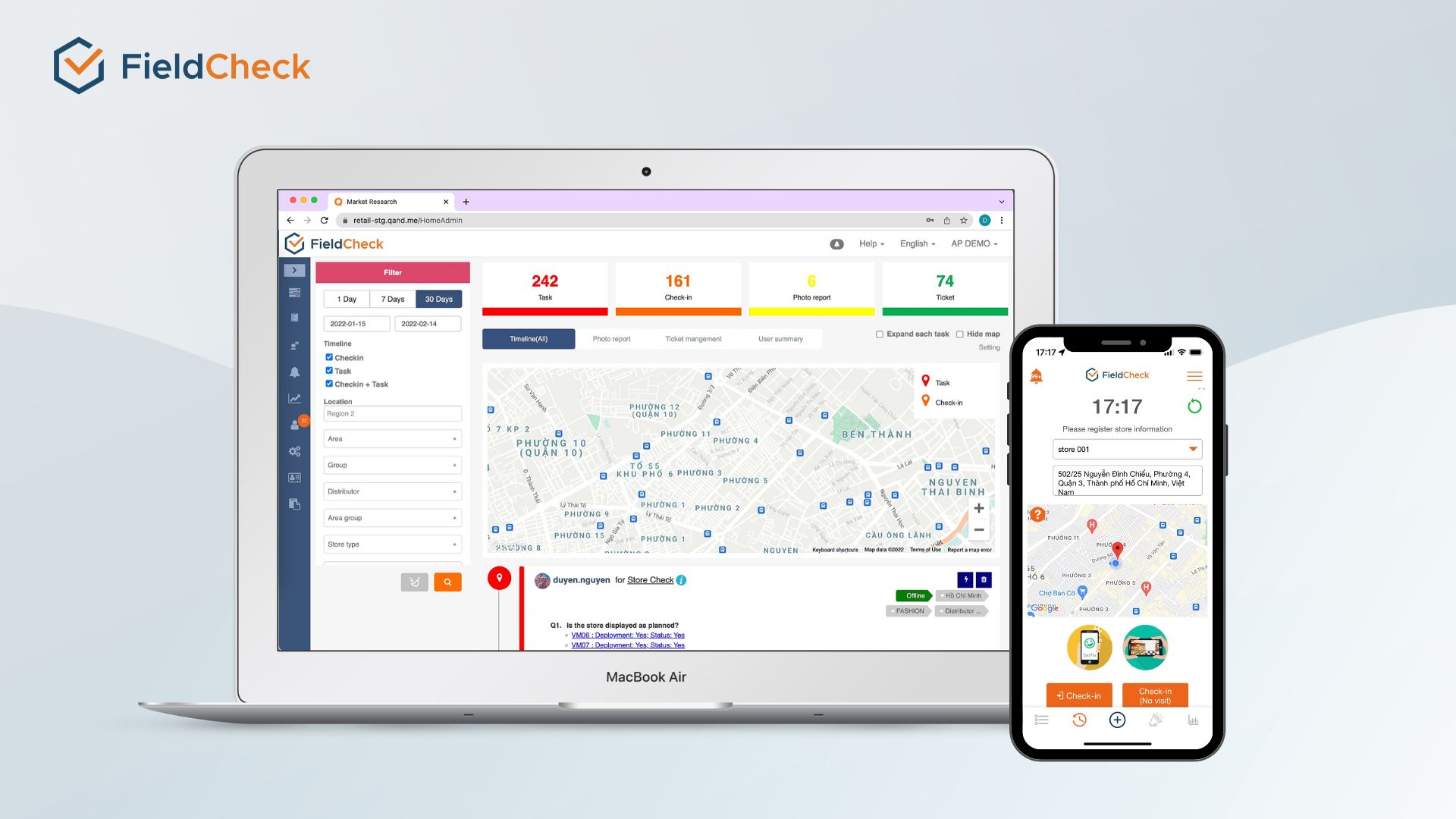 FieldCheck - a simple but intuitive attendance system
It is also greatly easy to configure automated workflow while customizing them with down-to-the-earth triggers. What makes FieldCheck stand out among other options is the ability to turn your time and attendance management into a much easier task.
Developed with smart technology, the platform allows you to manage time and attendance with ease and high efficiency. With no exporting/importing of .csv files and spreadsheets, FieldCheck helps to save much time to compile and process the data collected and input in these formats.
For users, they can easily log in the mobile app and do check-in and check-out easily without any hassle. Their activities will be accordingly recorded in real-time in the system.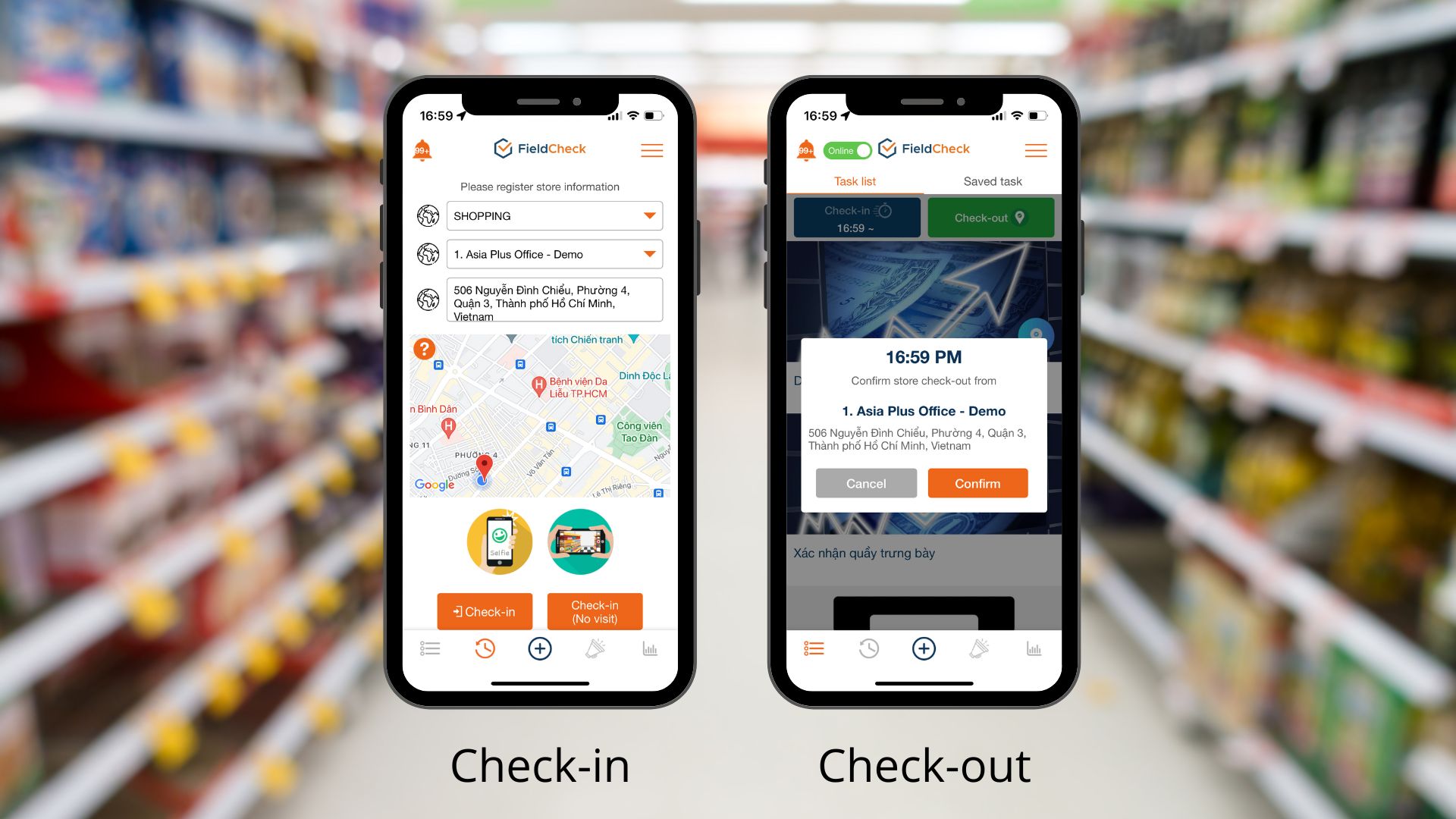 Check in and out easily with FieldCheck
They can rest assured that their working time is 100% saved and the management can remotely log in the web-based admin to check the time and attendance activities of their employees.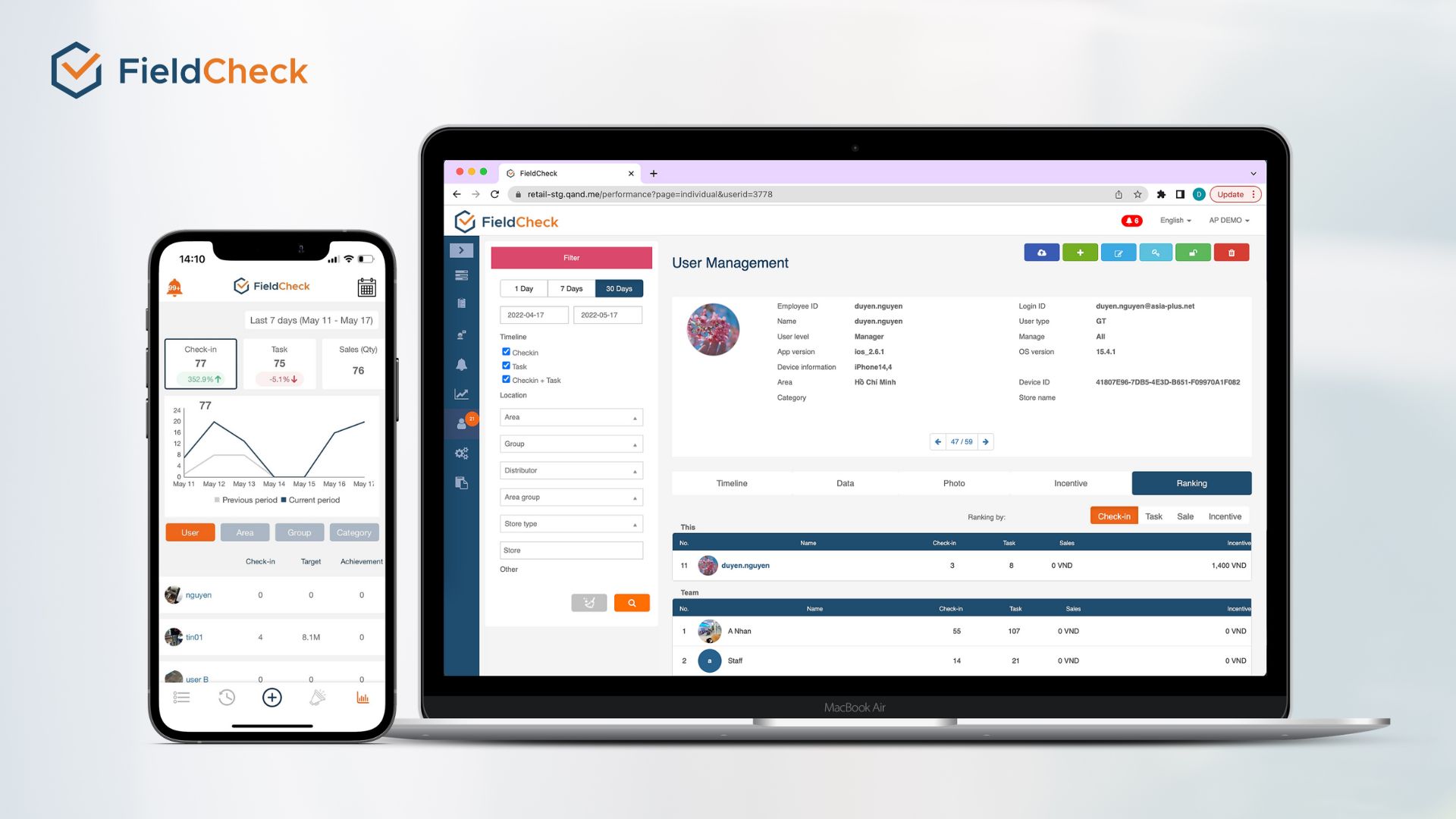 Easy employee performance management
FieldCheck also provides the Dashboard feature to check the summary of working time of mobile users, which makes the Admin easily control the performance of users without spending much on processing the data.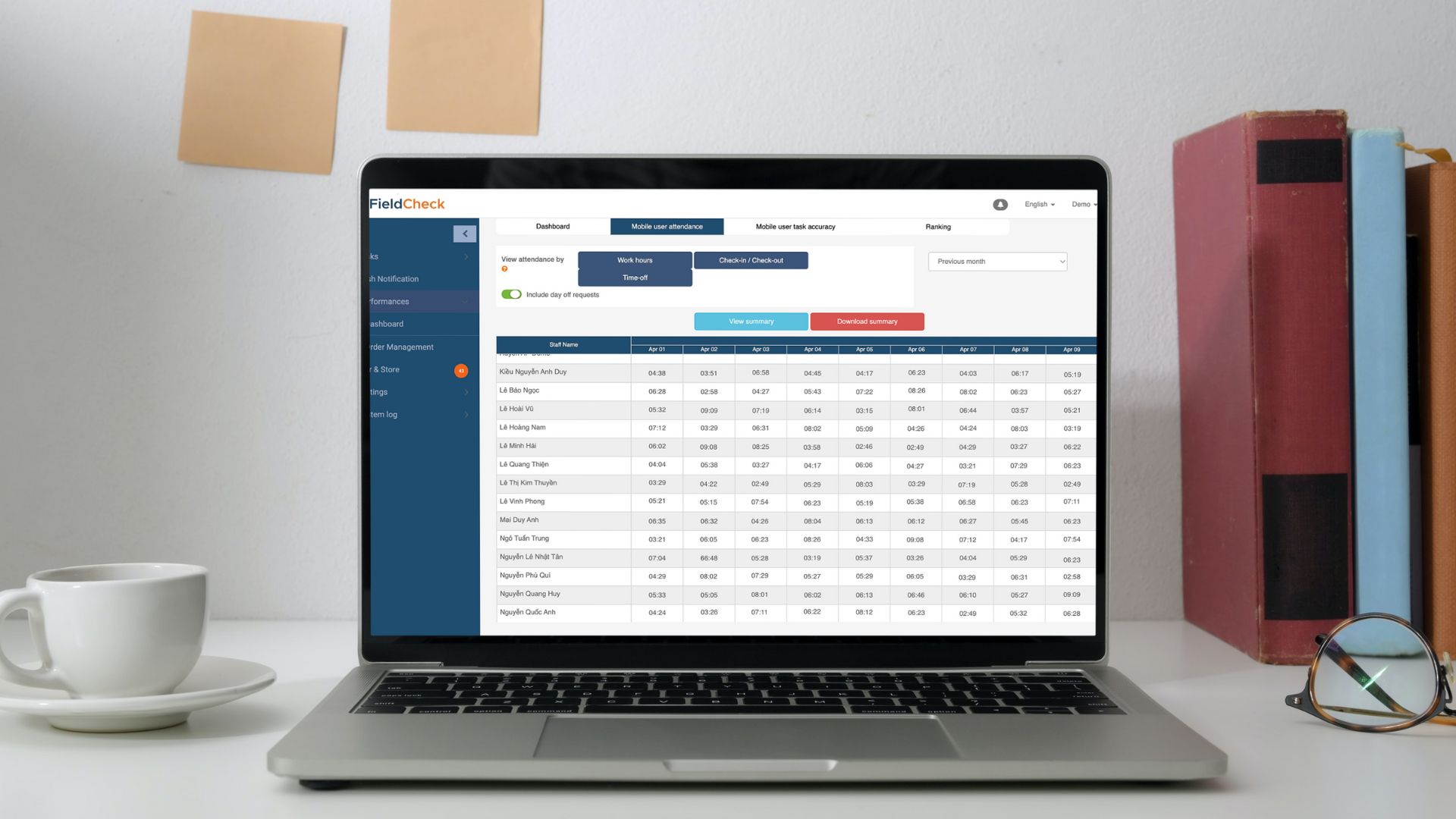 Dashboard of time and attendance tracking software
The combination of time and attendance software in FieldCheck means users get everything they need from supporting the check-in/out online to providing the summary of employee hours.
On top of that, as FieldCheck can record the activities offline, mobile users can work even when the Internet is disabled. Accordingly, employees do not need to worry when working on field places.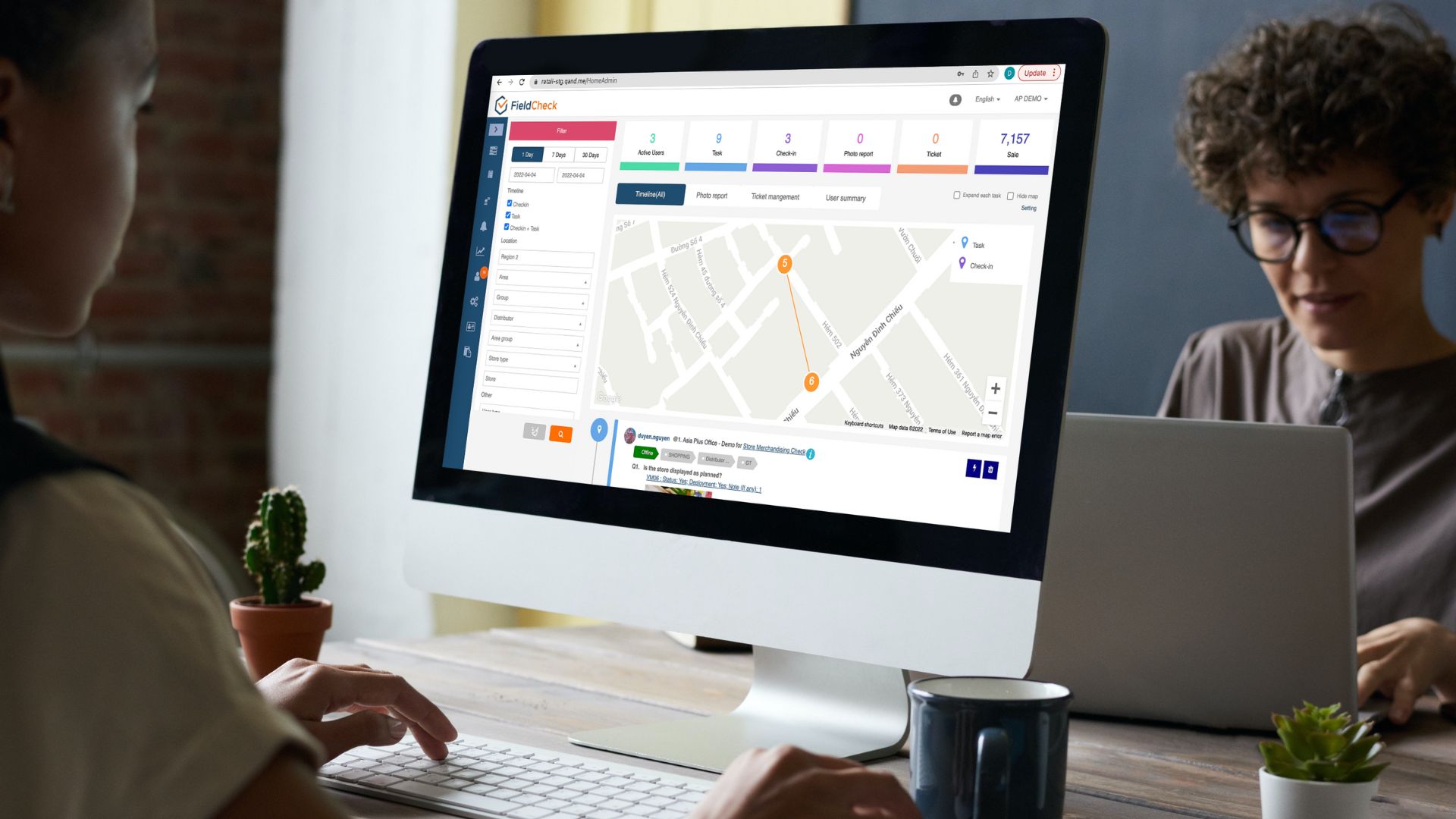 Easy to track employee activities in multiple locations
2. Rippling
With Rippling, the users can get state-of-the-art employee attendance tracker software in combination with payroll features. Accordingly, they are likely to monitor the time and attendance with the payroll without any hassle. Some features to mention include:
PTO tracking

QR-based, selfie, and geolocated clock-in

Custom reporting

Automatic tax filings

Automatic employee, labor, and tax compliance

Global payments to contractors and employees
Accordingly, the users are able to clock in/out utilizing mobile devices via the app or computers. They can also receive and approve the working actual hours and assist in adhering labor law on overtime and breaks.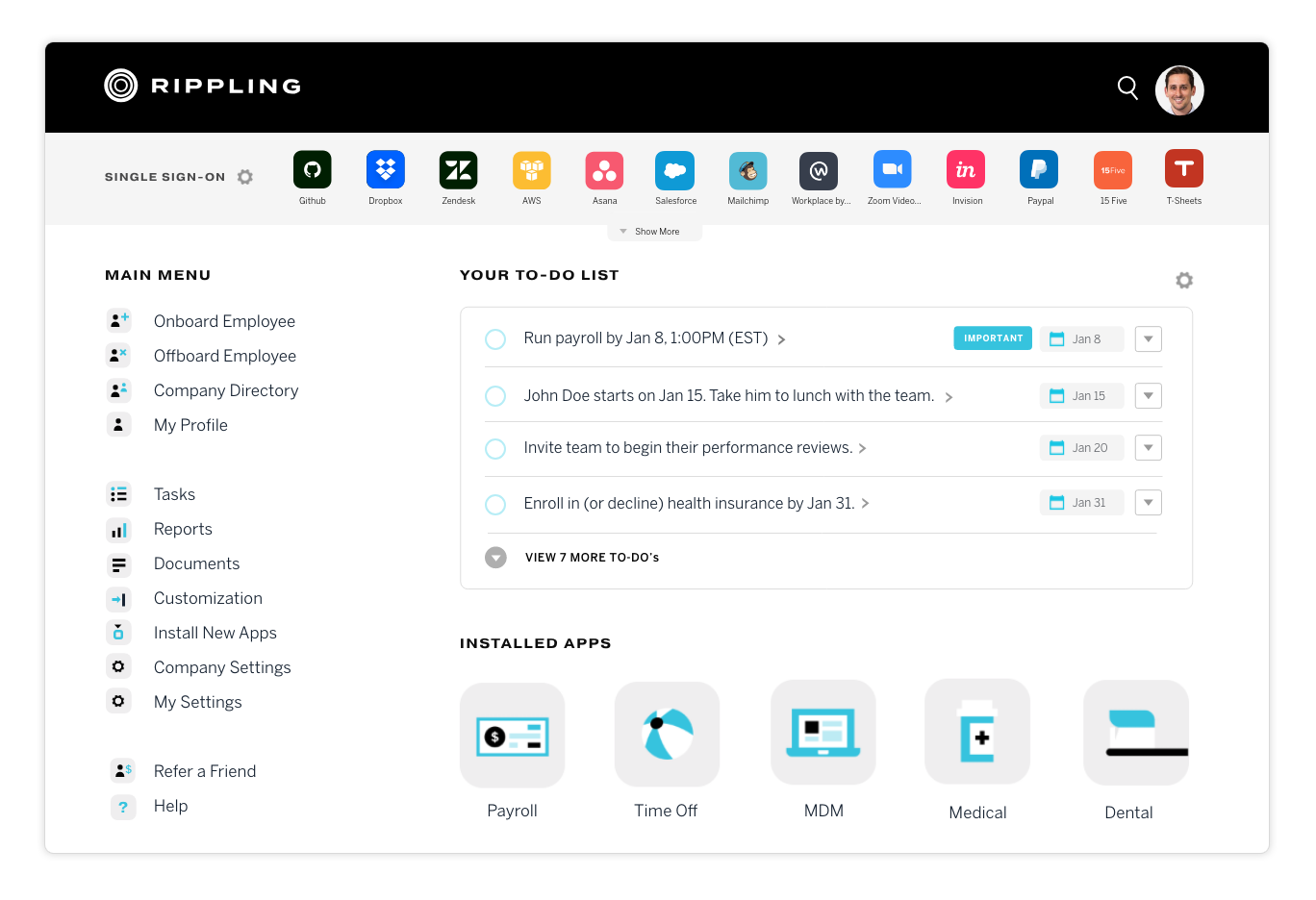 On top of that, Rippling stands out with the ability to deliver a high-visibility insight in real time into the labor costs. The tech-backed solution also provides custom pricing to clients based on which combination of services they want.
In addition to time and attendance tracking systems and payroll, some available solutions for admin to manage their staff include internal IT, recruiting and benefit administration management.
Jibble
The next position belongs to Jibble – which can significantly assist leaders and teams in performance improvement. As it is compatible with other apps you utilize in your workflow, Jibble offers the capacity to monitor activities on the apps like Microsoft Teams and Slack.
Regarding its features and abilities, this platform is a good option for those who are in need of a tool for employee scheduling and tracking the productivity and time and attendance of employees while all teams can benefit from this software's capabilities.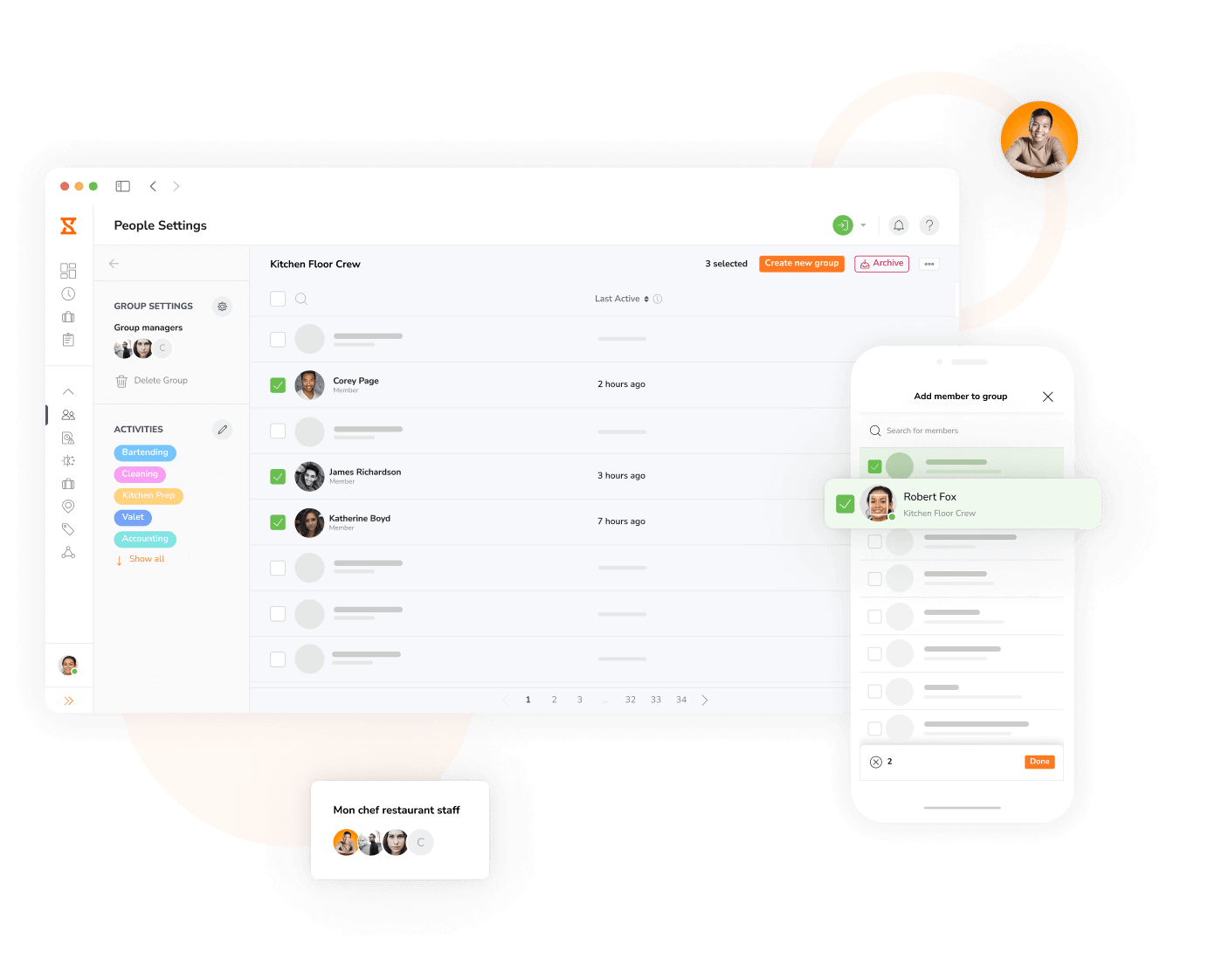 Jibble is also ideal for personnels who often carry out productivity improvement activities and performance reviews. In an attempt to streamline how employees' time and attendance are managed, this platform can ensure clocking in/out of work is informative and accessible.
The employee attendance app allows users to take photos for effortless recording and identification. Besides, time and attendance activities are likely to be done through mobile devices. In other words, team members and employees all can check-in/out anywhere anytime.
Time Doctor
Time Doctor is the next choice in time and attendance software developed for managing employees closely, even remote. The platform stands out with various features to help businesses keep an eye on their employees.
Initially, Time Doctor stands out with project management. It helps to set up projects and then assign the tasks to specific users within several clicks. It is available to limit the access to the project by choosing a user group, company, and certain staff.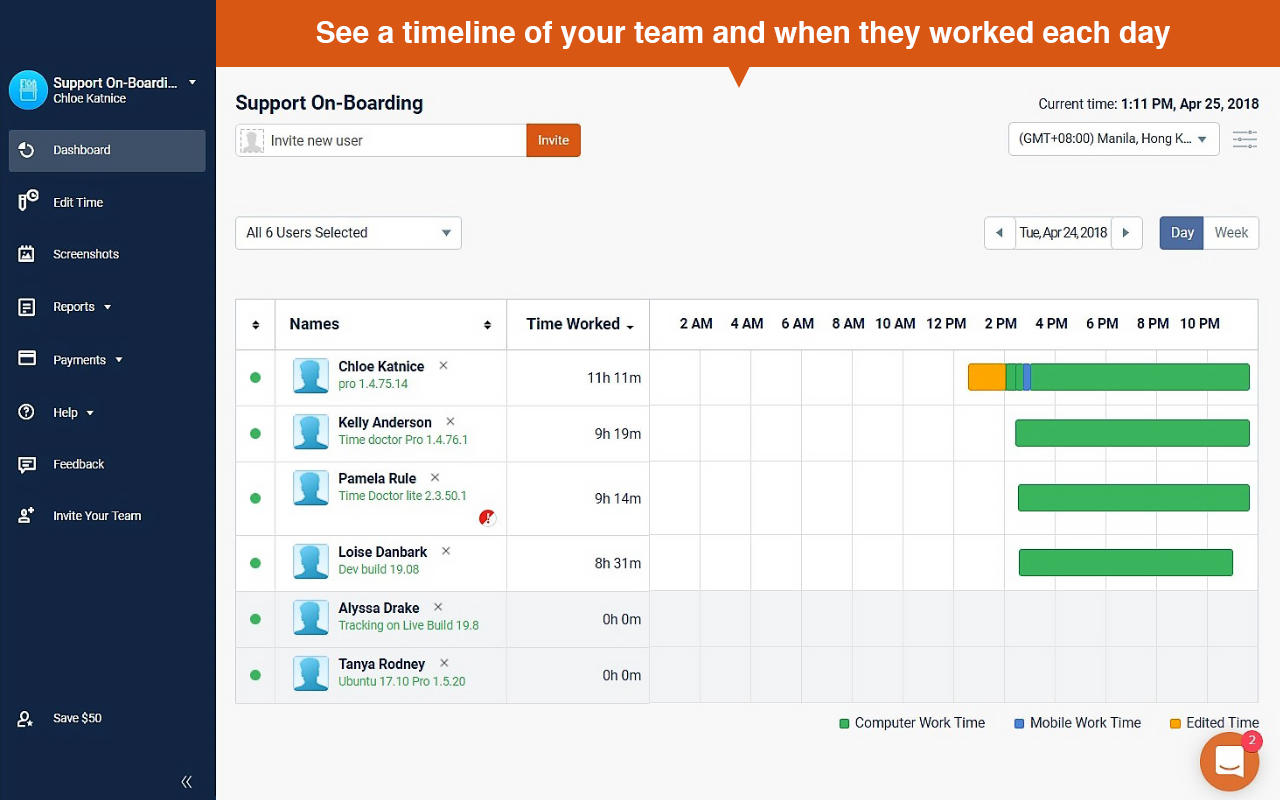 For more control, the platform lets you track the persons in charge of each project and the hours they work. Another notable feature of Time Doctor is that it allows users to track hours listed for each task separately while the overall time period is shown above the application.
With this software, it is possible to set reminders and alerts to enhance the productivity by setting up the time limit that users could be idle. Whenever there is an user exceeding the limit, they will receive a pop-up about if they are working.
If they do not reply to this pop-up, the timer stops recording after one minute. In case it's enabled, users can choose "Yes, I am working" to convert the recorded idle time to manual work hours. This time will be recorded differently in the report.
OnTheClock
As you might know, service companies boast numerous needs from time and attendance software than most of their other counterparts. They can be an IT company, a construction operation, or others where you dispatch employees continuously for the whole day.
OnTheClock boasts a GPS time clock to let workers check in right on mobile phones upon arriving/leaving working sites. With this platform, users can get an idea of who is where they are supposed to be and who is not.
Also you can install geofencing to ensure staff clock in when they are present at the working places and drop pins for punch-in locations for when the tasks are more remote between sites.
Besides, with various employee roles, it is possible to switch between tasks without the need of clocking out for team members wearing various hats when they are out in the field.
Also, there are major features for businesses regularly sending staff out into the field like overtime and time tracking system, automatic PTO, staff requests within the app and platform, project cost, invoicing assistance and employee scheduling.
OnTheClock fantastically integrates with all payroll platforms out there like Quickbooks, ADP, Paychex, Gusto, etc.
Calamari
Calamari is another great software to manage time and attendance of employees. It is based on the cloud technology developed for organizations of any scale in any industry. This platform has two modules that could both work together and stand alone.
They are leave management and clock-in/clock-out. The service of Clock-in/Clock-out provides the companies to monitor the employees' time and attendance. It can employ iBeacons to clock in/out automatically, reporting, timesheet, and export of payroll.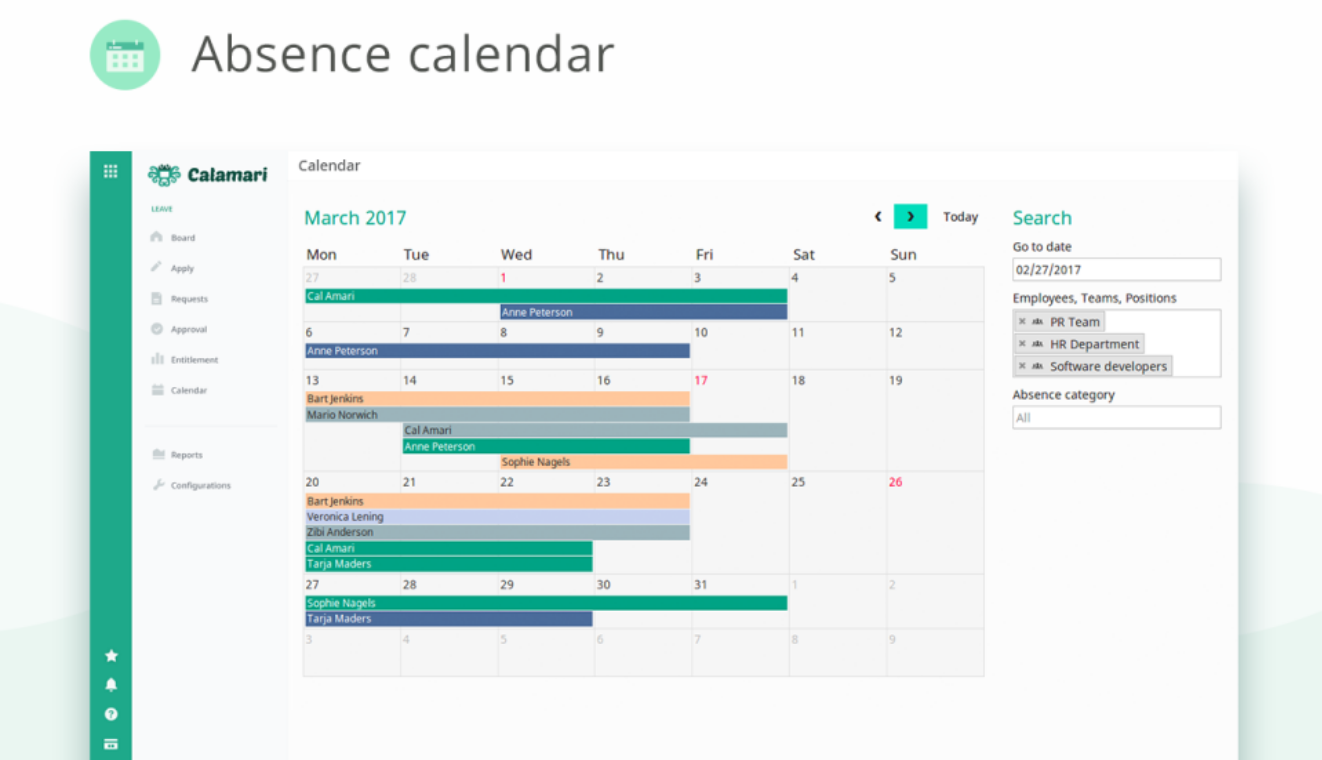 This software provides a tool for employees to manage and monitor their work independently with numerous integration choices that can enable them to clock in/out through QR, Slack, iBeacon, to name a few.
Bluetooth iBeacons are tiny battery-powered devices so that they can signal a place to nearby mobile phones. After receiving the signal from Calamari knows whether the staff is in working places or not.
There is also a timesheet function to provide various features consisting of timesheets, employee time tracking, approval flow, and manual time entries. The managers can validate their teams' timesheets and check daily time and attendance.
The system of leave management allows employees to request leaves, check leave balances easily on their mobile app. The feature lets users plan time off, remote work, personal days and make sure many policies are applied automatically.
Stratustime
Stratustime is the cloud-based time and attendance system from Nettime Solutions. It provides a simple intuitive tool for staff to check in/out and also request leaves.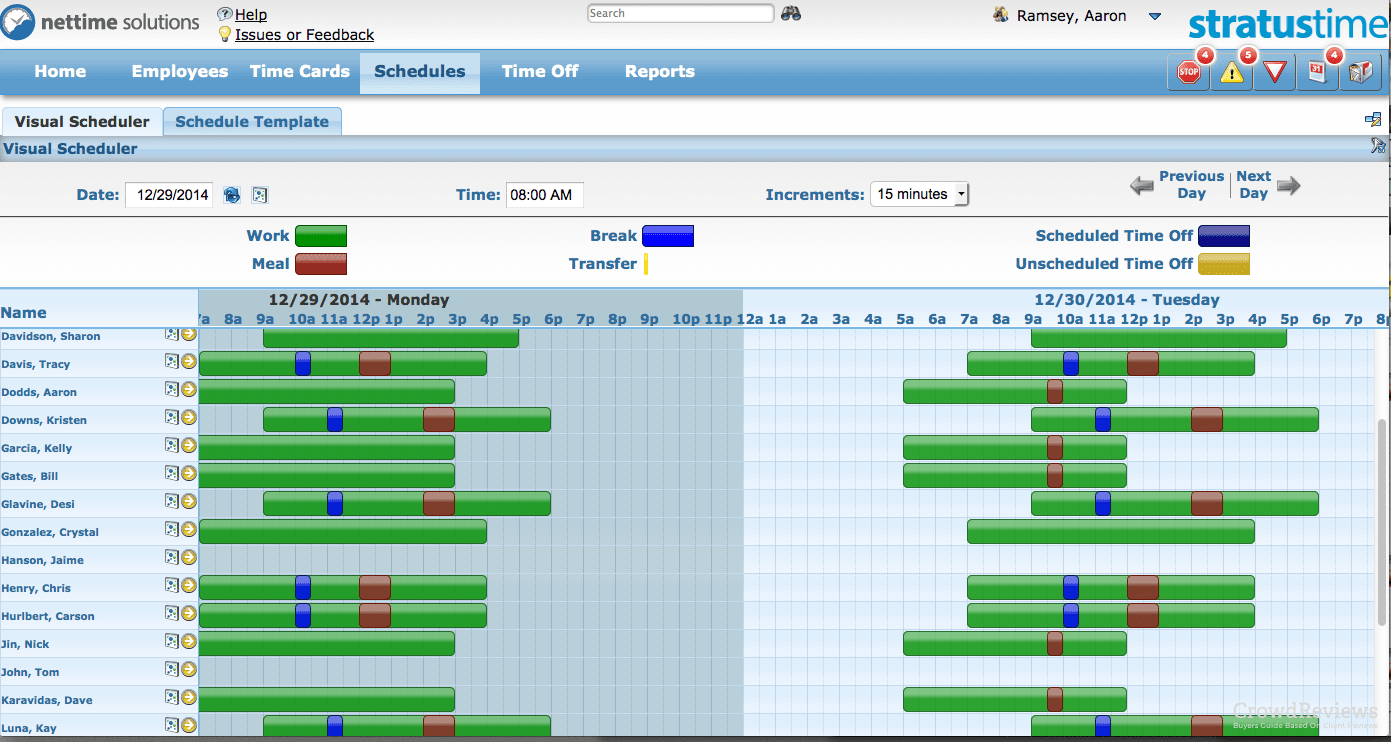 This platform is also greatly simple for everyone that even those who are not tech savvy can find it easy to use. The software is flexible, providing services and plans for companies of all sizes. In other words, it grows with the businesses as they scale and recruit more employees.
Also, it integrates with more than 60 payroll software to deliver an optimal process via every HR component. And as it's a system based on cloud technology, users can access it on all devices from PCs to smartphones.
Below is the list of Stratustime's top features:
Hour tracking

Paid time

Sick time

Time off request

Clock-in/out from anywhere

Intuitive employee scheduling views

Simple manager approvals

Time forecasting

Employee scheduling tools

Geofencing

Alerts

ACA compliance
Timely
Timely is a powerful tool that simplifies the process of employee scheduling, reminding, and conforming events, activities and tasks to save your time and maximize your revenue.
The software is focused on assisting B2B companies and revenue teams increase their customer satisfaction, conversion rates, and attain superior levels of productivity.

Timely provides easy ways to schedule a meeting or to start a phone call upon submission of a form. It makes use of advanced rules to distribute and qualify leads in real time to the right reps.
It further helps in increasing the growth of your company by making your service completely hassle free. You can book appointments, generate automated schedules, and manage payment processing with Timely.
It also enables multi-location appointment booking to provide a user friendly experience to your clients. You can manage your calendar, your meeting room bookings, and online scheduling with Timely.
It assists you in group scheduling, employee scheduling, and automated scheduling as well. The attendance tracking system offers a free trial version to test and try its features apart from a variety of premium plans to fit every type of requirement and budget.
TimeClick
TimeClick is an on-premises time and attendance system for small-scaled organizations that streamlines time-off, payroll, and time tracking. The software serves various industries, including engineering, retail, banking and healthcare.
It is a great solution for small businesses of below 100 employees. The solution provides users to clock in/out and monitor breaks by choosing their names from a customized menu and inputting the password. The software also delivers time monitoring and management.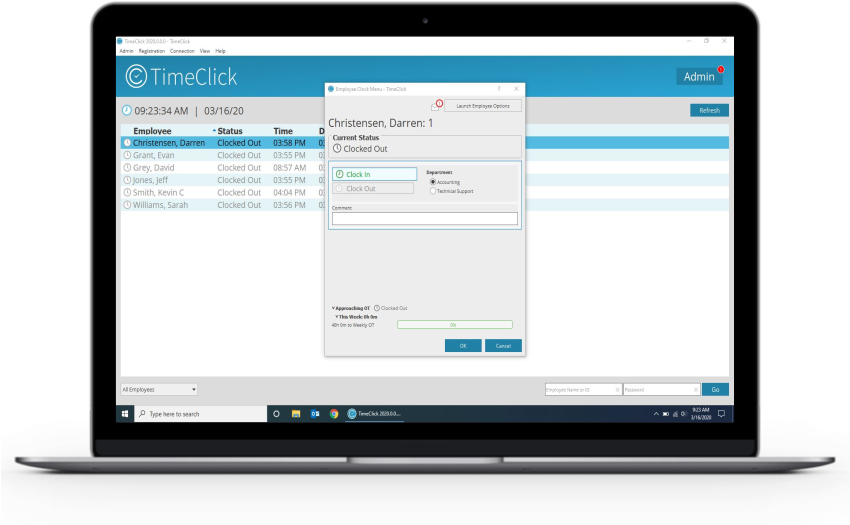 After setting up, companies could run with access to more than 20 reports, the flexibility to monitor employees' time and attendance, and secure administration areas. TimeClick attendance software is also an ideal solution for businesses seeking time and attendance systems operating on Windows systems.
Wrapping Up
Above about top time attendance software of 2022. In a nutshell, the above-mentioned softwares boast key features to help manage time and attendance of employees easier.
These tech-backed solutions could provide a comprehensive tool for them to closely monitor the performance of employees.