Enterprises, especially startups, when starting their business, will need an effective model to plan and orient their long-term development.
Business model canvas is a diagram with many outstanding advantages to help businesses think and plan their business development. So what is this model? Why is it the key to success for entrepreneurs?
Let's learn more about this support tool in the following article.
What is Business Model Canvas?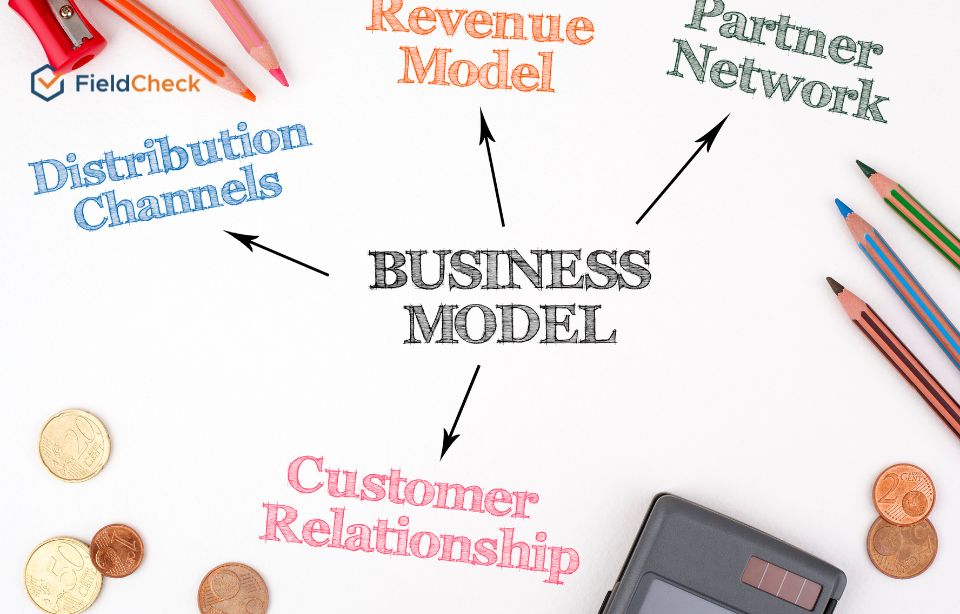 Business Model Canvas
Business Model Canvas (abbreviated as BMC) is a graphic strategy framework researched and developed by Alexander Osterwalder and Yves Pigneur.
The two founders built this tool for businesses and startups to orient and analyze potential business criteria to maximize profits and financial stability.
This model can be presented on a single page thanks to its simple visual nature and easy-to-understand language. Therefore, many different businesses of all sectors and sizes in the market have chosen this model instead of creating complex business plans that are tens of pages long.
The Canvas model will be very useful in identifying and evaluating hypothetical information for startups or entrepreneurs who have the idea of starting a business. Thanks to that, they can map out the exact roadmap and strategic system for the upcoming plans.
Many of the world's leading enterprises, such as Google, Apple, P&G, etc., have successfully applied this tool, but the "big giants" in Vietnam have also achieved positive effects thanks to the model. Canvas business. Typically, the Canvas model of Tiki or Vinamilk.
The ultimate purpose of the Canvas model is to help business people learn and understand different factors, namely the nine pillars that are said to be the nine criteria that determine the business's success, to create a perfect business plan.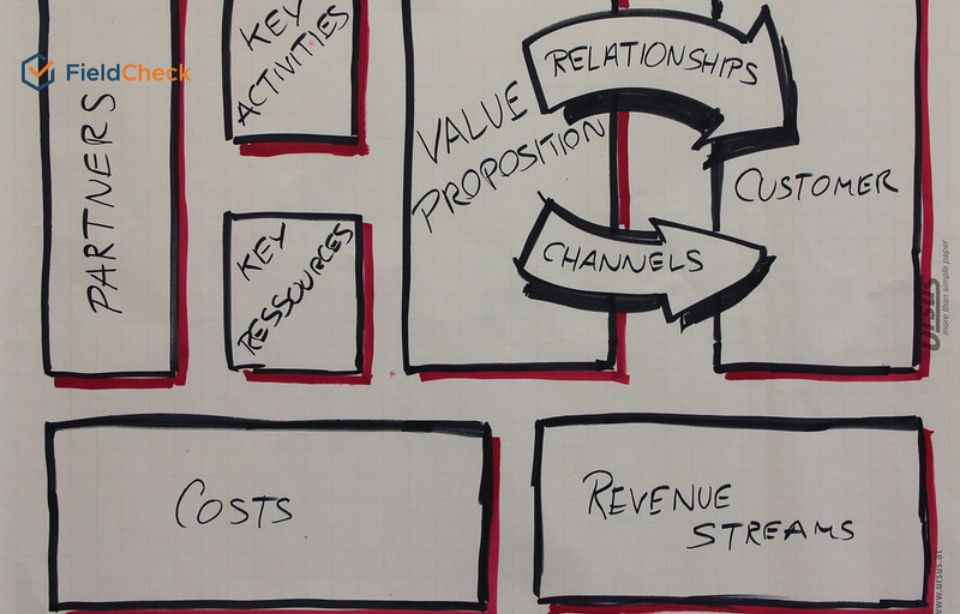 A Canvas model consists of nine criteria
Why Should Use Business Model Canvas?
The Business Model Canvas has two main parts: internal factors (information revolving within the company) and external factors (focusing on customers).
Combining these two factors will create shared value between businesses and customers, help strengthen strategies, and apply changes to suit the needs of both parties. In addition, the Canvas model also has the following outstanding benefits:
1. Give Intuitive Thinking And Focus On Your Goals
Business Model Canvas allows policymakers to phase out the traditional way of doing things - creating cumbersome and difficult-to-implement plans.
When established, the model provides only important and necessary content to help decision-makers focus on factors affecting the development of business subjects, including products and customers.
Moreover, with a business model presented in a simple and easy-to-see form in the form of a general diagram, businesses will easily access and realize business ideas.
2. Simple, Fast, and Neat
As mentioned above, the Business Model Canvas design is extremely simple and compact. With just one sheet of paper (preferably A3 paper), one slide on your computer, or one whiteboard, you can quickly get a diagram of nine cells corresponding to the nine basic criteria of a business model.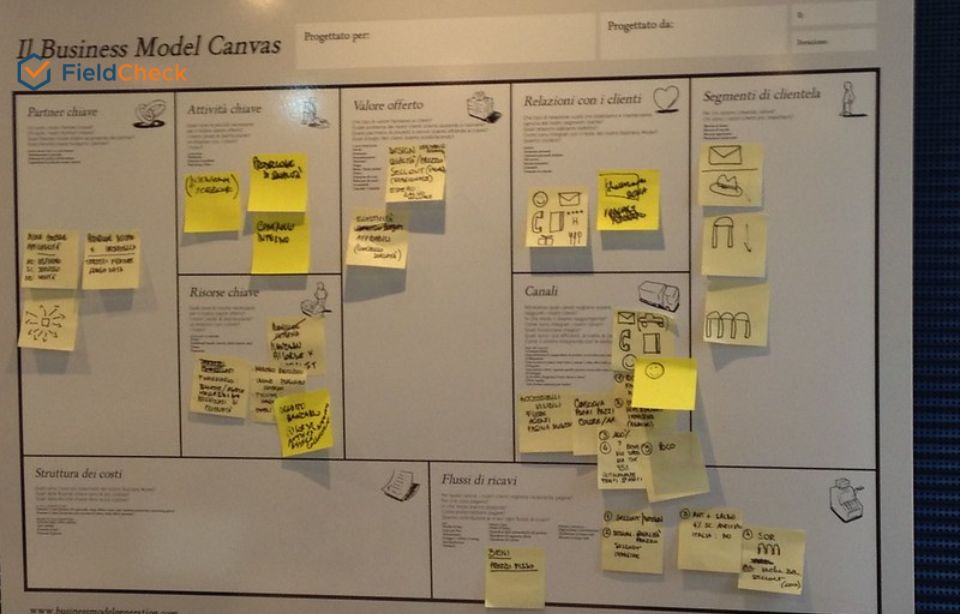 A sample canvas model
3. Convenient and Flexible For Circulation And Sharing
Presenting ideas encapsulated in a diagram makes it easier to share models with departments within the company or between partners and investors.
Adjusting the Canvas model also doesn't take much effort. Anyone can edit and pitch their ideas during the implementation and testing of the plans. Print the model out on a piece of paper or poster, draw it on a mica board, and have a pen and notepad ready.
Participants can stick sticky notes on the boxes containing those keywords, helping them easily track the effects of keywords on business orientation.
4. Transparent And Evident
The Business Canvas Model can be viewed as a mobile tool that can share information anytime, anywhere. Not only that, but the popularity of the model is also a factor that makes the information shared more accurate and honest when members can directly discuss, come up with ideas, and frankly share about own point of view. As a result, the Business Model Canvas demonstrates transparency and clarity in direction through a panoramic view synthesized from individual ideas.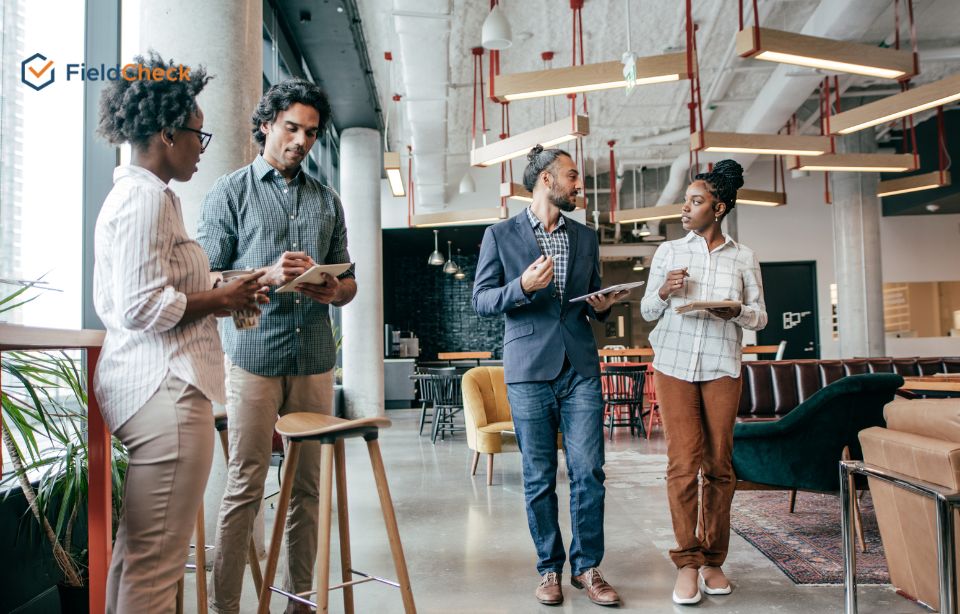 Canvas models have many advantages: intuitive, simple, and easy to share
5. Pointing Out The Important Elements Of Business
The special thing about the Canvas model is that it allows businesses to understand the close and tight connection between the nine categories in the diagram. From there, the model can provide useful solutions to improve productivity, improve products and expand new development opportunities for the company.
Through this model, each pillar element will be thoroughly dissected and analyzed. Being informed and having an overview of the factors that affect the business greatly supports innovation and adds value to that business.
The Application of the Canvas Sales Model
It can be said that the Canvas model is very popular and widely used in the business environment, especially in the sales stage, because the ultimate purpose of business is to make a profit from the value of the products and services that the business produces. And to do that, the sales department - also known as the sales department (sales) must be able to sell. So how to apply this model to the company's sales activities?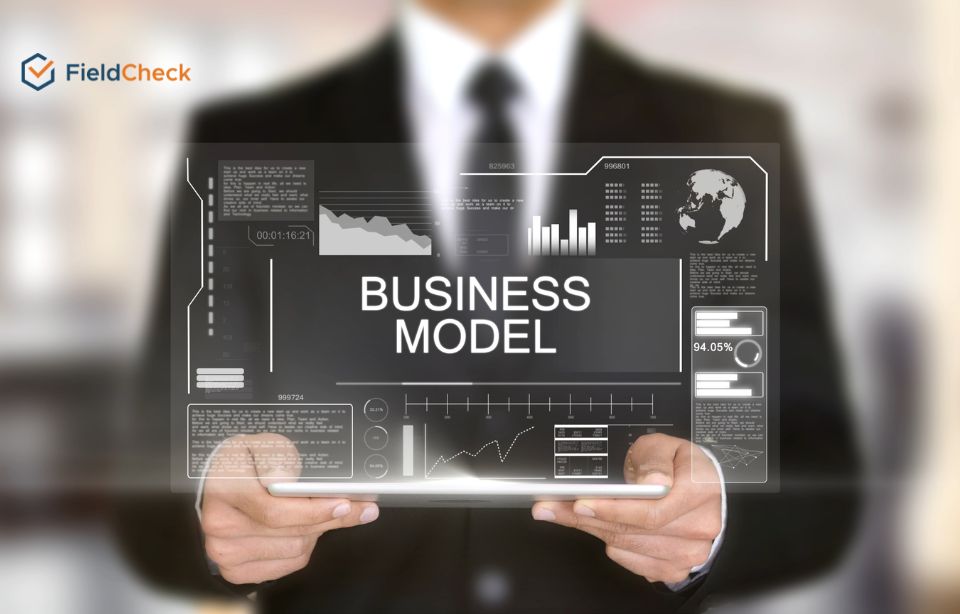 This business model is very popular in the world
First of all, the feature of building and developing plans. The first step in filling in the categories in the diagram of a Canvas model is to identify the target customer segment, including market positioning, customer composition, and customer behavior. By identifying clear goals, the tool also makes a monitoring plan and effectively supports the evaluation and measurement of KPIs.
Besides, the Canvas sales model allows for managing sales activities according to the classification of retail models; understanding the model of partners and customers; understand competitors. Small and medium business owners can also use BMC to test and design a sales model to suit their company's size and growth drivers. Thanks to that, the sales department also has an overview and nurtures ideas to innovate its operations more effectively.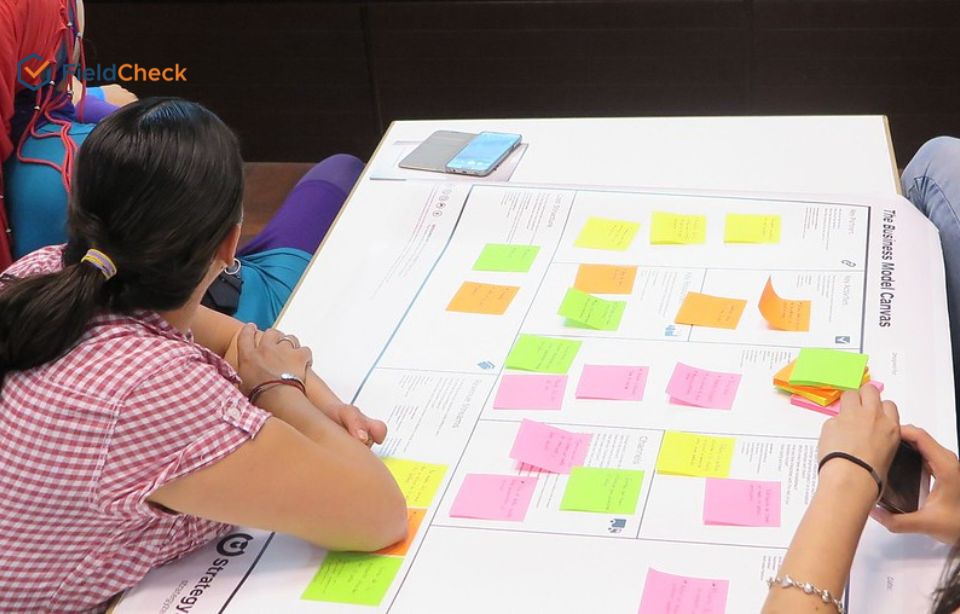 Employees and managers easily exchange ideas
In addition, the Business Model Canvas is also applied to several other activities such as organizing the operating system, strategic planning for M&A (mergers and acquisitions), IPOs (first public offering of securities), or investment decision making. The application of the Canvas model also helps to orient the company's vision, create a common language in business, and is a systematic and interconnected management apparatus.
See more: Kaizen philosophy - Application to improve business productivity
9 Pillars of Business Model Canvas
1. Customer Segments
The Canvas model's first factor is identifying specific customer segments according to interests, habits, gender, and age.
Key factors include understanding customer needs and predicting market trends to get the right customer segment for your business. Management needs to conduct an assessment of the customer through current needs.
In addition, it is necessary to have different priority levels to know the potential customers for the business. When businesses implement an effective Business Model Canvas, customer segments will be better defined.
The following is a list of questions businesses can use to define customer segments.
Who can enterprise solutions solve the problem for?

Who needs your products and services?

What are the strengths of your solution?

What is the age of the target customer?

Who are the people looking for your products and services?
2. Value Propositions
The value proposition element is an essential foundation for the future growth of your business and products. As a result, the communication between the company and the customers creates your mark in the market. For a value proposition, here is a suggested list of questions:
What problems can businesses solve?

Why do customers choose your business solution?

What product & service makes you most confident in solving the problem?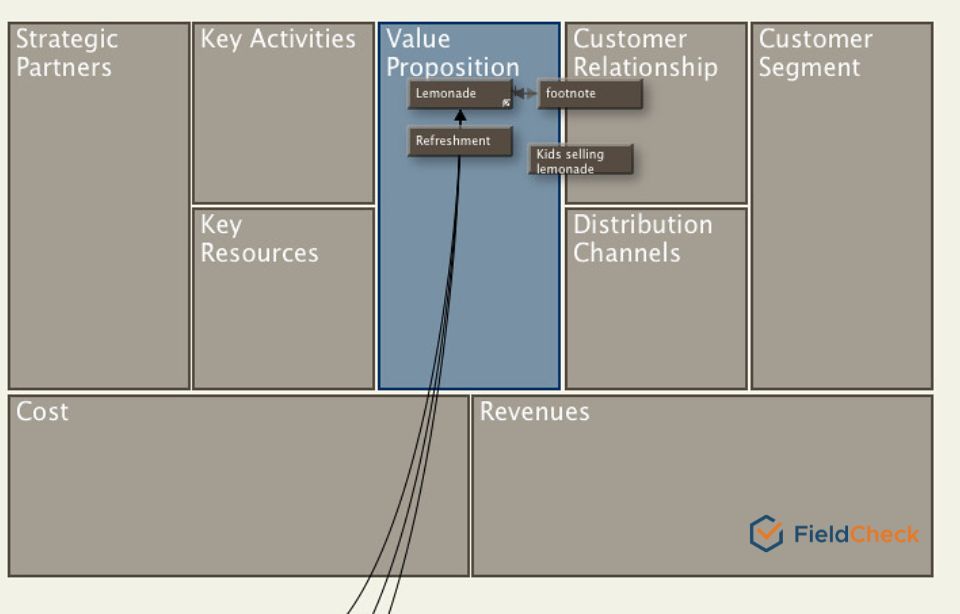 The value proposition is one of the main pillars of BMC
3. Communication & Distribution Channels
Understanding communication & distribution channels will help customers access the business's value. This pillar is considered an important bridge between businesses and customers.
When applying the Canvas model, it is important to ask questions and find the answers to those questions to reach customers effectively.
Some reference questions include:
How do customers approach the business value proposition?

Where do business customers come from?

Do customers use social networks? If so, which social networks are they?

What habits do customers have?
There are two basic channels:
Internal channels of the company and stores

Channel partners and distributors
Businesses can choose between these two channels or combine both to support the marketing of products & services. Some business channels can apply the Canvas model:
Email marketing

Social media

SEO

Viral marketing

Digital Marketing
Understanding how to reach customers will contribute to the success of the business.
4. Customer Relationships
The next step after determining the customer file of each segment is to establish business model canvas customer relationships. Customer relationship is how you will take care of old customers and attract new customers. It is important to distinguish two main types of customers in a customer relationship: business customers/partners (B2B) and consumers (B2C).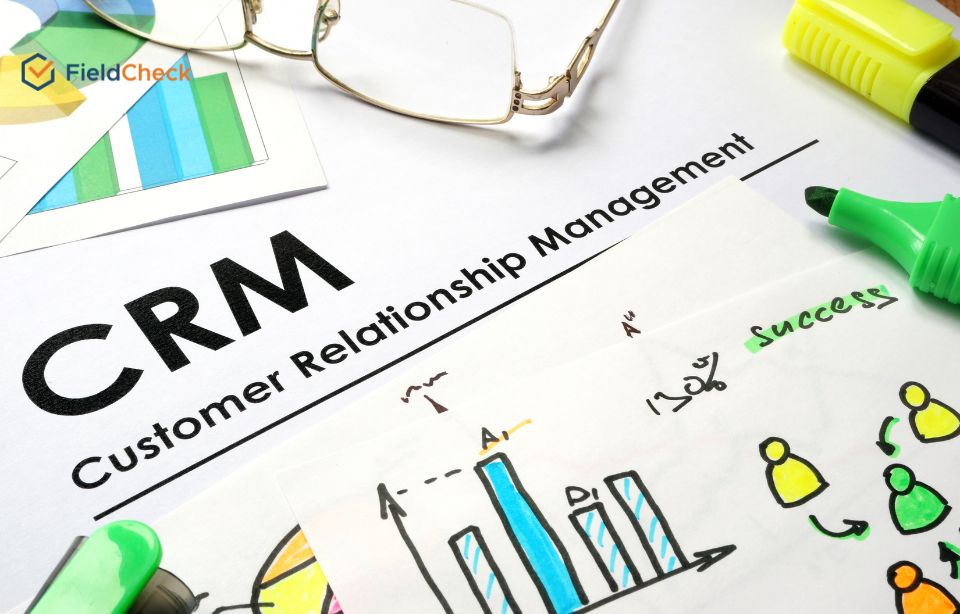 Establish and manage customer relationships
Here are a few common types of customer relationships:
- Personal Assistance: An employee of a business, usually a customer service staff, will interact directly with customers and provide care during and after customers buy products. Products and services that provide personal assistance are generally highly valued, such as finance, insurance, etc.
- Dedicated Personal Assistant: Similar to a personal support relationship, but the care of specialized support is more rigorous and specific. The company's designated representative will be responsible for servicing a distinct set of customers and ensuring satisfaction with every customer experience the company has with them.
Self-Service: The business will provide some means for customers to serve themselves. Examples include:
Self-service vending machines in parks or commercial centers.

Ticket printing kiosks at bus stations and airports.

Autoresponder tools.
- Communities: Creating a communication community that helps connect many groups of customers through social platforms such as Facebook, and Instagram, is becoming a trend in the current technology era. Not only that, but the customer community is also a bridge to help businesses better understand customers' needs through feedback, reviews, and questions about the company's products and services. Therefore, the customer experience is also enhanced.
5. Revenue Streams
The revenue stream is a pretty important element in the Business Model Canvas. It describes how a business converts its value proposition into a revenue stream from its audience.
Businesses can generate revenue streams in different forms:
Selling products and services to customers (most popular)

Calculation of rental service fees, types of periodic registration services

Charge brokerage, advertising

License fee to use intellectual property

Issuance of dividends
After establishing the sources of revenue and ensuring they are legit, the business needs to determine a fair price for each item.
6. Key Resources
Key or main resources are the basic elements and strategic assets the business owns or needs to build.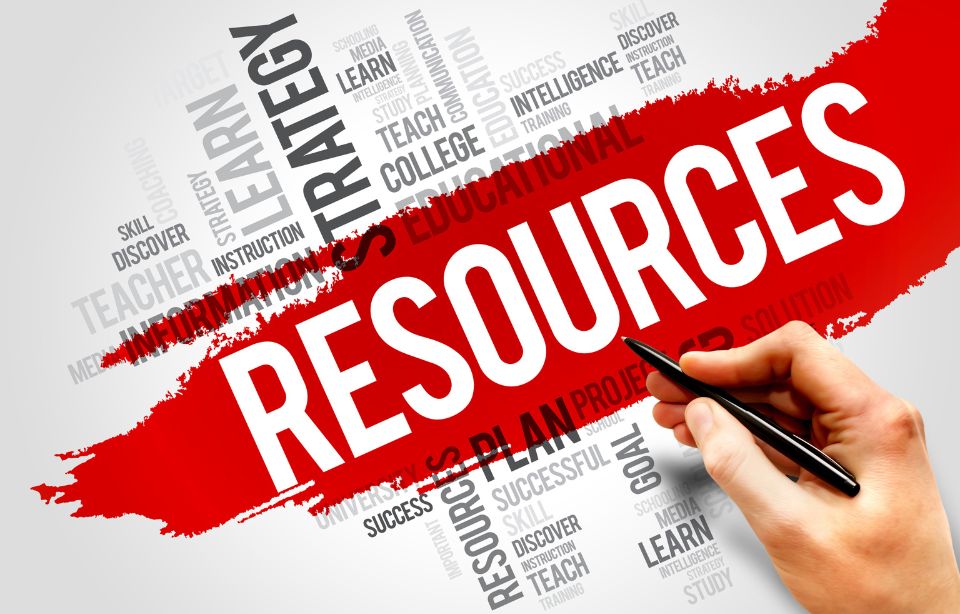 Key resources of the business
According to the canvas model, there are four main resources, including:
Knowledge resources (proprietary technology, patents, etc.)

Physical resources (facilities, assets, land, etc.)

Human resources (workforce)

And financial sources (capital money, investment money)
7. Key Activities
This factor is the pillar element that describes the work a business needs to do to create solution value and keep the business running. The enterprise's main activities include the following three main activities: production activities, business platforms, and implementation policies.
This element is used to answer the questions:
What activities will the business take to achieve the value proposition for the customer?

What will key resources be provided?

What strategy and expertise are required?

How long does it take to perform?

….
8. Key Partnerships
When designing a business model, not many people think about partnerships, including a list of suppliers, companies, organizations, etc., that your business may need to grow and maintain. Key partners can be classified into:
Strategic cooperation between competitors (strategic alliance partners)

Cooperation for mutual development (investment partner)

Cooperation between businesses that are not competitors (joint venture partners)

Manufacturer relations with input suppliers (suppliers partners)
9. Cost Structure
The cost structure is the amount of money the business needs to spend to maintain its stability. Depending on the structure of the business, the valuation method can be based on the cost of production or the value of the finished product. The cost structure includes some features as follows:
Fixed costs: costs that do not change during production

Variable costs: costs vary depending on the business situation, production

Economies of scale: Costs decrease as output increases

Economies of Scope: Costs are reduced when resources are available concerning new products
Practical Examples Of Successful Canvas Modeling Application
Many major global brands have successfully applied Business Model Canvas, including Apple, Zoom, Starbucks, and many more. This article will introduce a Facebook Canvas Model from Meta Platform Inc.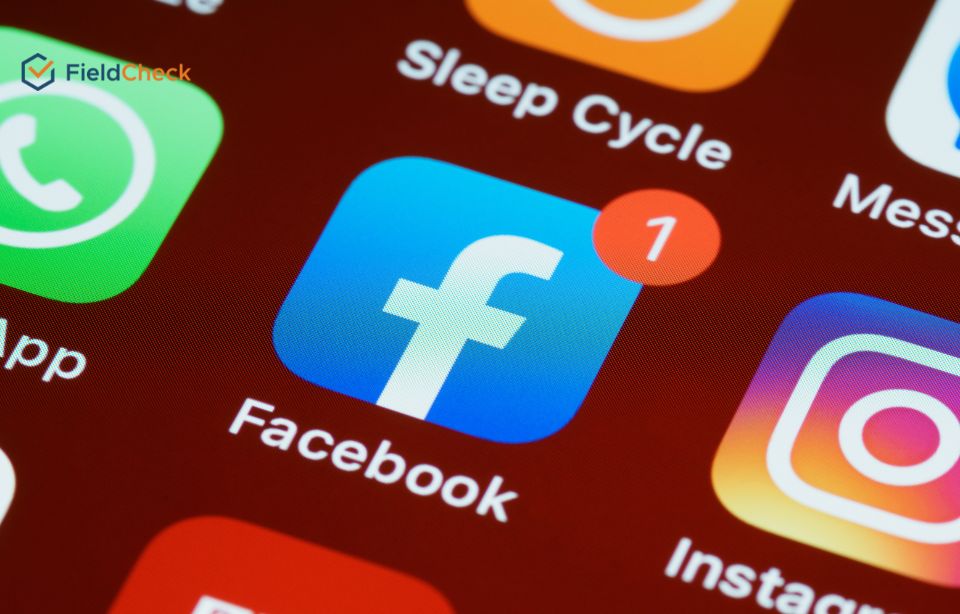 Meta is one of the companies that have adopted the Canvas model
Meta is a company that provides a social networking platform on Facebook and Instagram that makes it easier to communicate, share information and connect. The company's main activities are platform development and are the center for operation and data management through distribution channels such as advertising fanpages, websites, mobile applications, and many other tools.
The revenue of these two apps comes from downloads and running ads on these platforms. In addition, Meta has partners that provide entertainment and informational content such as news, music, and TV shows.
It can be seen that, in addition to focusing on developing products for Internet users, Facebook also targets application developers, marketers, and advertisers. Facebook's customer relationships are cross-network and peer-to-peer.
In terms of cost structure, Meta will have to pay for management and operating activities, research, development, and data center costs.
Wrapping Up
That's all about business model canvas. In a nutshell, the introduction of this model could help the identification and evaluation of the hypothetical information for startups or entrepreneurs. To gain the best outcome, it is advisable to do in-depth research about this business model canvas to establish the sturdy foundation for the management to know which actions they should do.