PG (Promotion Girl) is a team of brand ambassadors tasked with promoting product images, marketing, and sales promotion. The PG team is carefully invested in appearance for the best brand image.
The PG team will help businesses expand their markets and increase brand recognition while boosting sales results when managed well. It is not that easy to manage the promoters without any hassle. Many brands struggle to closely monitor promoters' performance as many tasks are conducted on paper, causing difficulties in controlling and analyzing the data.
Aiming to support the PG supervisors and managers in managing their teams effectively, the FieldCheck app was developed to maximize the potential value of the PG team.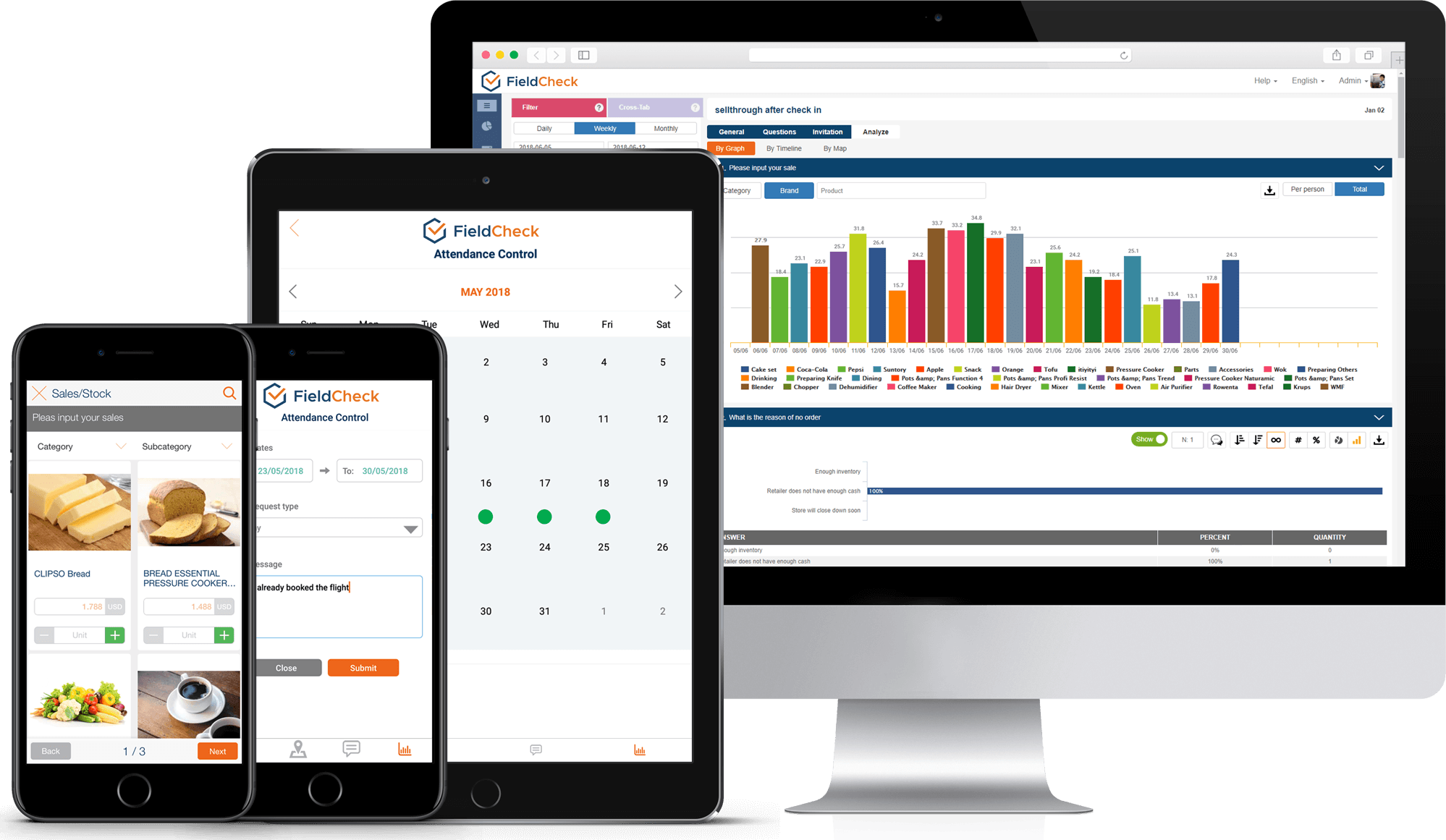 PG management software application on mobile phones
What is PG? Why PG Management Software?
PG has become a popular concept among consumers. However, what are the specific responsibilities of the PG? Why do you need to apply software to manage the PGs?
1. What is PG?
PGs refer to promoters who support brand image building, make events more successful, etc. PG helps reach customers quickly and supports sales staff to achieve most targets.
The PG team can be considered the "representative faces" of the business's brand. Their behavior directly affects the company's image. Therefore, the PG manager will have the role of guiding them in the working process.
The PG management software application helps you save training time and improve employee performance.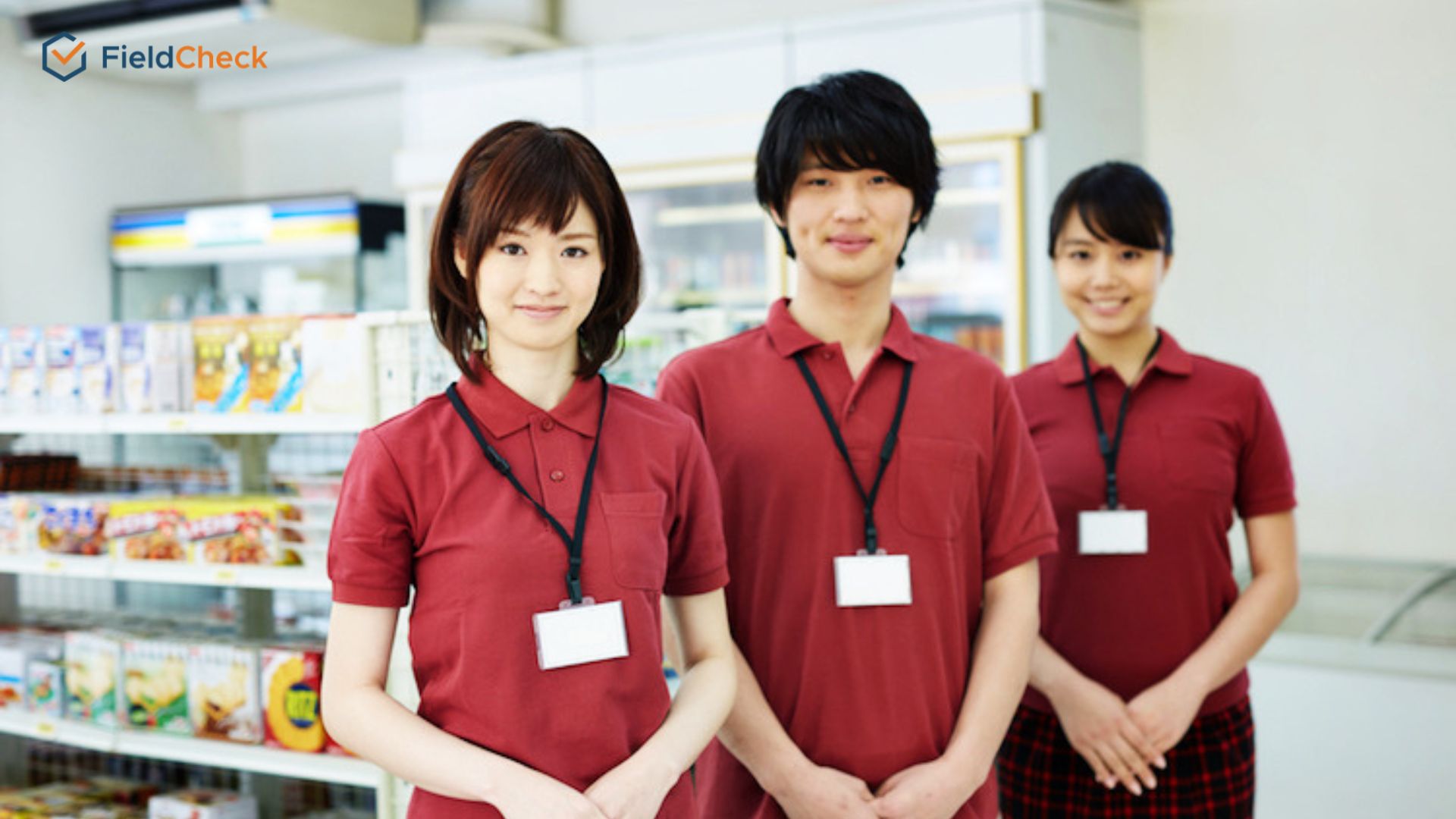 PGs are the "representative faces" of the business's brand
2. Benefits of Adopting PG Management Software
Previously, managers often had to visit each point of sale to check the quality and performance of PG employees. Promotional and after-sales products are managed by paper, leading to inaccuracies.
In addition, managers will have to meet regularly to announce the work and report statistics, wasting time and money. With PG management software, businesses can easily optimize their time management processes and work performance on their mobile phones.
The management software integrates the prominent features of cloud computing technology to help you optimize the operation of your business. From there, it makes managing the PG team easier and lighter than ever.
2.1. Management Software Tracks All PG Marketing Team Sales Activities
The software helps PG team leaders and managers know each employee's position, time, and work content. It saves time and operating costs. At the same time, it promotes the process of measuring the actual work performance of each PG.
With the intelligent sales route management feature, PG management software helps the team leader easily adjust and rotate shifts and work locations to be most suitable.
Especially with the location monitoring feature on the digital map, PG Leader does not need to go to the place but can still capture the detailed operation status of each employee. All data is continuously updated in real time.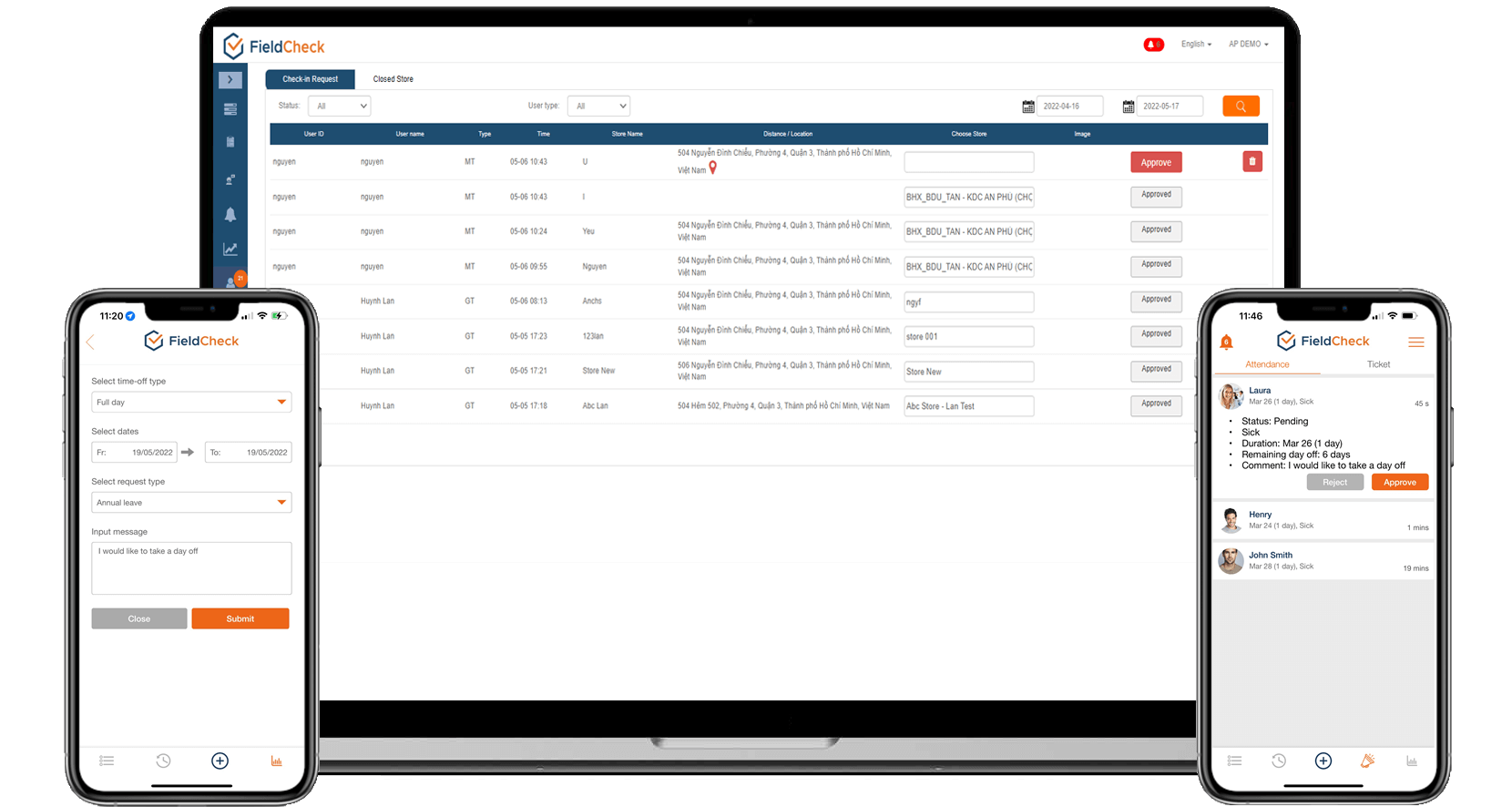 Management software to monitor the sales activities of the PG team
2.2. Grading PG According to Predefined Criteria
Previously, the grading of PG was done on paper, making it difficult to manage, score, and evaluate each PG.
Currently, with PG management software, the leader only needs to set up items such as: Does PG have makeup or not? Are you wearing the correct attire? Marketing attitude and carrying the product. The consulting style for customers, etc., on mobile phones.
All data is recorded, updated, and stored directly on the software to help managers:
Accurately evaluate and score each employee's activities.

Easier brand image management.

Ensure that PG always well implements the regulations of the business.

Easily suggest ideas to improve the quality of the PG team.

Using the evaluation results to calculate salary, we reward serious PGs with good achievements in the working process.
2.3. Regular Market Information Updates
PG management software helps team leaders update sales volume and inventory information. Exhibitions, promotions, and more.
The updated data in the form of reports include:
Quantity of goods sold in the market.

Inventory outside the point of sale.

Monitoring competitor activity

Analyze the market to come up with appropriate development strategies.
Especially by tracking competitors' activities in the market, businesses will know what products their competitors are selling. Where is the consumption? How do customers evaluate and respond to that product line? What programs are competitors running at the point of sale?
Managers will analyze and research through detailed reports to launch products with more competitive advantages.
2.4. Support for PG Marketing Sales
With PG management software, employees will no longer have to record reports and check inventory manually. The software records sales activities with a few simple taps on mobile phones.
Besides, employees can use the software for timekeeping. The feature of check-in/check-out, please go late and leave early online, helps managers easily capture information and handle requests quickly.
In particular, the software also updates sales results and daily work. Summarize the performance of KPIs on the system for your convenience. The application provides great support for serious, progressive PG employees at work.
You will know how your efforts are achieved with the software. What more needs to be tried? How do you get the best performance?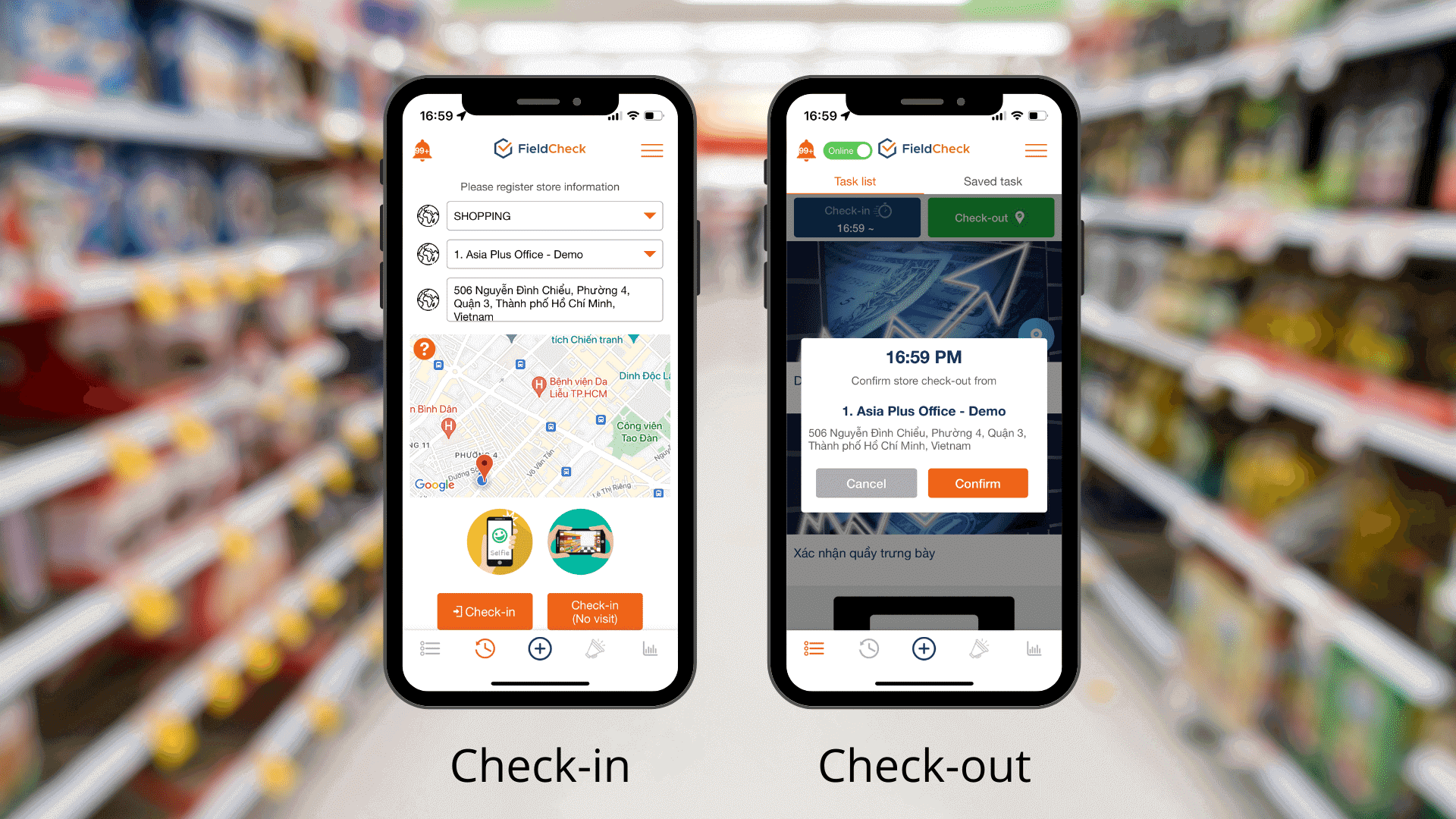 Check-in/check-out
Benefits of PG FieldCheck Management Software
FieldCheck supports effective PG management with many outstanding advantages, helping businesses and PGs optimize time and increase work efficiency.
For PGs
FieldCheck PG management software helps you set up plans and easily track performance. Meanwhile, promoters can check in and out, saving time on reporting and monitoring attendance.
Besides, the software also helps you know exactly where you work and visit the points of sale according to the standard process.
The software, in particular, makes it easier to manage information and task checklists and create leave applications on your mobile phone.
All sales results, KPIs, number of working days, salary, and bonus data are updated directly on the system. You can monitor timesheets on your phone and promptly respond if there are errors or mistakes.
For Managers
Our solution makes it easier for managers and leaders to manage PG's attendance, information, and shifts. Besides, with the feature of monitoring the location by GPS positioning and digital map, you will easily know if the PG is working at the assigned location or not. How is PG's performance?
Through the updated data on the system, the supervisor will score and accurately evaluate the performance of PG according to predefined criteria.
Receive, process, and review leave applications. Leave early and leave early easily and quickly. Also, manage PG transfer plans and track sales results more accurately.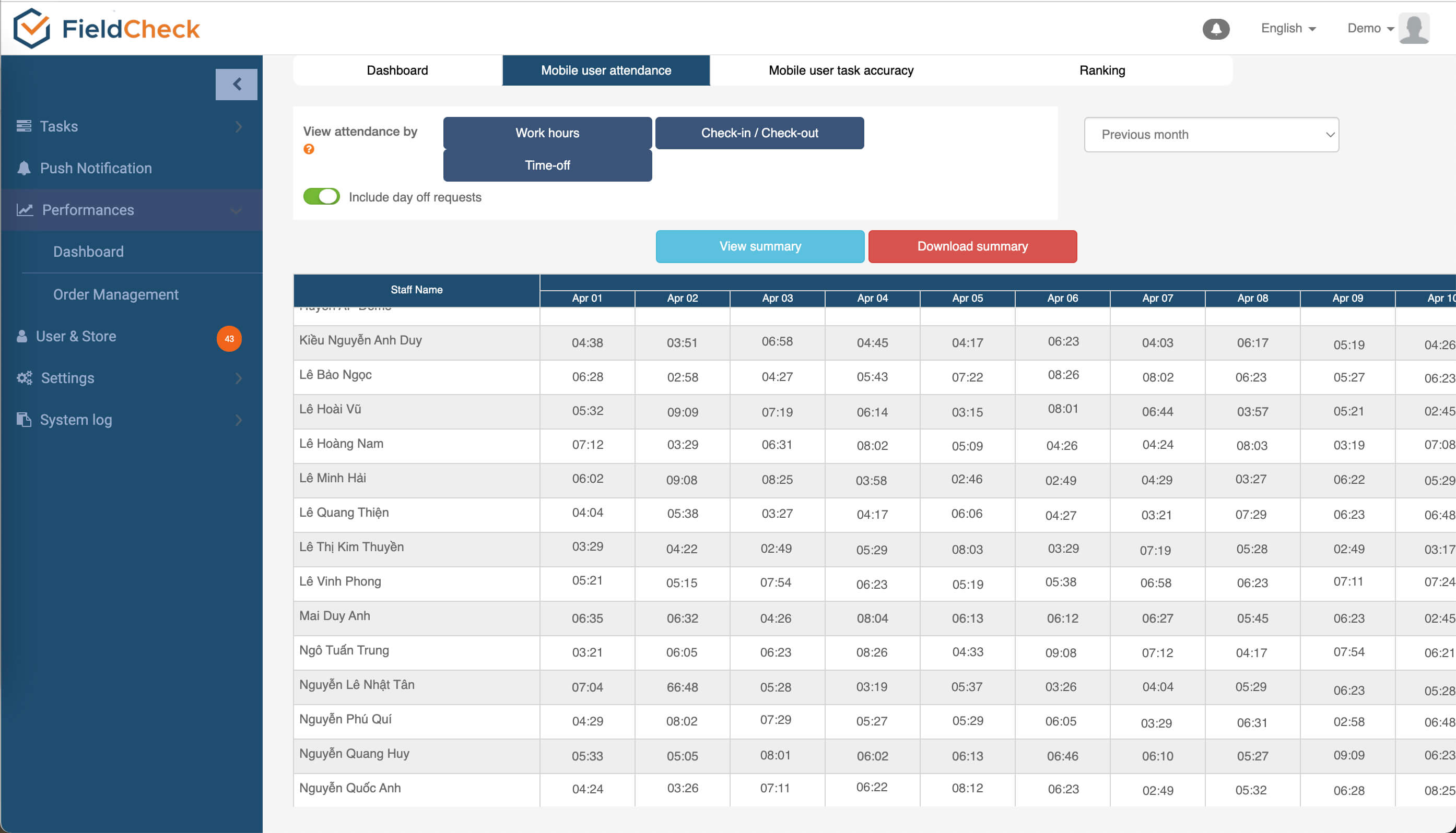 Scoring and accurately assessing PG's performance according to predefined criteria
For Businesses
One of the advantages of FieldCheck is the ability to help businesses monitor the time, work location, activity, results, and performance of PG teams accurately and in great detail.
Besides, businesses can also easily control inventory and actual consumables. Analyze the market and track competitor activities. Synthesize the most detailed and comprehensive sales reports and KPIs of PG.
FieldCheck software is built on cloud computing, supporting all mobile phones, tablets, laptops, PCs, and Internet-connected electronic devices.
The application can work and update data both online and offline. It helps overcome all limitations in space and time, even when the device is not connected to the Internet.
In What Business Areas Is PG FieldCheck Management Software Used For?
FieldCheck can be flexibly applied in different fields depending on the nature of the business. Some of the areas where the FieldCheck application card is available to include:
1. Cosmetics
Cosmetics is an industry that regularly updates new products to become a pioneer player in the beauty field. Every time a business launches new products, it will often run promotional programs with promotional policies.
At such times, PG will be the one to bring products closer to consumers. To do that, they must be updated with the necessary information to have enough resources to do their job well.
FieldCheck helps managers create product information update notifications to be sent directly to PG devices quickly and conveniently. PGs at many different points of sale can receive complete information and follow the plan.
In addition, digital lists can be used to help management create PG product knowledge tests. Scoring is also included in these digital listings. Therefore, the test results can be calculated and aggregated on the system quickly without any code functions.
2. Wine, Beer, and Beverage Industry
PGs help manage the location, working time, and work performance of each PG. The software brings exceptional efficiency when managing easily substituted products such as wine, beer, and beverages.
The application supports close monitoring of market and competitor activity. Through actual data, businesses will have a more effective plan when launching products.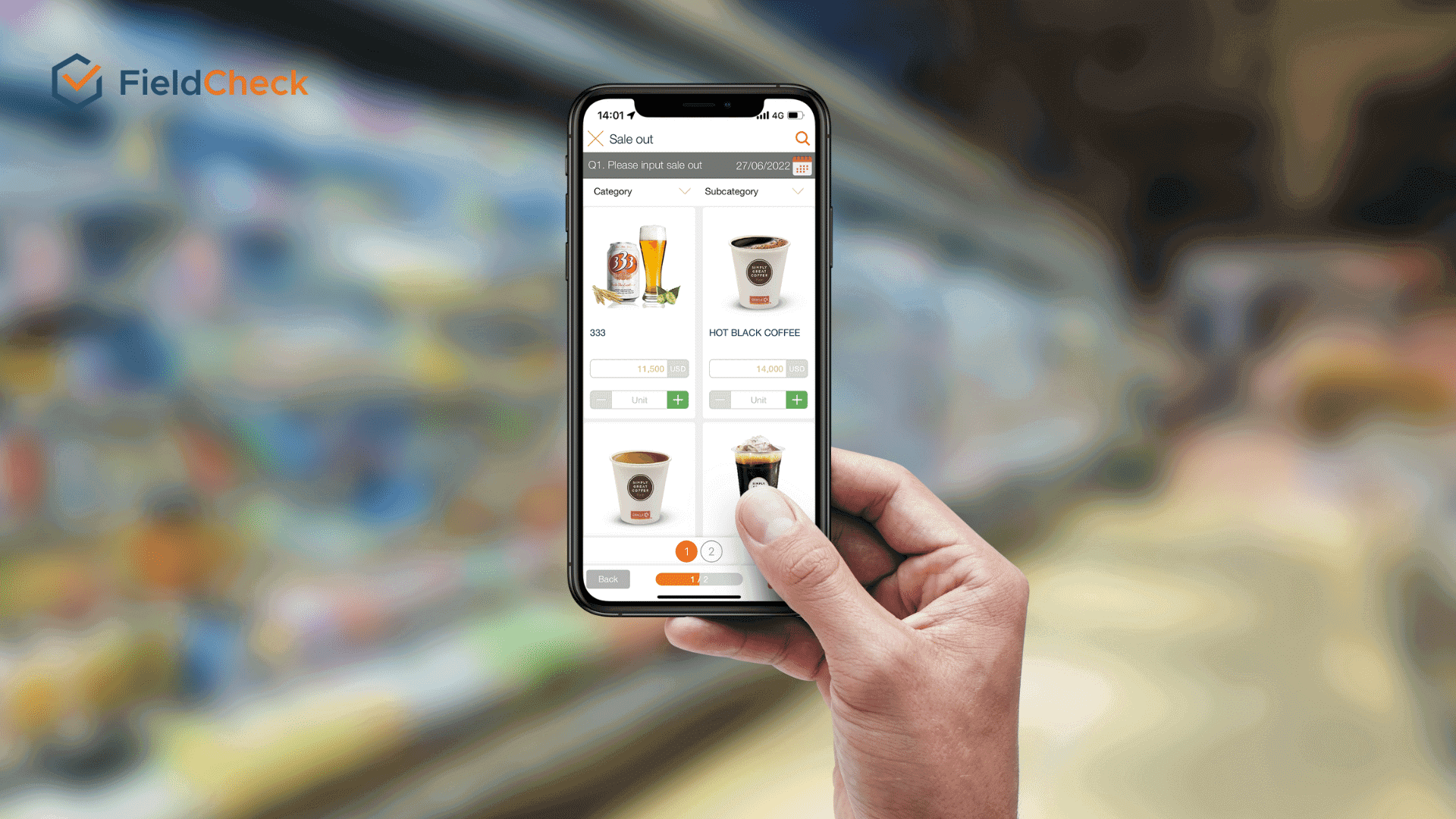 FieldCheck helps the beverage industry PG report sales
3. Milk and Nutritional Supplements
Store management software. Observe competitors' activities such as promotion, booth displays, actual products sold, and customer reviews after use. All relevant data will be updated by PG continuously in real-time.
PG can use FieldCheck to send visual reports of competitor activities to management, so they can understand trends and take appropriate actions.
Now you know all the information about PGs and how the software manages PGs. We hope you can find what you need in our article. Thank you for reading!