People say, "So many men, so many minds," to imply that people's opinions are different, so that it is difficult to satisfy all. It is also the reason why many organizations, and enterprises, including chain store owners, find it challenging to manage people and teams.
Pen and paper-based traditional management methods often take a lot of time and effort, not to mention the results achieved may not be as expected.
Therefore, many entrepreneurs have turned to retail staff management software providers to help them optimize the management of their sales team.
So how could the above solution support businesses effectively? And which software is the best today? Let's find the answer with FieldCheck in today's article.
Challenges in Retail Staff Management
Before diving into knowing how retail staff management software works, let's take a quick look at the existing difficulties for store administration in retail management.
#1. Control Goods Inefficiently
As you might know, when managing one or many stores, the priority is still the products. Goods-related work that every shop owner needs to pay attention to includes:
Product quality control

Track the number of products to ensure sufficient supply for the chain store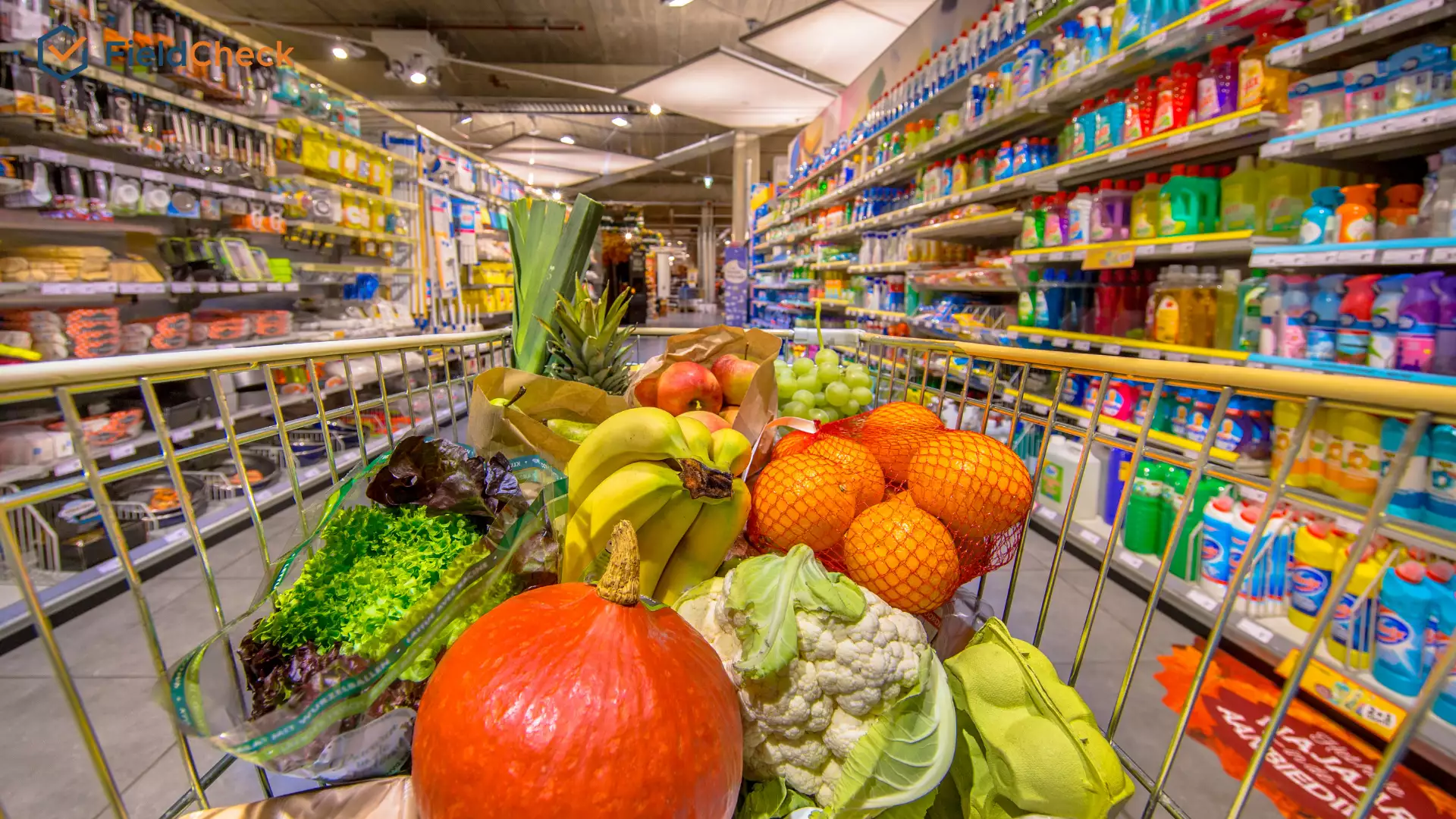 Sales staff have difficulty controlling goods at the store
Traditionally, store staff will do the above tasks with paper and pen; some use spreadsheets to support store product management.
This approach is considered easy to do as you could take notes on paper like a breeze. However, the post-management process is not that effortless.
You have to manually get the data recorded on paper and pen input it into the spreadsheets. This task will take much time and workforce to accomplish.
Not to mention the case that some could miss some figures of data recorded on paper, leading to the loss of data about goods, significantly affecting operations at the store.
It would be better if store employees could control both the quantity and quality of goods on a similar platform and utilize mobile devices to optimize the time.
#2. Challenging Product Information Update
Another challenge for sales staff management is updating goods information, visual merchandising, and product tags for employees, especially newcomers.
Store managers regularly encounter obstacles in ensuring that their sales staff have fully understood all information about the products and the merchandising items as planned.
The cause of this situation is the lack of a comprehensive platform that integrates both product management support and visual merchandising in stores. It is not possible for employees to access all information from a single source.
#3. Non-Guaranteed Display Quality
The high volume of goods in stores could make it difficult for salespeople to remember all the information, price tags, and display locations in the store.
When asked, many sales staff expressed their desire to have a tool to assist them in updating product information and a solution to help them conduct the visual merchandising plan better and faster.
#4. Low Visibility in Staff Performance
Managing employees at a store well is not an easy job. The more stores, the greater the responsibility on the shoulders of the manager.
As management-level personnel, you might often have to find ways to ensure that employees at all units are performing well, implementing the right plan, and on schedule.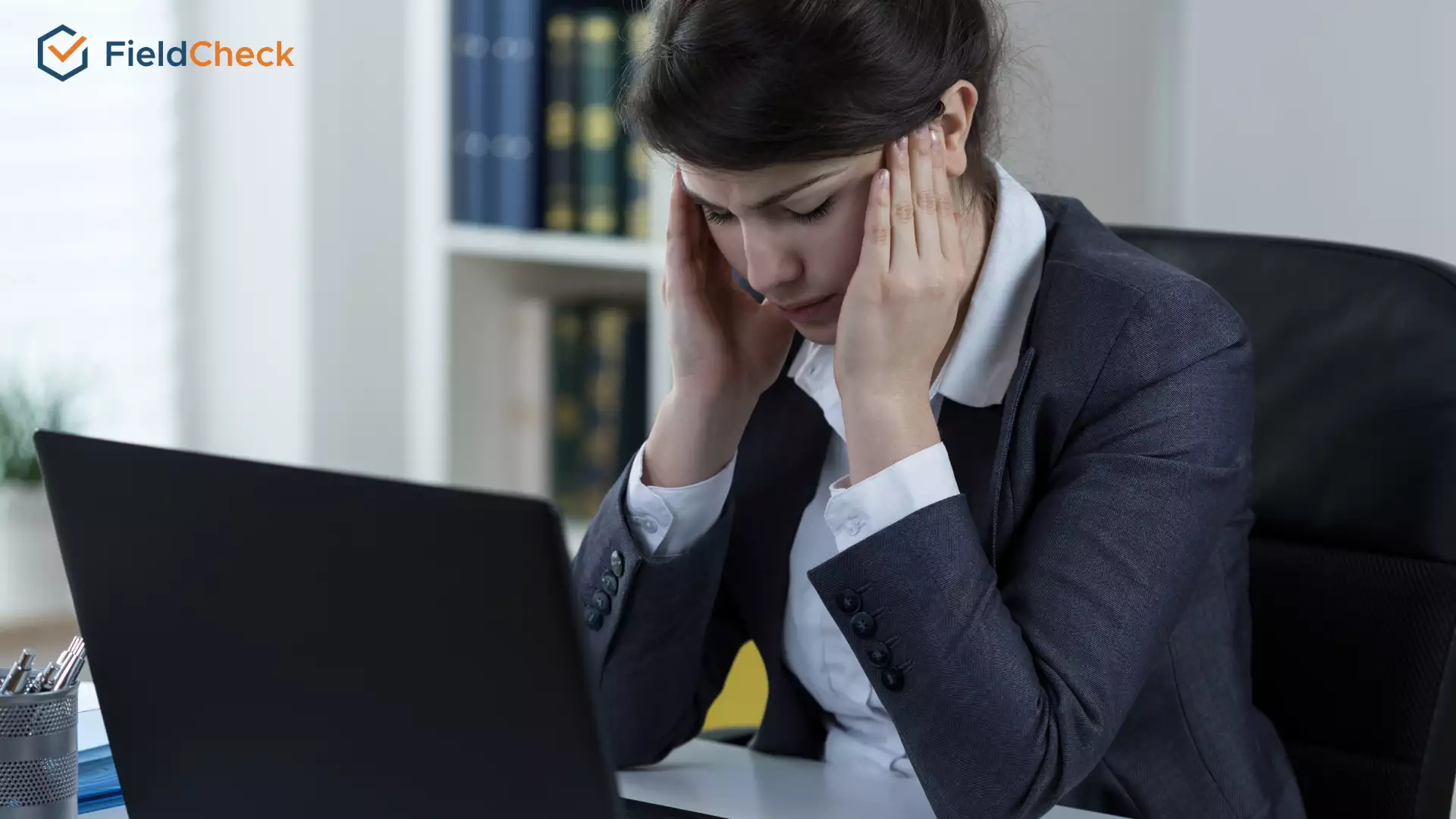 Difficulty in managing employees from many branches
However, it is "easier said than done". Not every manager could manage such a large number of employees well. This difficulty raises the need for a solution to support employee management of the entire system on one platform.
#5. Inaccurate Sales Report To Deliver Inaccurate Analysis
Another inadequacy in the management of store staff is the honesty of employees when reporting sales or the accuracy of data reported by them.
Supervisors might have difficulty in retail sales management, especially if the chain store still utilizes paper, pens, or Excel spreadsheets to store and make statistics.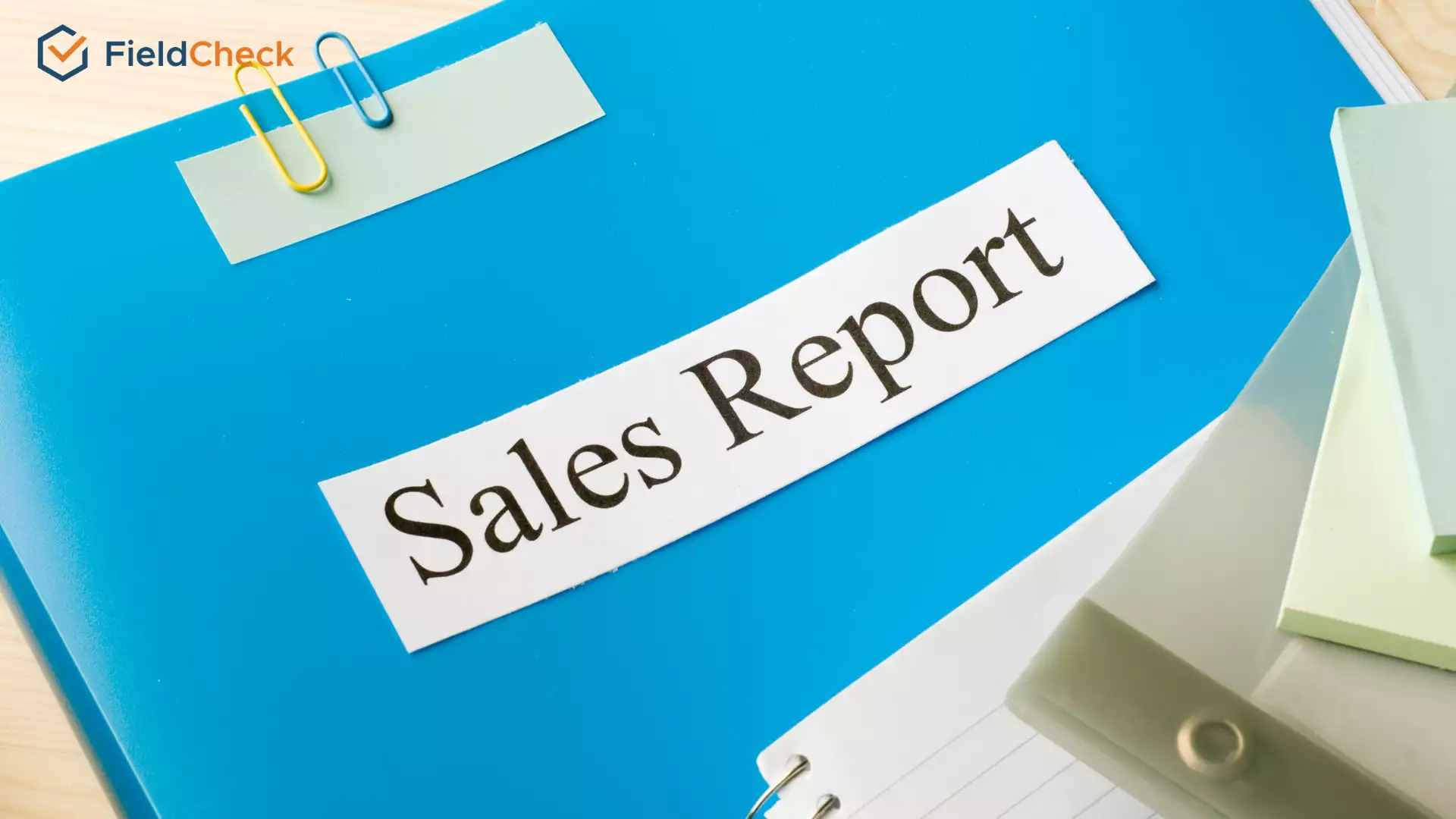 Managing sales reports well might be a challenge for supervisors
That the staff miss or wrongly input sales figures at stores is difficult to avoid. That's why many store owners want a solution to help solve this problem.
Fortunately, today's breakthrough technology has allowed suppliers to develop management software that could assist businesses in running operations conveniently and effectively, including managing sales staff.
We are proud to be one of the pioneers in helping store owners manage their salespeople with FieldCheck - an ultimate salesperson management software.
So what are the advantages of our solution? Let's find out in the following part.
How FieldCheck Staff Management Software Works
#1. Manage Employee Information with Technology
FieldCheck boasts a feature called User Management to support businesses in managing employees. Accordingly, each employee will be given an account so that you can manage it on the system.
Staff-related information could be stored on the platform, such as phone number, level, base salary, and the stores the staff are in charge of.
You are able to track employee activities on the Timeline section on the homepage based on real-time. All data is recorded accurately at a specific time.
In case an employee quits, you could easily delete the account from the system without any manual steps.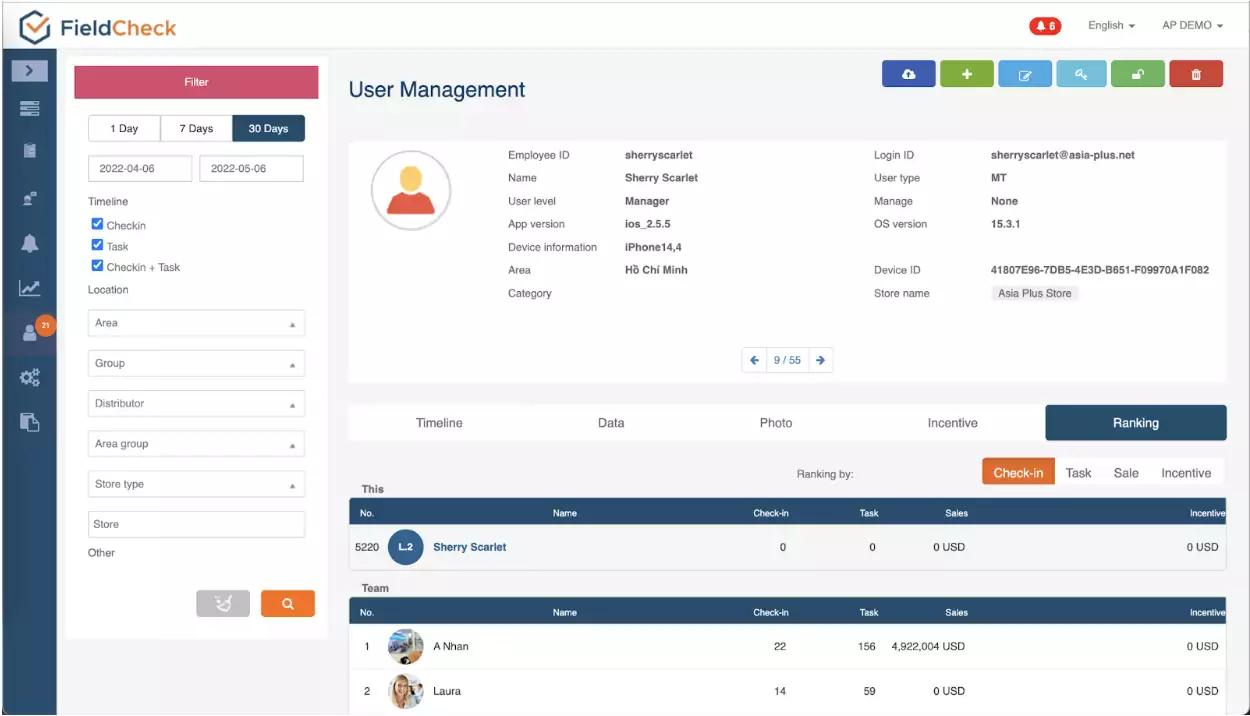 Employee information is managed with many other data
#2. Empower Employees And Simplify Task Assignment
You could take advantage of our solution to set the level for each employee. The staff's position at the company could determine if they could access a specific source of information or perform which functions.
By empowering your employees to deploy tasks, you could help them become more proactive and enhance their work productivity. Regarding the process of task assignment, many managers have little difficulty in how effectively and conveniently to assign tasks to employees.
London business school professor John Hunt said in an article on Forbes, "Only 30 percent of managers think they can delegate well, and of those, only one in three is considered a good delegator by his or her subordinates. This means only about one manager in ten really knows how to empower others."
With the Task Management feature on FieldCheck, you could create tasks and then assign them to your staff easily and conveniently right on the Admin.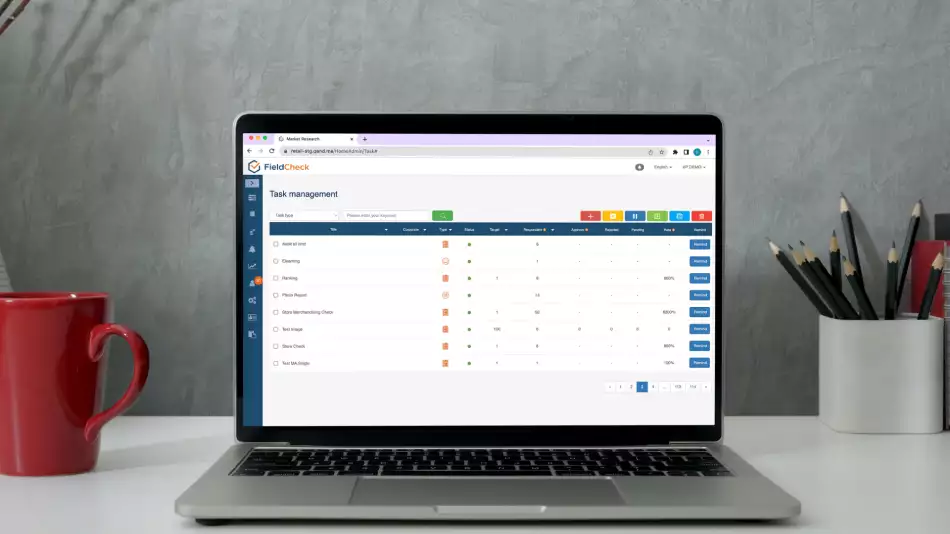 Task management on FieldCheck
As soon as you send an invitation, the FieldCheck app on the employee's device will immediately show a notification about the task. Your staff could open and do these tasks right on their mobile phone. The work progress is accordingly guaranteed and becomes "smoother".
#3. Closely Track Employee Activities When Working
All the activities of your employees are in your sight with FieldCheck. You no longer have to contact multiple sources or check different reports to manage employee activities.
Your sales staff only need to check in on the app when arriving at stores and check out when leaving. Their working time will be calculated and updated automatically on the system.
You could check the total number of working hours per day of each employee, which is clearly and visually displayed on the Dashboard panel of the Admin tool.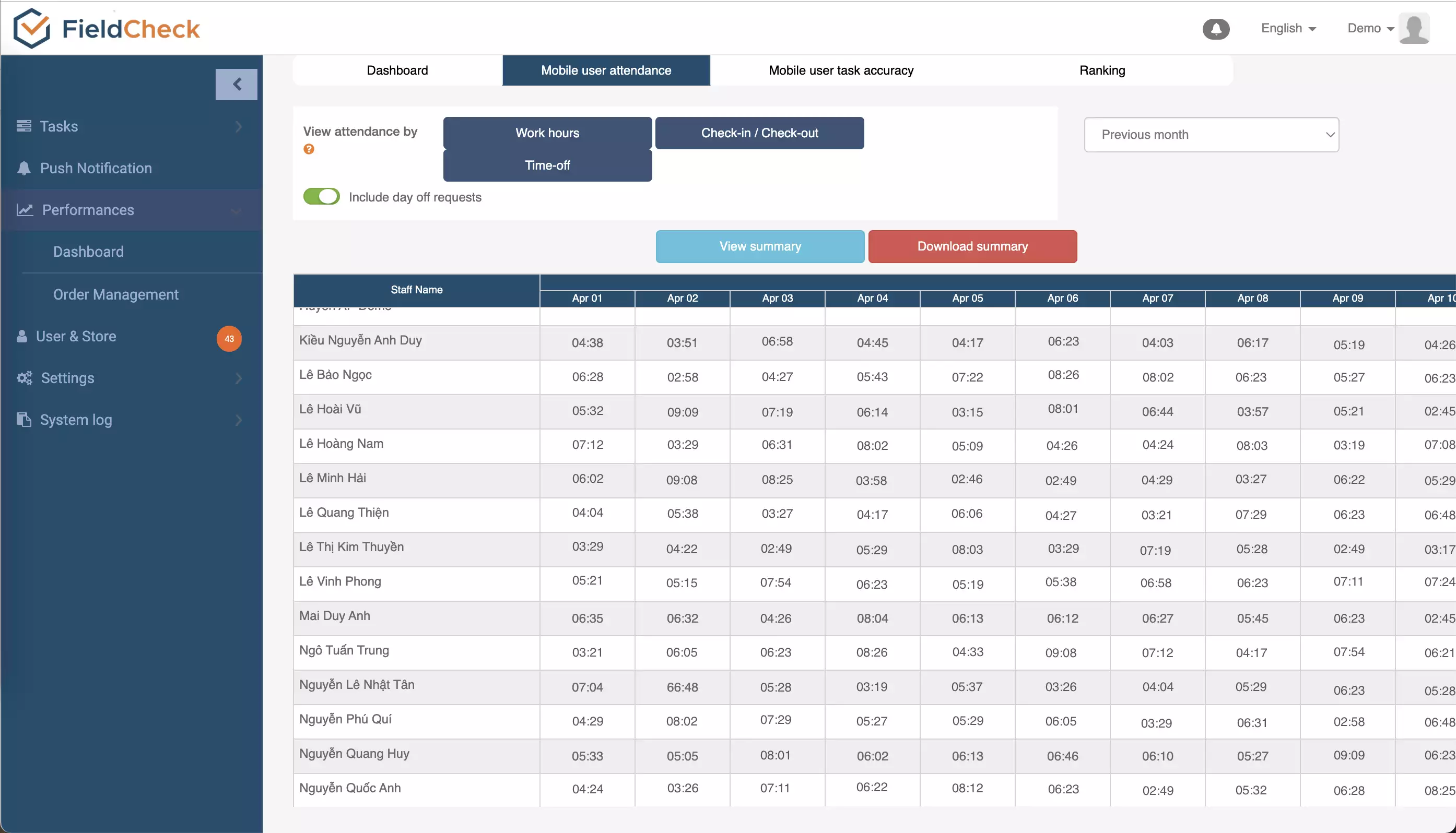 Employee working hours aggregated on FieldCheck
#4. Provide Real-time Employee Performance Analysis
Previously, managers had to use Excel spreadsheets with complex functions to get incentive results for each salesperson.
This method still gives certain results, but there are still difficulties managing many different spreadsheets, not to mention the risk of errors when entering information into the spreadsheet.
FieldCheck removes all barriers when calculating complicated employee incentives. All figures are automatically calculated as soon as salespeople use their phones to report sales in stores.
Based on the employee sales report result, you could easily follow up on the employee's sales performance. The system also provides the ranks of employees based on their performance and achievements. All you need to do is access the Ranking section to have transparent and accurate employee evaluations.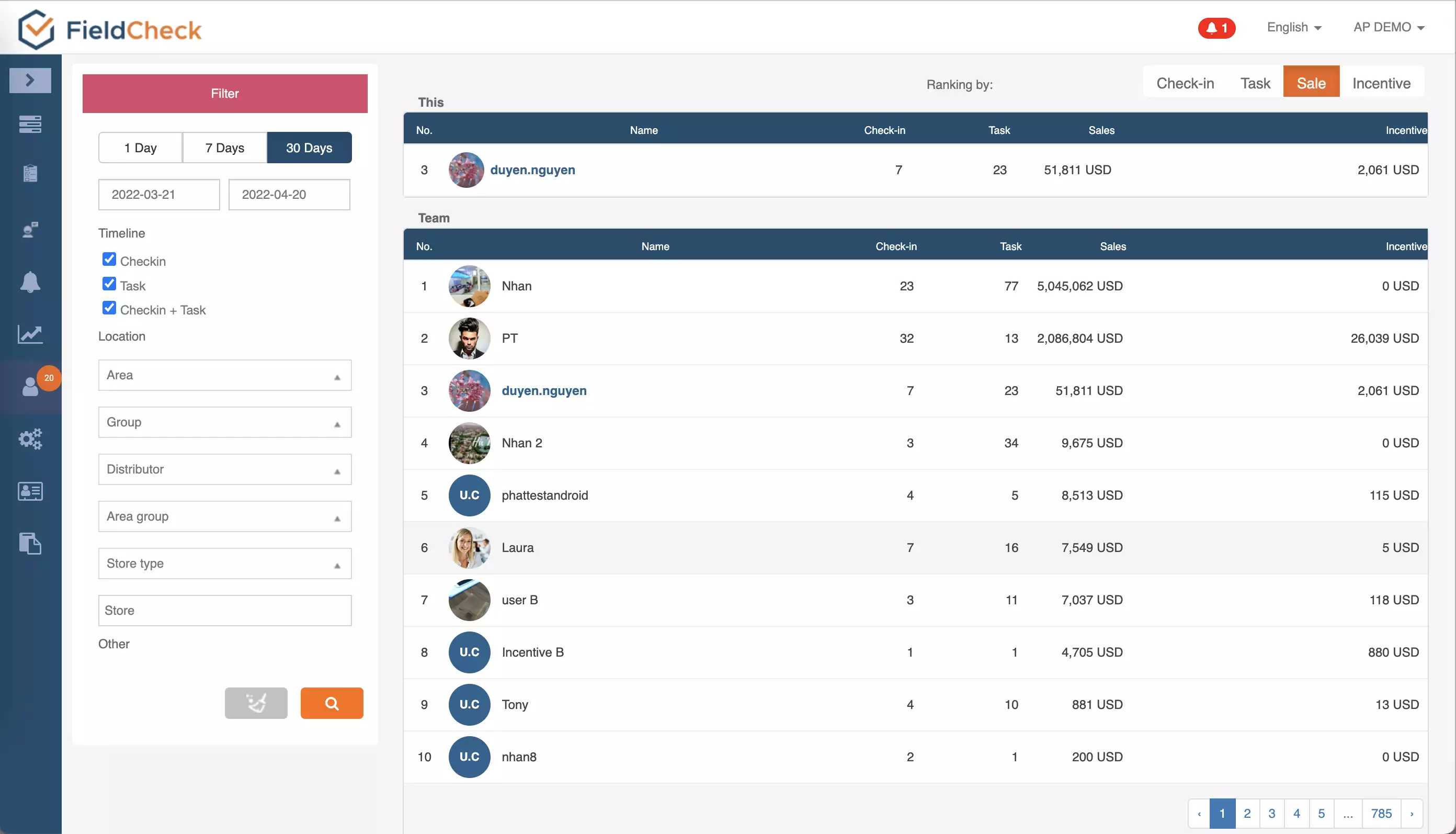 The performance of each employee is shown on the system
#5. Manage Remote Employees
Geographic barriers are now eased with FieldCheck. You are able to manage the staff with the phone neatly held in your hand anytime, anywhere. Your employees could also utilize the phone to perform their assigned tasks, saying goodbye to pen-and-paper-based methods.
On top of that, there are multi-layered analyses and visual charts showing the operation situation at the stores in the tool. Based on these figures, you are able to confidently come up with appropriate and timely strategies or actions for your business.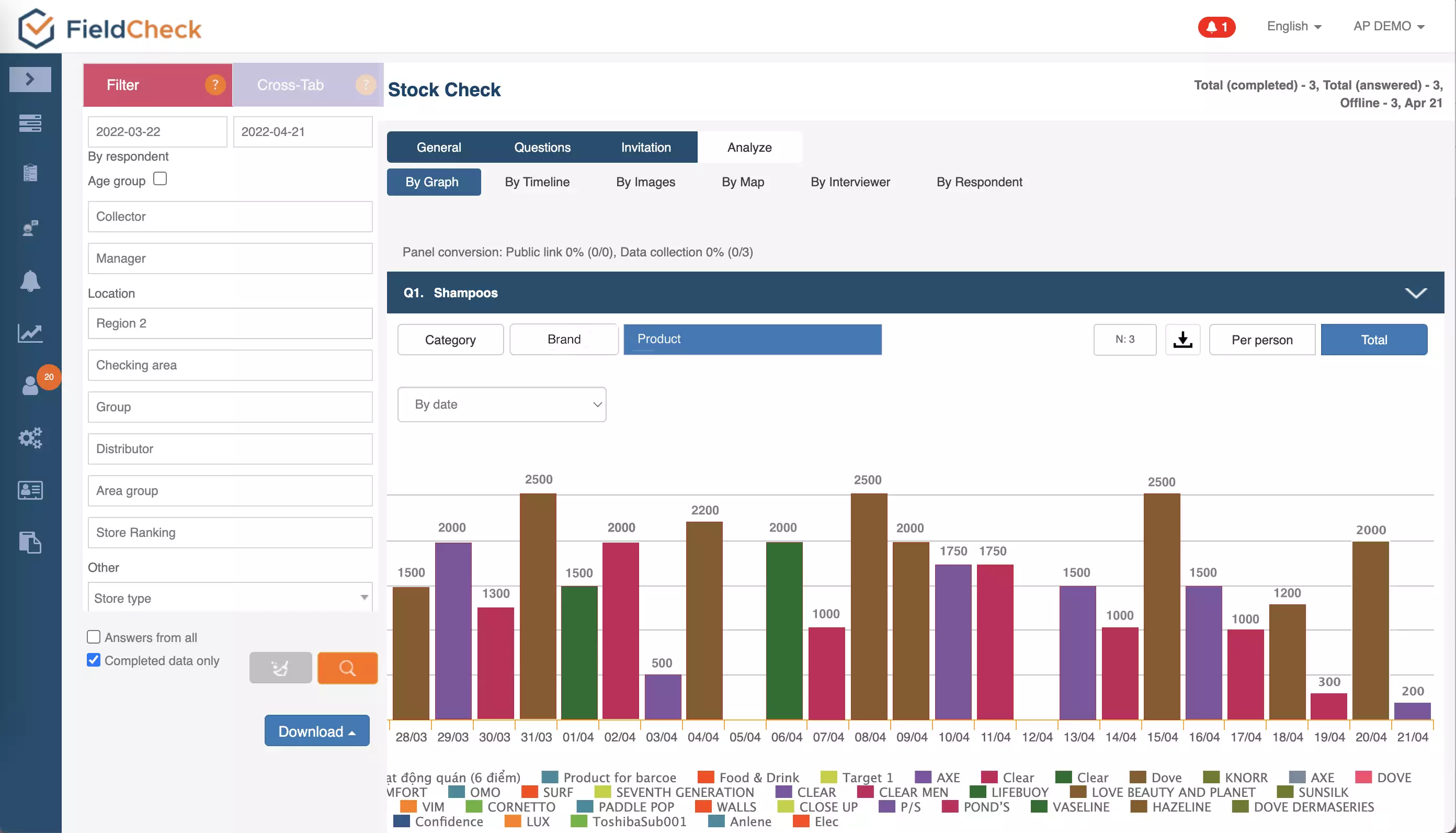 Visual analysis based on report results
Wrapping Up
So now you know about retail staff management and how to manage the staff at stores with technology. Inspired by successful digital transformation stories in businesses, we are proud to be one of the pioneers in providing a SaaS product to support enterprises, including chain stores, to manage their operating activities and store staff.
If you seek optimal store staff management software, let FieldCheck get your back.
Schedule a free demo right here to learn more about how FieldCheck streamlines your management process.