When running any business in different industries, one of the most critical concerns is ensuring smooth operation.
Many entrepreneurs have considered the task management software application as a solution to achieve certain results. So what is task management software? What is its role? Let's dive in to explore more with us in today's article.
What Is Task Management Software? Why Is It Important?
1. Overview
Task management software is a tool that integrates features to support businesses in creating and assigning tasks to employees. Accordingly, managers can hand over and monitor the work comprehensively.
Employees can also utilize the software to organize their tasks better, improving their productivity compared to using manual ways (i.e., pen and paper).
2. Why is Task Management Software Important?
Task management software stands out for the ability to closely monitor and capture the performance of employees.
According to PMI, the successful introduction of project or task management app assists businesses in ensuring work schedules and can achieve key results more effectively.
Businesses can save up to 28 times compared to the originally planned budget when owning effective management and operation activities thanks to using that software.
To better understand the role of work management software, let's approach this issue from two perspectives: managers and employees.
For managers
Task management software helps managers not only to plan tasks but also to monitor the performance of employees.
You can use a web-based Admin tool to create to-do or to-check lists and hand them over to employees right on the platform easily. This solution saves a large amount of time for task creation.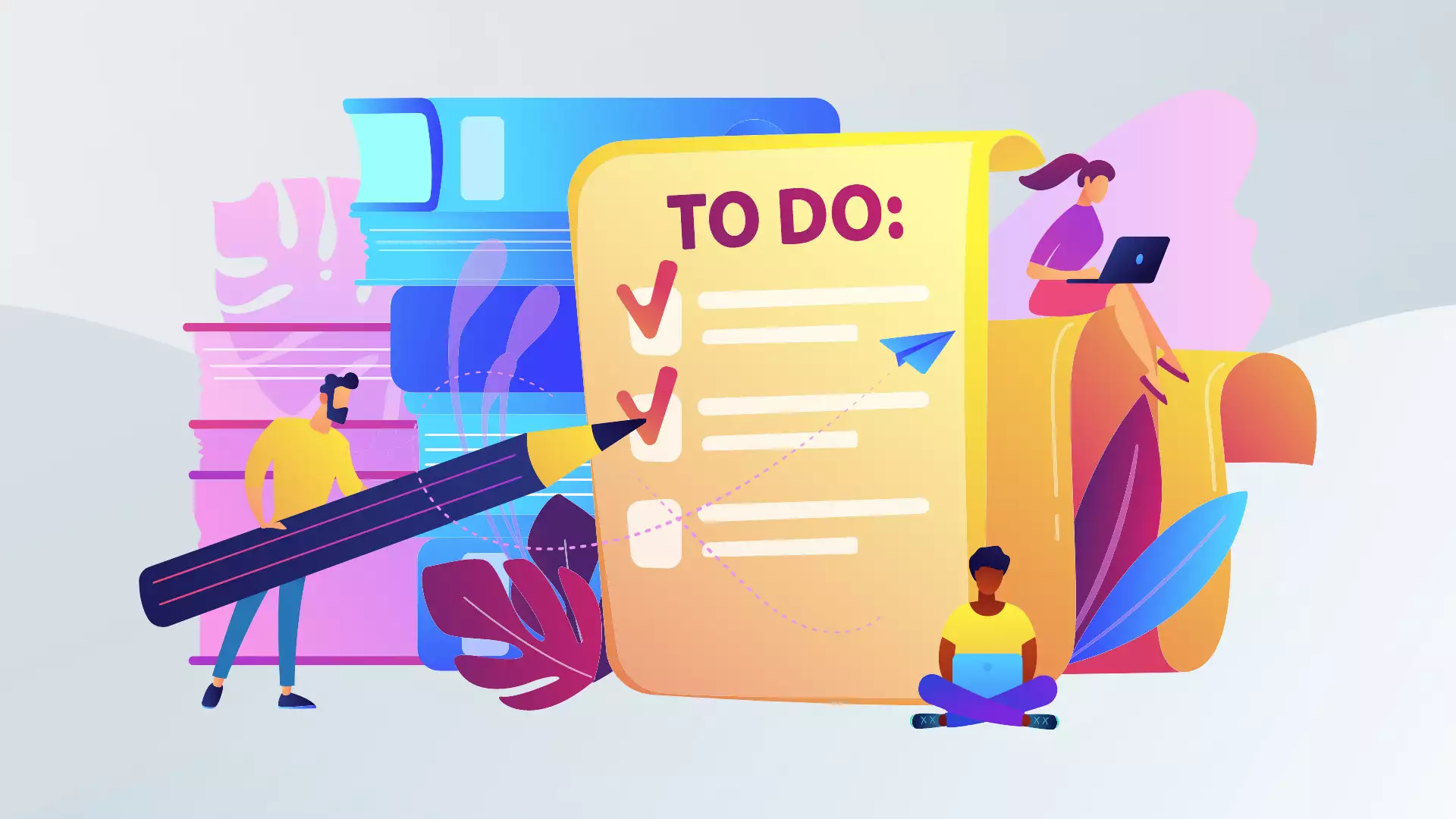 Managers create checklists for staff
The solution also allows access to data anytime, anywhere, without being geographically dependent between store managers and employees.
Thanks to the built-in analysis, the task management software provides a better understanding of task deployment results. The indicators drawn after the task are automatically recorded in the system.
For employees
Gaurav Dhillon, Snaplogic's Founder and CEO, said in a research, many businesses are aware of the detrimental impact of unconnected data on business productivity.
One of the reasons for the above issue is manually inputting data on many excel spreadsheets or taking notes with pen and paper.
This raises the demand for a solution that can handle the data entry and analysis consistently and conveniently among enterprises. Task management software gets their back.
The software allows your staff to perform assigned tasks right on their mobile devices. They can check the task list as soon as they open the application and follow the instructions of the management-level personnel.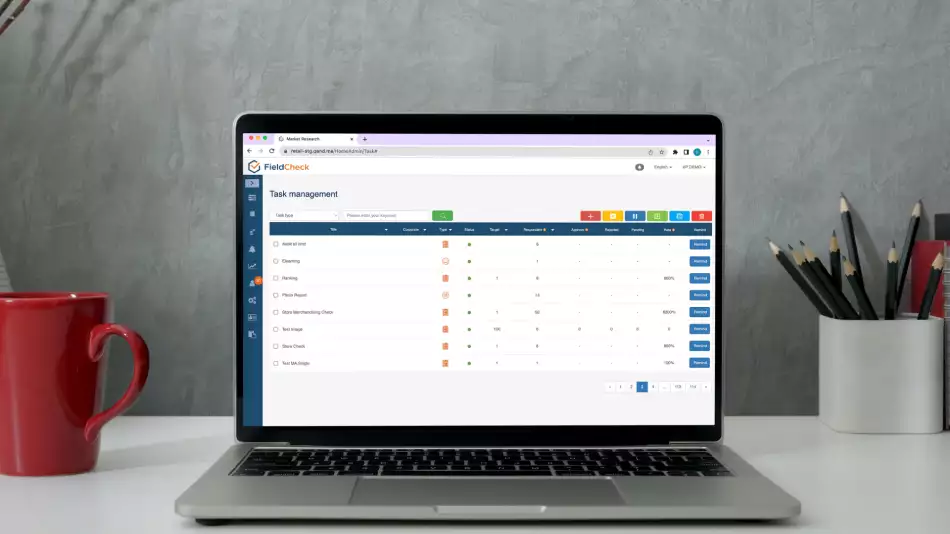 Task management software FieldCheck
All data inputted on the smartphones will be uploaded immediately to the system in real-time, avoiding data loss in sales reports, for example.
By empowering employees to take the initiative in work, they could better organize and prioritize their tasks. As a result, the work progress could be guaranteed in a more certain way.
Not only capture all individual work, but your staff also monitor their team's performance through task management software.
When anything goes wrong in the team workflow, employees can detect it early and take the necessary actions to maintain an effective outcome.
We need to re-emphasize that the final result still depends on the proper introduction of app task management. Therefore, businesses need to choose the right solution to meet their operating model, not to mention evaluate whether it is cost-saving or not.
How FieldCheck Works For Businesses
FieldCheck is an all-in-one platform that supports effective team task management features of international standards, but the cost is affordable for domestic businesses. So how could FieldCheck help businesses? Managers can apply FieldCheck task management software to track promoters when implementing marketing strategies like Below the line or creating marketing campaigns in stores.
1. Task Management
You can easily manage tasks with the FieldCheck's Admin tool. Within several simple steps, you can create new tasks right on the platform with different types of questions and assign them to employees later.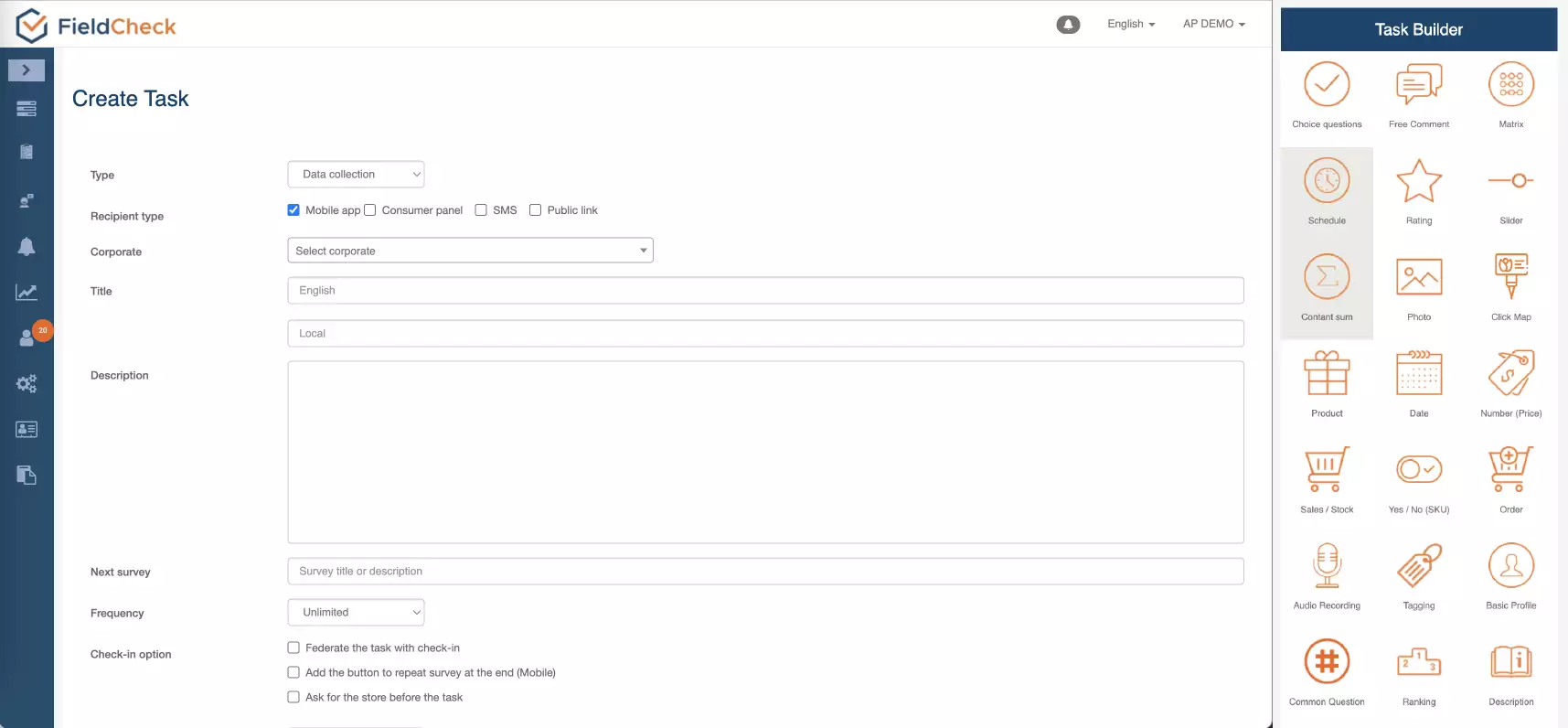 Design digital checklists with different question types
Tasks in progress will be displayed on the tool, giving you an overview of the number of available tasks. When any tasks are left undone, you can send reminders to your employees to do them.
Based on the task list shown on mobile devices, promoters can quickly send sales reports or inform any information about competitors and their products to the system in real-time.
You, as a manager, also immediately monitor the report results and capture the implementation of the marketing strategies anywhere, anytime with your mobile phone.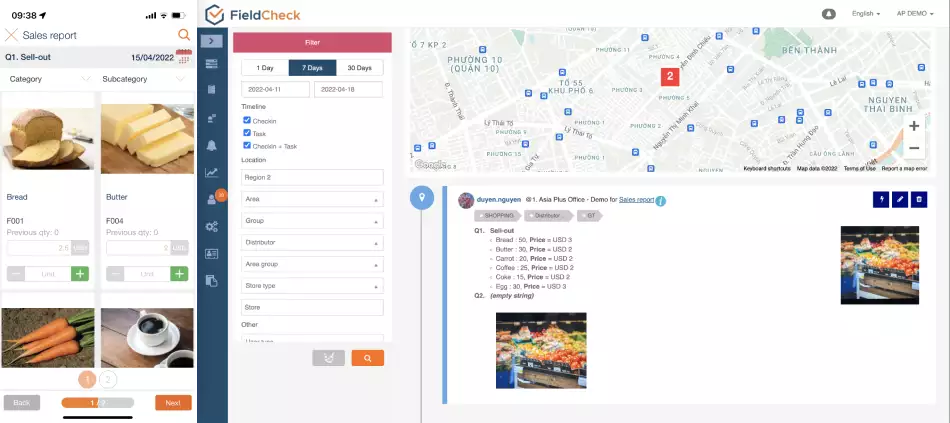 FieldCheck supports effective task execution and management
With FieldCheck's Admin tool, managers can overview the campaign's performance through task result analyses. You could take appropriate actions to improve productivity.
2. Route Management
What makes FieldCheck different is the feature of Route Management, helping businesses manage their marketing strategies. This feature allows effortless route planning for employees to perform work in a logical sequence at different locations.
FieldCheck allows to create route plans for staff
You can track the work progress and better manage the promoters based on the created plan. Meanwhile, your employees could also grasp enough information and a clear plan to perform best.
When there is synchronous coordination between the management and employees, the working process will go smoothly and efficiently.
FieldCheck is a supportive tool that helps you to send news about new products or campaigns to promoters timely and fast with the feature of Push Notification. It will help you generate announcements attached with YouTube URLs, images, and documents to send to employees.
For more detailed information about the above feature, you can check out the demo here.
3. Attendance Management
When conducting any marketing campaign, you will also need to keep track of promoter attendance, in addition to focusing on the execution.
Previously, this task took a lot of time because promoters often checked in via the messaging application or on paper. This makes it difficult to manage and grasp the working time of employees.
FieldCheck will help you reduce the difficulty of time attendance management by letting promoters check-in / check out right on their phone. The system then records their activities in real-time.
It also gives detailed statistics of the working hours of each employee. So you can know which employees are more productive by putting appropriate reward policies.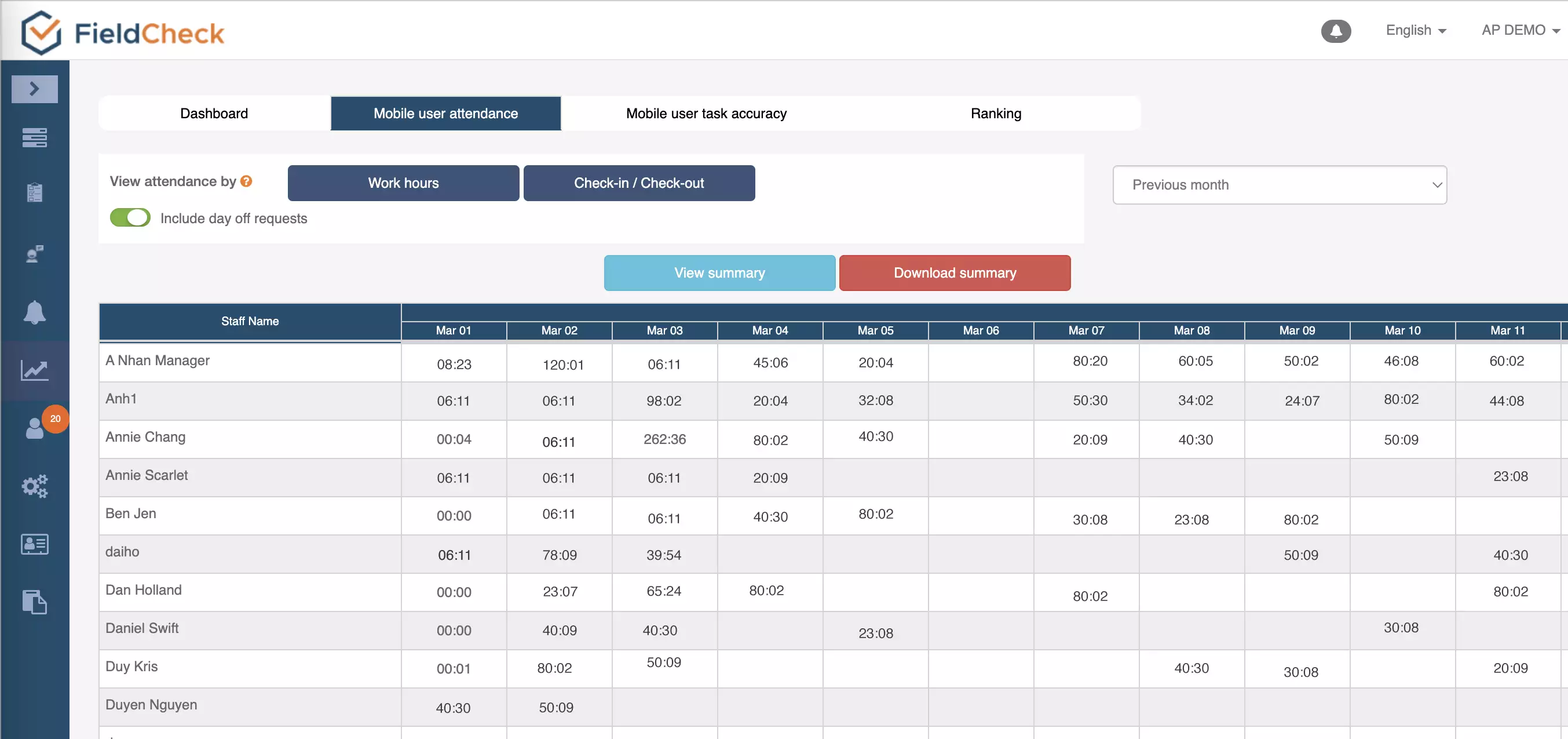 Attendance summary on FieldCheck
4. Store Quality Control
FieldCheck boasts a range of helpful features, such as Visual Merchandising and Store Management, etc., to support you in controlling store quality.
It is available to create a list of the stores under the management with details such as:
Address

Store related images

Employee activities at stores

Productivity of each store compared to other stores
The platform also supports supervisors in store quality audits by providing digital checklists instead of paper-based variants. Accordingly, all supervisors need to do is open the digital checklist on the phone and evaluate the store quality.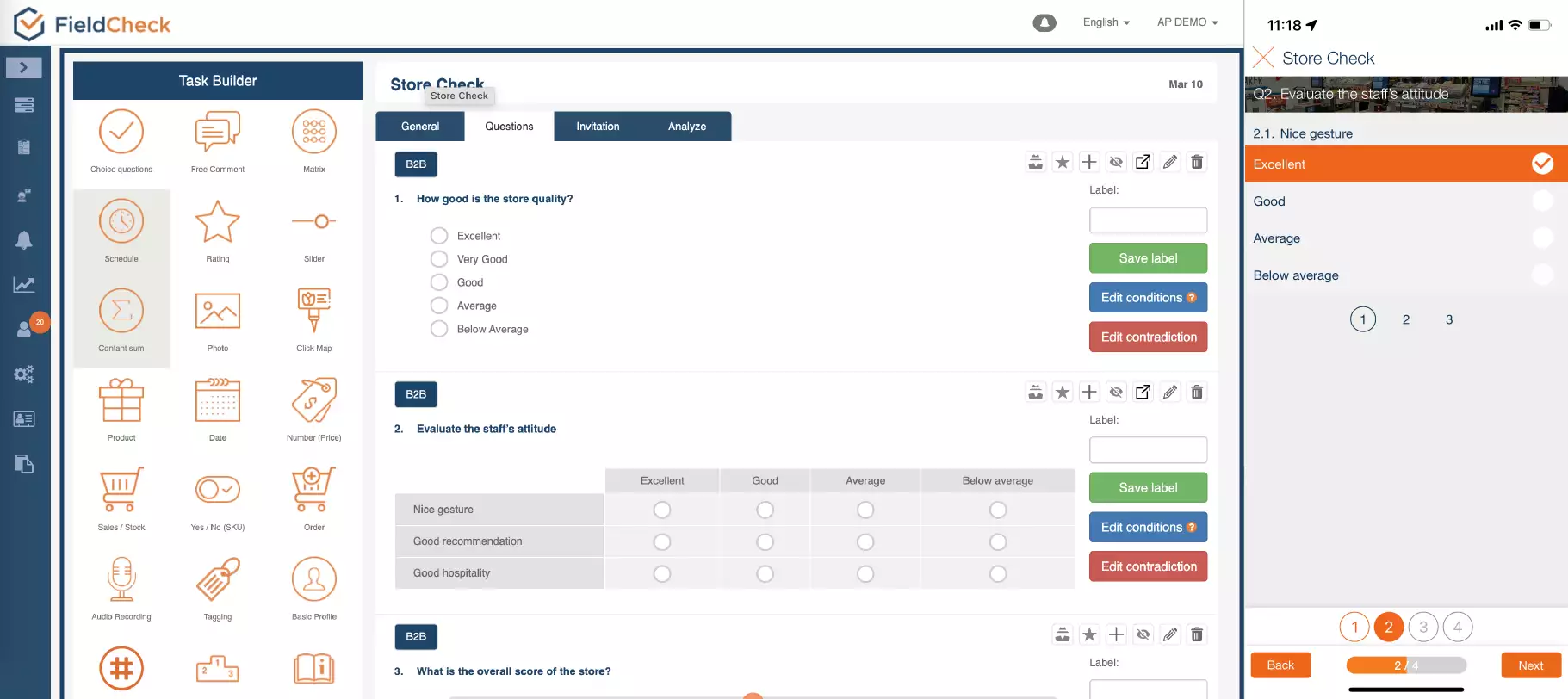 Easily create checklists with FieldCheck
Our solution could help supervisors know how the stores perform based on the total score gained thanks to integrating the scoring feature.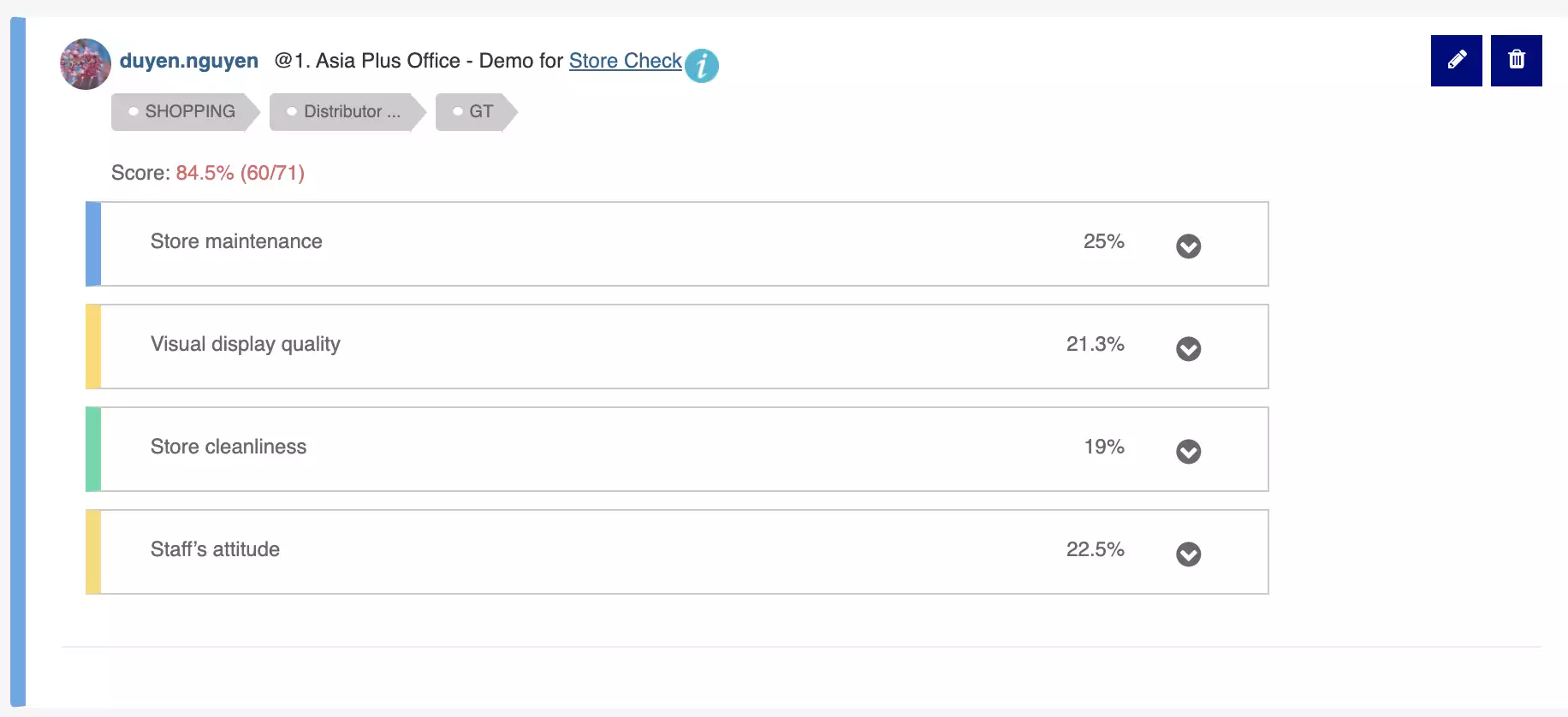 FieldCheck platform demonstrates store scoring after auditing
Another advantage of the FieldCheck app is that it helps you quickly monitor the rollout of merchandising displays at all stores. As you might know, being consistent in-store or product display could help boost sales of targeted products and brand awareness for chain stores.
Still, ensuring this consistency is not easy, especially when you own a large-scale chain of stores. The more stores you have, the more your responsibilities and workload will increase.
FieldCheck allows setting up merchandising standards on the Admin tool and then sending them to the supervisor users to audit. Supervisors will receive the merchandising items immediately and carry out a store audit fast and conveniently.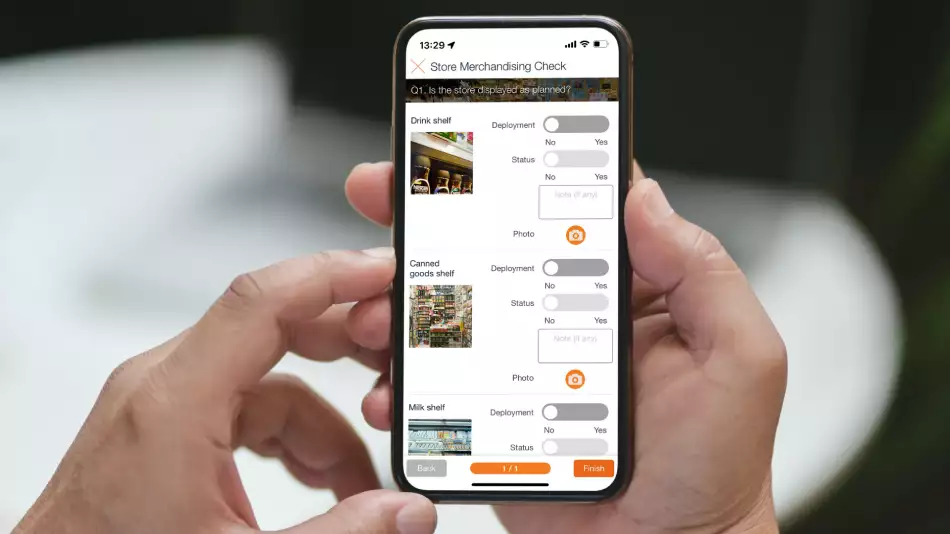 Supervisors check store merchandising on the mobile phone
If you want to grasp the trend of store merchandising performance, FieldCheck task management software gets your back thanks to boasting statistical analysis.
Not only do we optimally facilitate your task deployment, but we also provide automated multi-layered analytics in real-time.
Accordingly, you could technically get the operation overview without code. FieldCheck will free you from the complicated steps of collecting, calculating, and analyzing, leading to optimal quality audit work.
FieldCheck can be considered as a project tracking software that integrates the technology to support managers in tracking individual or group work most easily.
Wrapping Up
Are you seeking great task management software? Are you struggling in organizing and tracking the work progress and project tasks? Let us – FieldCheck get your back.
We are proud of being a reliable partner of valued customers of Electrolux, Circle K, Fonterra, Groupe SEB, JCB, Kao, Masan, Nissin, etc., to help manage tasks and stores in the journey of digitalization. Please get in touch with us here to get a free demo and meet with our dedicated specialists.