Do you have to manage a lot of promoters? Do you monitor them well enough? Commonly, many businesses cannot closely manage their promoter workers in different stores. This situation raises the demand for a solution to help promoter supervisors manage them effectively.
Understanding this ongoing need, SaaS providers have introduced numerous pieces of promoter management software. So how does this tech-backed solution work for enterprises?
Let's dive into the following parts to find out.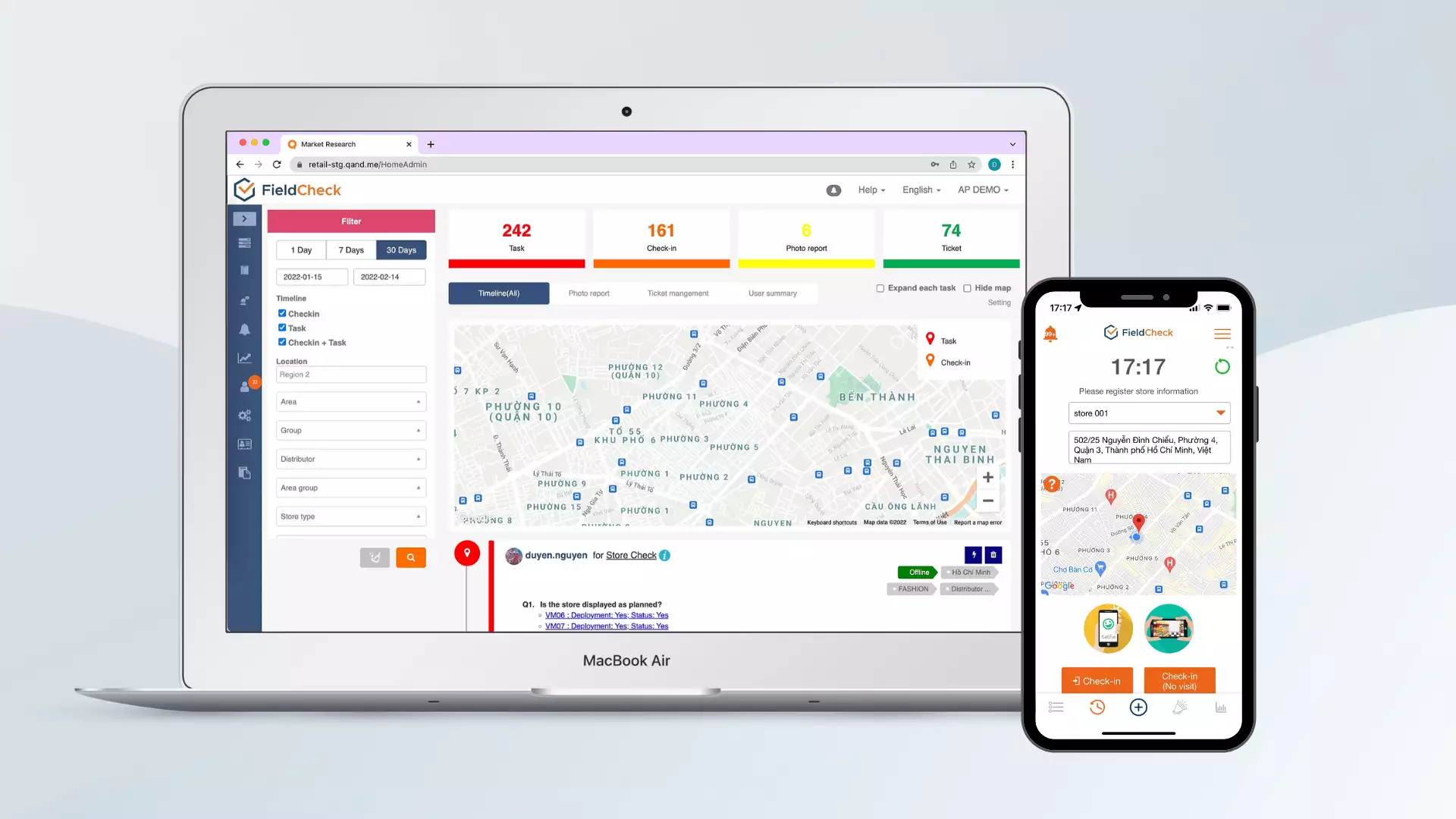 The best pg management solution in the market in 2022
Common Difficulties Without Promoter Management Software Support
Businesses often encounter myriad problems regarding promoters' management, especially teams in field service.
According to the traditional monitoring method, PG leaders will have to text or call if you want to know if a promoter is at the point of sale or not. Or if you want to check the authority, you will have to visit stores to avoid the case of employees cheating or declaring wrongly.
This method of monitoring has limited flexibility, especially when there is a promoter who has the behavior of faking the locations of working.
Another disadvantage is when the employee has completed the work early but has to wait at the point of sale for a supervisor or manager to check and accept to prove the report is true.
This wastes time and is inefficient, not to mention that management and supervision are even more difficult for businesses with a large number of promoters divided into many working groups.
It leads to many inadequacies, causing a great loss of time and finance. At the same time, it is not possible to monitor employees according to each sales position in real-time.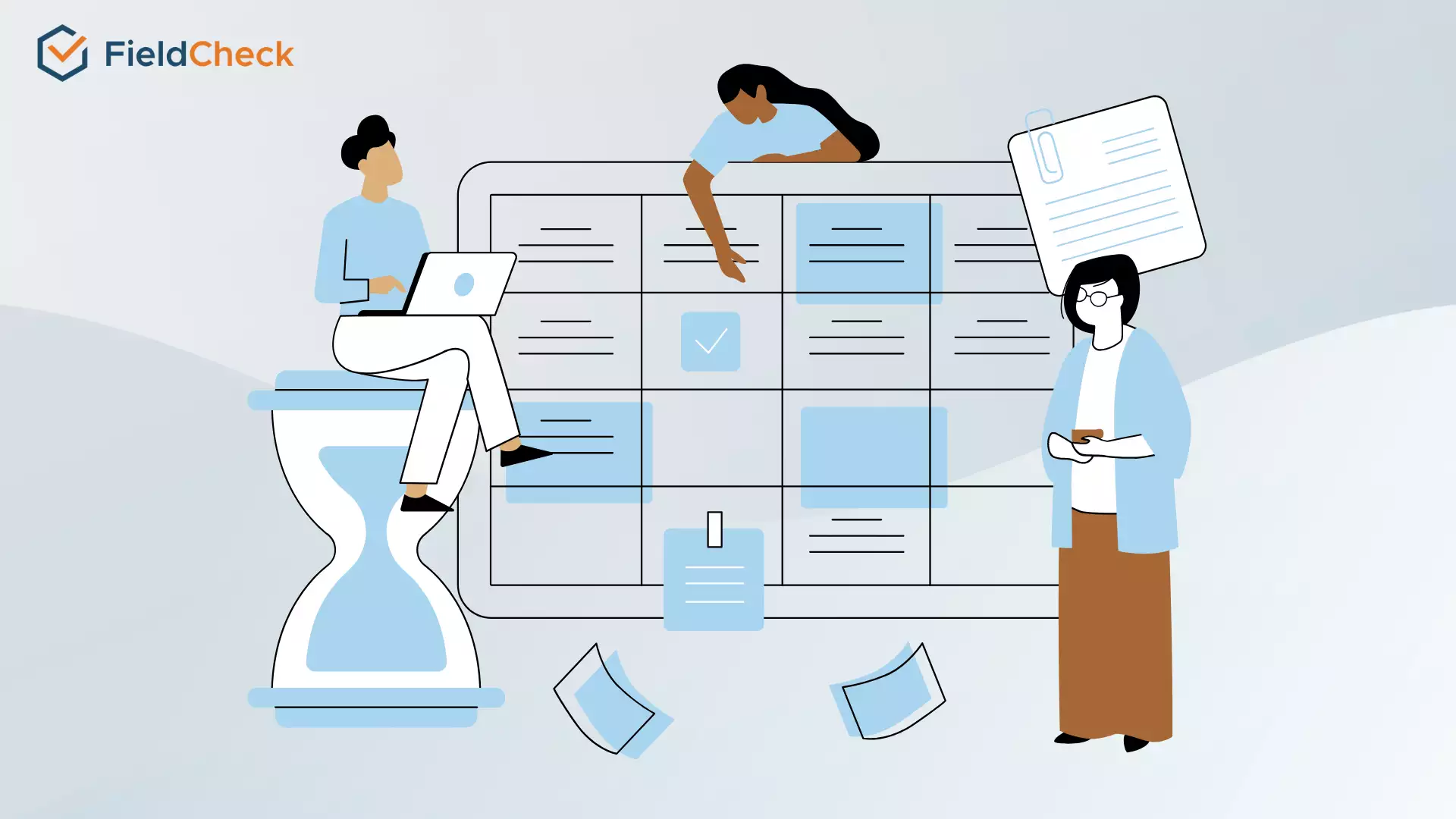 Managers face many difficulties when manually monitoring promoters
How Does FieldCheck Work For Promoter Management?
To overcome all the management problems businesses face, FieldCheck might be the perfect solution. The solution was developed to overcome all shortcomings of traditional PG management.
It is also an effective support solution to help businesses improve their management, monitoring, supply chain, and digital transformation processes.
FieldCheck supports digitizing the entire work of promoters. Therefore, many businesses choose software to improve their marketing and sales methods effectively.
This PG management app helps to monitor promoters quickly, efficiently, and flexibly. A user-friendly interface helps integrate all features, tracking, monitoring, positioning, planning, reporting, market analysis, assignment, support requests, and communication etc., on mobile phones.
You could do all the necessary work with just a few simple taps on your phone. The management process becomes more accurate, and at the same time, there are no restrictions on time and space and tracking multiple teams of employees at the same time.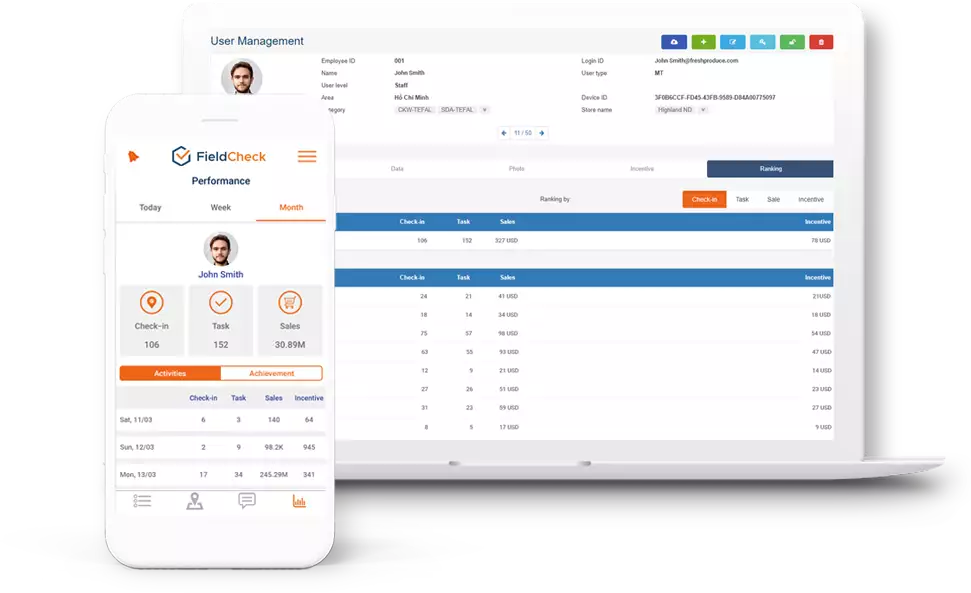 The ultimate market employee management solution for businesses - FieldCheck
Outstanding Features Of FieldCheck Software In Out-of-Office Employee Management
FieldCheck promoter management software possesses many outstanding features such as:
Manage promoters efficiently and accurately

Manage location, monitor time, and work location of employees flexibly

Monitor activities and record work results

Manage the image of the point of sale and display goods

Sales reports right on mobile devices

Report problems quickly and provide solutions if unexpected problems arise

Support to provide visual analysis in the form of charts, helping management to grasp market trends
1. Track Promoters Working Time and Location Via GPS
When coming to the sales position, promoters need to declare check-in/check-out on the system. The software has the effect of recording data and reporting employees' work in real-time such as:
Time to start and finish work on each employee's point of sale

The updated working location on the digital monitoring map helps managers know whether employees are moving or standing still

Log employee activities and save them in history

Easily lookup and compare movement activities during the day

The mobile device in use, route of travel

Warn employees to use Fake GPS to cheat during work
2. Provide Digtial Checklists to Audit PG Performance
FieldCheck provides digital checklists to help monitor the activities and record the work results of promoters. With a clear, detailed, scientific checklist, employees could easily note things to do, improving the positive results of tasks.
Besides, employees will no longer worry about losing documents when they have to do paper checklists. By using digital checklists, management can grasp the performance and quality of work through mobile phones.
The intuitive, easy-to-understand grading feature makes it easy for supervisors to moderate, share notes, and track the activities of each group of employees.
Moreover, managers are able to create flexible test questionnaires with different questions on the Admin tool. With FieldCheck, employee performance is easily recorded using applications and management tools.
All relevant data include sales, commissions, employee productivity, and stores. Individual or team productivity is displayed as a graph for easy analysis by the users.
3. Check Visual Merchandising Compliance
FieldCheck provides important data on the point of sale images, merchandise display images, product coverage at the point of sale, and monitoring market fluctuations.
The software allows the staff in charge of the product display to check the planned stores. In addition, the software also helps you:
Check the status of the display in the store

Real-time-based image management and market analysis

All cargo data is managed, scientifically tracked, and can be checked back on the activity history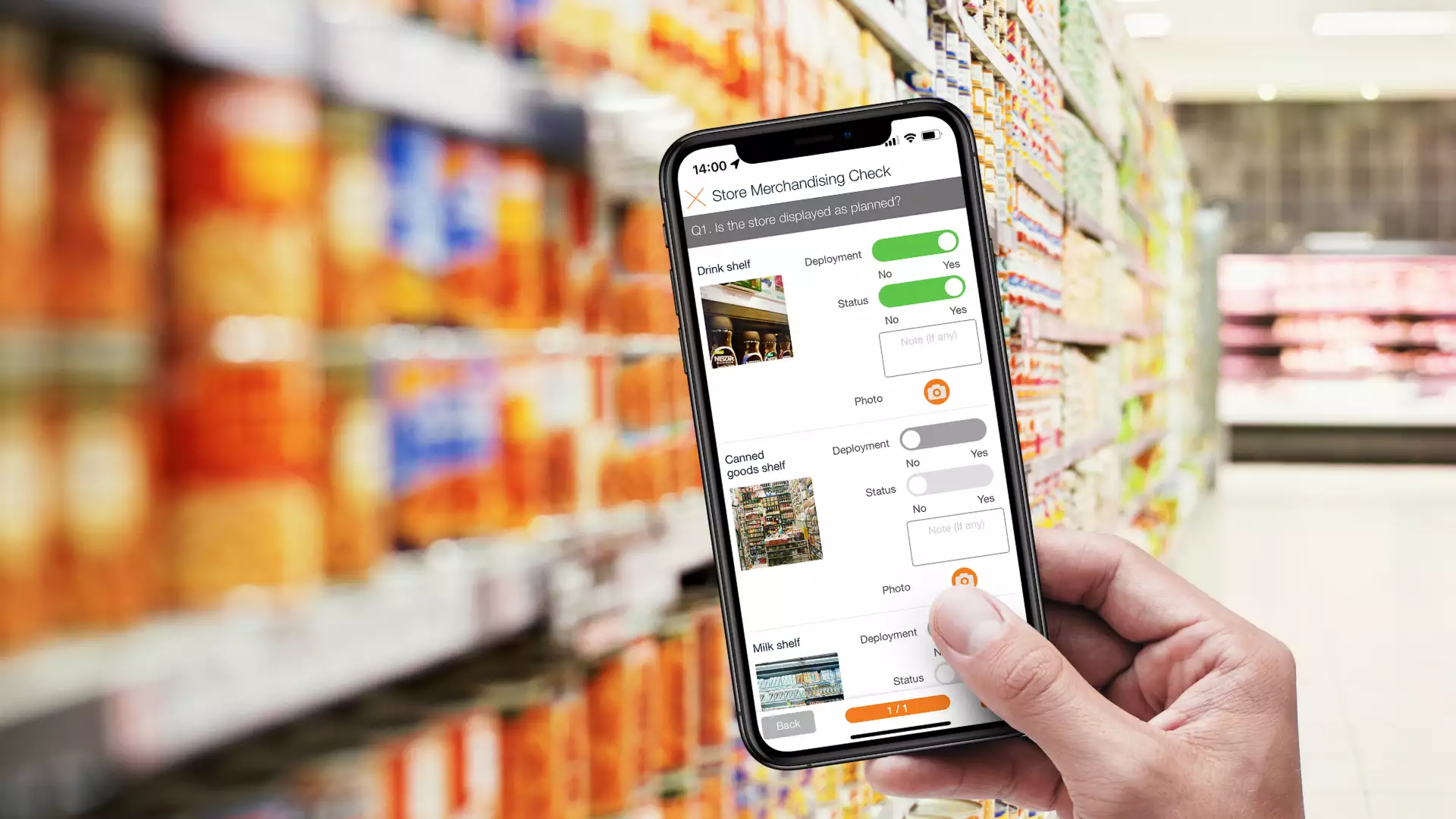 Monitor the deployment of visual merchandising items
4. Support Timely Incident Detection
FieldCheck helps promoters enter revenue reporting data easily. The solution provides real-time, in-depth analytics that accurately reports every detail. The data analysis feature can be used for both online and offline modes.
Some outstanding features of FieldCheck software include:
Sales report on product data management system

Incentive management

Statistics, analysis by digital spreadsheet

Online / offline analytical statistics

Compatible integration with BI/ERP tool
Through employee reports, managers could analyze actual performance. It is easier to come up with solutions to improve and overcome if business results do not meet the target.
Other Features of FieldCheck
Some of the basic features of FieldCheck promoter monitoring software include:
1. Easy Task Assignment to Promoters with High Visibility
Delegating tasks to employees just got easier with FieldCheck. You will not need to email or text through messaging apps to keep employees informed about work to do. Instead, you could create tasks for employees right from FieldCheck's Admin tool. You then send an invitation to the employee's device to do the work.
Immediately, the FieldCheck application on the employee's device will display a notification, prompting the employee to perform the assigned work. Furthermore, the to-do list is also clearly displayed on the main interface of the application.
2. Smart Schedule
For promoters, it is essential to have a schedule to visit specific stores. Embracing this need, FieldCheck has integrated a feature that allows Admins to easily arrange the store locations that promoters visit right on the tool. The promoters then visit the stores based on a route created by management.
3. Manage And Track Anytime Anywhere
All activities of promoters are closely monitored in real-time, with integrated management features on mobile phones. Now, you no longer have to contact many different sources of information to check employee schedules and activities.
You need to open the FieldCheck app and retrieve the employee or store-related data you want to check anytime.
4. Monitor Employee's Work Location
Your marketing staff can now use their phones to report issues at the point of sale quickly. These issues will be sent directly to the relevant people to provide appropriate solutions promptly.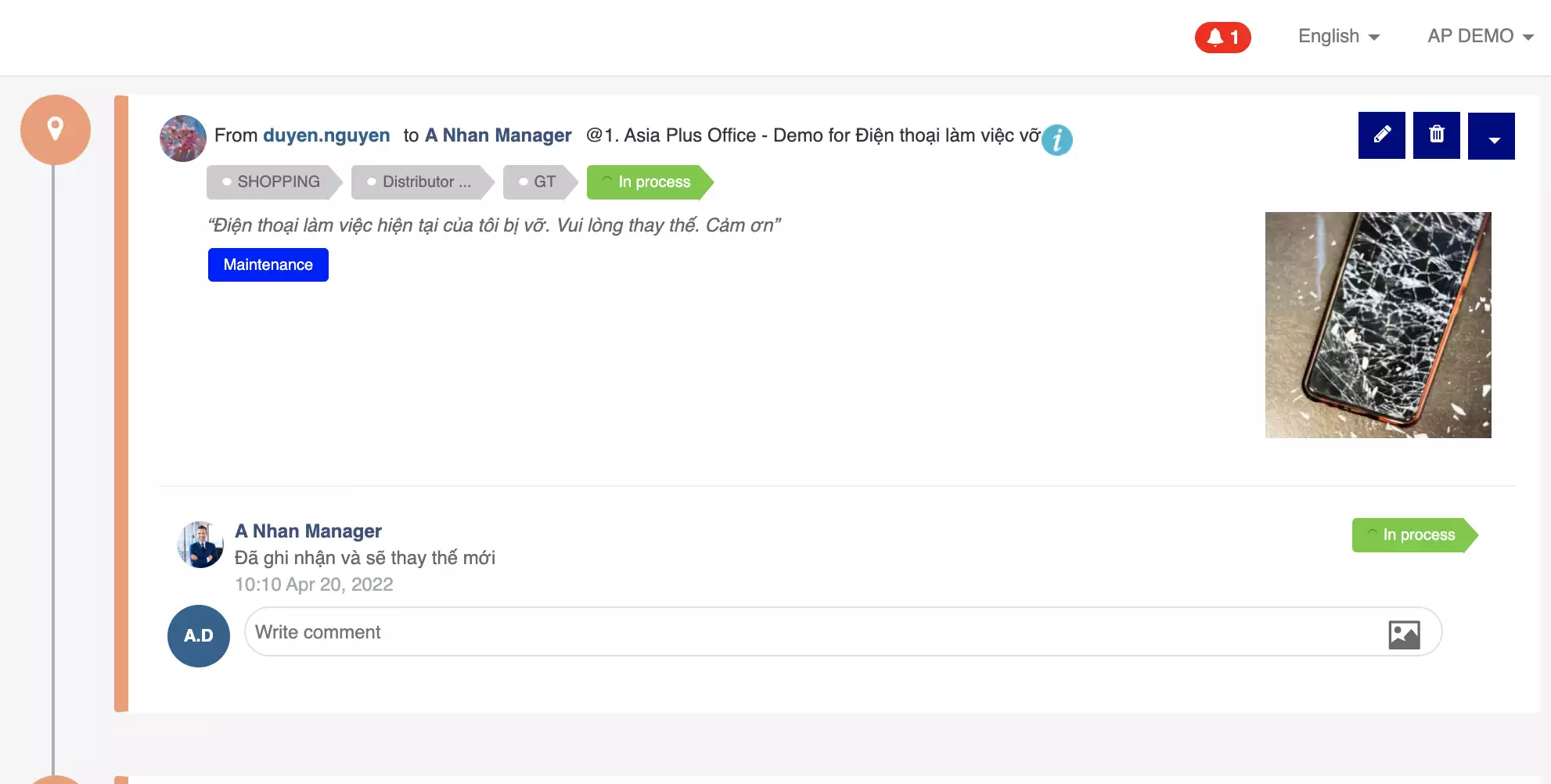 Report problems quickly and conveniently
How Is FieldCheck Different From DMS Software?
FieldCheck provides a flexible number of users according to business needs. You also have the flexibility to buy more users when using our software.
The application allows operation in both online and offline modes. At the same time, the system also allows you to do normal work on mobile devices even when you turn off the network.
All data will be saved to the application's dashboard and automatically synced to the system when the Internet is available to use. When the Internet is unstable, the promoters still could work offline; the data will temporarily Our solution also makes it easy for managers to monitor employees on the go or in a designated location.
In addition to management functions, the software also supports providing information, purchase history, inventory, timekeeping, and incentive calculation, to help optimize the operation of the business.
Wrapping Up
Above is some information related to promoter management software. We hope that the article will be useful to you. If you need to experience the software directly, please get in touch with us for detailed advice.